Stag Yacht Charters Wanaka
There is nothing we love more than a chance to get out on the open waters, except perhaps to do so on a luxury yacht with a drink in hand. Here to satisfy that specific urge is Wicked Bucks' Yacht Tour through Wanaka. Now you might think that it's pretty evident from the name what this experience involves but we're always full of surprises. You'll just have to hop on-board and experience the magic for yourself. 
There is something so OTT about spending a day on a yacht. Maybe it's because we've grown up watching A-List celebrities sprawl themselves across yacht decks while they bathe in the Mediterranean sun, maybe it's the price tag attached to these luxe rides or maybe it's just because we're comparing them to our tinny back home. Whatever it is, these water vessels are well worth the hype.  Climb on board the Wicked Bucks yacht and you'll be welcomed by a white oasis, with lush seating and huge sails.
The fit out may be simple, but it's far from lacking. Think: rustic sailing experience to a desert island, with a modern day spin. There is a stereo with aux, Bluetooth and USB capabilities, so that you can drop the base and listen to all your favourite tunes along the way, without worrying about any noise complaints. There is an ice box for your BYO bevvies, a 2-burner cooker to help satisfy your mid-afternoon cravings and all the necessary safety and navigation equipment on-board. The boat is small enough to moor close to the beach and the large cockpit area is ideal for soaking in your daily dose of Vitamin D.
As for the entertainment, your hands will be pretty tied up learning the ropes of sailing and helping to steer the boat across the water. And of course, you can't really beat the views of back across Wanaka too. 
Experience Overview
Experience the finer things in life...on a luxury yacht!
Sit back and relax as your own personal skipper looks after the boat
Enjoy the good vibes with your mates
Upgrade to an overnight Yacht Tour
Get a Quote
Call for Info
Reasons to do a Bucks Yacht Tour in Wanaka
Bucks Parties are an age-old tradition, generally associated with a few beers at the local with all your closest mates. Does your buddy really deserve luke-warm bevvies, fluorescent lighting and sticky carpet for his send off? Rock the boat and throw him a celebration that he'll remember forever. A Wicked Bucks yacht tour is memorable, exciting and unique, making it the perfect option for any soon-to-be-groom. 
Our yachts are constructed with commercial charter in mind, meaning they're built to deal with large bucks groups and all-kinds of weather conditions. With regular upgrades and maintenance, you're guaranteed a safe, comfortable and relaxing experience. 
Wanaka may be a small-town in a relatively small country, but this South Island destination is beginning to attract an international spotlight for its beauty. If you want to experience the true beauty of Wanaka, before everyone else catches on, now is the perfect time to tick the city off your bucket list. 
If you really want to go all out, Wicked Bucks can tee-up an overnight yacht tour. With two double-beds on board, you might need to snuggle up and get comfy though. 
Designated drivers? No one wants to be stuck with that responsibility! When you're kicking back and sinking tinnies, your private hired skipper will get you from A to B.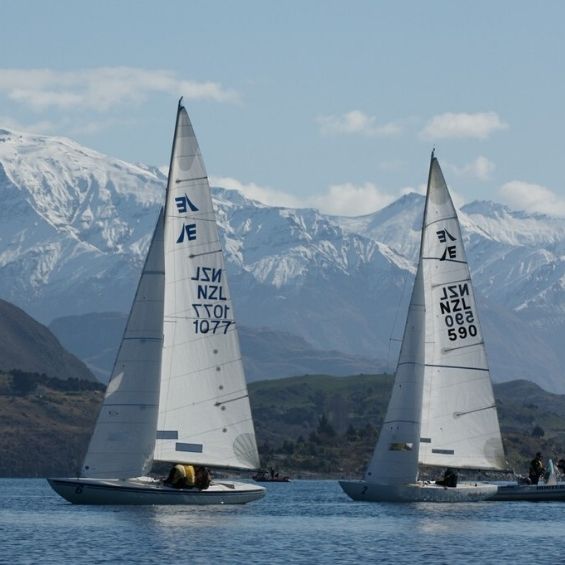 Making the most of a Bucks Yacht Tour in Wanaka
Wanaka is a year-round, all-age, all-interests destination. Situated on New Zealand's South Island, this township is an opportunity to feel like you're the only one within miles, without actually having to drive for miles. Producing blue-skies and comfortable temperatures throughout the year, Wanaka is a haven for outdoor activities. Biking, watersports, hiking and fishing are all popular past times among travellers and locals alike. The lake is like a mirror and is ideal for kayaking, SUP boarding and riverside exploring.
This landscape also lends itself perfectly to the Kiwi's love of adrenaline-fuelled action. Skydive over the glistening blue waters, mountain bike through lush greenery or challenge your mates on the Go-Karting track. The convenient location also means you can pop up to the surrounding mountain ranges during the winter months, where you can channel your inner snow bunny and get your KA-POW fix.
If you're more of an inner-city dweller, looking for a cosmopolitan flair, Wanaka will tick your boxes too. From lakefront bars with mesmerising views to bustling nightclubs, finding a venue is easy but picking your favourite is far more difficult. Bring your mates together to celebrate the man of the hour, and bring home plenty of stories about your adventures abroad. Wanaka will spoil you for you choice and will easily earn you the title of Best Best Man! Wicked Bucks don't mess around, we get the job done. Get in touch today to see for yourself.