Bucks Paintball Skirmish
Adrenaline junkies, listen up! Wicked Bucks has just the activity for you. Paintball is an activity that will test your stealth, aim, courage and pain tolerance. It's the ultimate way to seperate the boys from the men, and let's face it – it's always fun to whip your friends with a paintball or two. It's all in the name of a good time, of course.
Strap on your running shoes, leave your high pitched squeals at home and get ready to battle it out in Wanaka's epic outdoor paintball playground. It's an activity featured in plenty of Hollywood movies, it was a popular choice for high-school parties and it's probably the closest you'll ever get to feeling like a real life spy. Instead of letting it sit on your bucket list for another decade, tick this activity off in honour of the soon-to-be-groom. 
After arriving at the venue, you'll be kitted up with a full-body suit, a state-of-the-art rifle and stacks of ammunition. Following a quick briefing from the on-site experts, you'll be split into teams and sent head-to-head on the ten-acres of open fields.
Whether you subscribe to the philosophy of accuracy through volume or you've actually got a knack for the sport, this wild terrain will put your skills to the test. You'll be ducking and weaving around obstacles, sneaking up behind opponents and firing your paint pellets in every direction. The aim of the game is to disarm the opposing team's base, smashing as many players as possible with paintballs along the way.
It might feel like a totally out of control and wild experience, but we boast a tight safety record too. It's a win-win for everyone. 
Experience Overview
Perfect for large groups
Live out those Call of Duty dreams
Who will come out victorious?
Get a Quote
Call for Info
Reasons to do Paintball Skirmish on your Bucks Party
Did your Missus warn you not to come home from the bucks party with a tattoo? Paintballing is the next best thing. These gnarly bruises leave just as big of a mark, but don't have the same long-lasting effect. 
If you're not too busy fighting for your life (maybe a stretch of the truth but you get what we're saying), Paintballing is an epic photo op. Whether it's for a new tinder upload or just to tease your Instagram followers back at home, Paintballing is an epic way to make yourself look like the tough-guy that you've always wanted to be. 
Be prepared to whip out some army style tactics and channel everything you've learnt from your video-gaming days. Paintballing is practically Call of Duty, but IRL and slightly more painful when you lose. 
A trip to New Zealand is not complete without at least one adrenaline-packed activity. Paintballing is one of the few thrill-filled past times that gets the entire group involved at once. After getting your heart pumping and feeling the adrenaline pulse through your veins, you'll be amped and ready for an awesome night to follow. 
Spicing up your party with a little dash of competition is a great way to bring the group together. This is the perfect option for any large group with a diverse mix of guys. If paintballing doesn't ignite a festive and united atmosphere, you're practically doomed.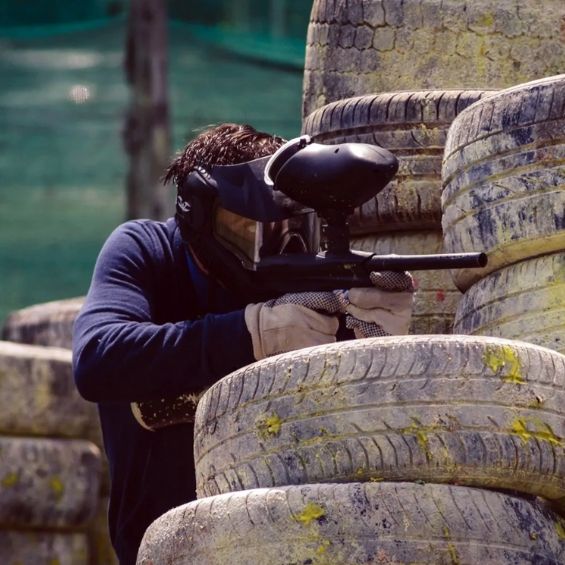 Making the most of Paintball Wanaka
A breathtaking glacial lake, a mountain setting and a convenient location, Wanaka is literally a dream come true. Situated just over an hour from Queenstown, this resort-town is a year-round destination for dudes from all walks of life. Being a slightly smaller and lesser-known city means Wanaka boasts a serene and welcoming vibe. It's the type of place where you can walk down the street on your first morning and people will wave hello, stop for a chat and invite you in for a cuppa. That's not to say it's a boring town for old folkies.
Wanaka has a seemingly-endless number of trails on the surrounding mountains, which can be explored by foot or mountain bike. You can opt for an easy morning stroll, or a harder climb over waterfalls and across a river full of sharks. On the topic of extreme outdoor activities, Wanaka is an epic place to tempt your inner adrenaline junkie. Skydiving, whitewater rafting, kayaking, go karting, clay shooting and parasailing are just a few of the thrill-filled adventures on offer. Unlike most other small towns, Wanaka is packed with bars and cafes where you can enjoy sumptuous fare and delicious drinks with an epic view.
Whether you're looking to kick back and relax, get your heart pumping, count sheep or sink cold beers, Wanaka has something for you. Give your buddy a world-class and memorable experience by throwing him a Wicked Bucks celebration in Wanaka. We'll take care of all the logistics and details, so that you've got more time to get rowdy with the boys.