Bucks Jet Ski Tours
Tours around a new city are generally associated with family holidays, stuffy coach buses and screaming children. While they are a good way to tick all the local landmarks off your bucket list in one go, the atmosphere can be less than enjoyable. Wicked Bucks does things a little differently. We've combined all the best parts of a tour, with our favourite mode of transport – a jet ski. Experience Wanaka as you zip across the water on your vessel. It's almost too good to be true. 
As a lakeside destination on New Zealand's South Island, Wanaka is practically synonymous with water activities. These sports are more than a hobby for locals, they are a way of life. One of the most popular options among tourists and residents alike is a good old joy ride on a jet ski. Sitting in the driver's seat of your personal water vessel, you'll be given a quick safety briefing by the professionals before you're let loose on the lake.
We should warn you though, these machines are no child's play. The powerful engines can get you from sitting still to flying past in just a matter of seconds. The tour will take you through the glistening waterways of Wanaka and past the rugged mountain ranges and local landmarks. The year-round temperate conditions are the perfect backdrop for your journey and ensure that the water clarity is always top notch.
While this is designed as a sightseeing tour of the region, you can step it up and challenge your mates to a little competition. Get the engines revving and slam on the acceleration, the last one there is a rotten egg. This is the ultimate way to put your video gaming skills to the test and prove that you're the real top dog of the group. With the adrenaline pumping and a win on the cards, celebratory drinks at the pub afterwards are a must-do. 
Experience Overview
Action packed jet skiing
Keep an eye out for marine life
All safety gear included
Epic way to explore Wanaka waters
Get a Quote
Call for Info
Reasons to go Jet Skiing in Wanaka
Every guy dreams of living the high-roller lifestyle. Whether it's days spent on the yacht, a weekend getaway to the Maldives or VIP entry into every exclusive nightlife venue, it's a fantasy we've all indulged in at least once. While Wicked Bucks can't provide that sort of celebrity status, we can give you a little insight into the life you're missing out on. Jet Skiing on Lake Wanaka is just the right amount of OTT, without being too much. We're totally not mad about it. 
Boys and their toys are a match made in heaven. Whether you're 15, 52 or 75, nothing compares to the excitement of trying out a new gadget, especially if it involves a big engine. Jet Skiing with Wicked Bucks is the perfect way to satisfy that inner-desire, without having to actually fork out for a jet ski of your own. It's a win-win situation for everyone. 
Wanaka is slowly gaining international traction for being one of the most picturesque destinations on the globe. The lakeside town is so mesmerisingly gorgeous that it looks like it's been snatched straight off a desktop screensaver. This tour will give you a unique perspective of the region, with unparalleled and uninterrupted views of the iconic landscape. 
Snap a pic while you're out on the water, upload it to Instagram and watch the likes roll in. It's the sort of content that will make the ladies start lining up down the street for you. 
When it comes down to it, Jet Ski is just a bloody lot of fun. The adrenaline rush, injection of fresh air and beautiful views will leave you feeling as excited as an unsupervised toddler in a lolly shop.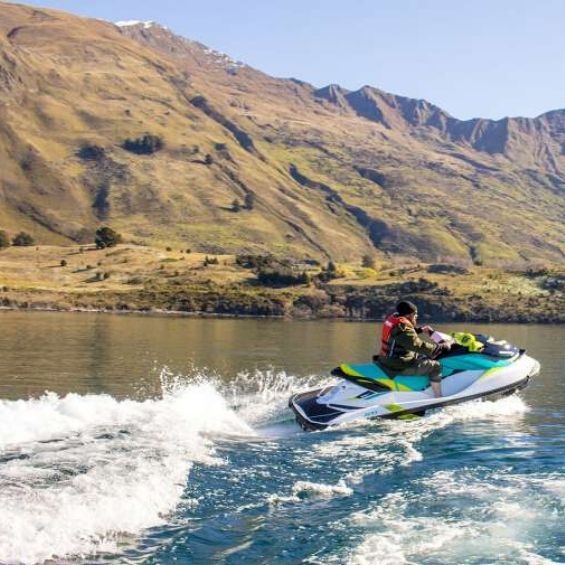 Making the most of Jet Skiing in Wanaka
New Zealand is a country that takes priority on travel bucket lists across the globe. Most people flock to the major cities like Auckland, Christchurch and Wellington, but there is actually much more to this bucks party destination than just those hot spots. One of our favourite picks of the lesser known destinations is Wanaka. This lakeside destination is around 1 hour inland from Queenstown and it's the type of place where they would film a National Geographic documentary.
From the city centre you can see snow capped mountains during the winter, fields of vibrant lupins during the Summer and glistening blue waters all year round. The CBD is a surprisingly busy hub for restaurants, cafes, bars and pubs. These venues make the most of their abundant surroundings to serve up seasonally-inspired and drool-worthy meals.
As the city slowly starts to attract more tourists, the nightlife scene is starting to kick off as well. There are plenty of live music venues where you can catch gigs throughout the week, as well as bustling nightclubs that pump tunes into the early hours of the morning every weekend. Wanaka is the type of place that is full of surprises. Give your mate the send off he deserves with a memorable, unique and totally epic celebration in this beautiful destination. With the help of Wicked Bucks, you can make it all happen without having to even lift a finger. It's really just that simple.