Bucks Brewery Tours and Tastings Wanaka
As the self-titled experts of organising epic bucks parties, Wicked Bucks knows that grooms come in all different shapes, sizes, interests and facial-hair preferences. The diverse mix of guys out there means that every bucks party is inherently unique. However, overtime we've found two things that every celebration has in common – boys and beers. A Wicked Bucks Brewery Tour is the best way to roll all of that together and give your mate a send-off that everyone will enjoy. 
Bucks Parties are practically synonymous with beers. Whether you opt for a few quiet bevies at the local pub on a Friday night or you go all out with an entire week a way, we can guarantee there will be plenty of beer consumed during your time together. With your buddy's final days of freedom slowly dwindling, why waste your stuff on below average goods?! Wanaka is a Mecca for beer lovers, with a myriad of world class breweries dotted around the city
 These golden-nectar producing joints specialise in everything from standard lagers to fruity craft beers. The guys behind the magic are as passionate about their work as your Dad is enthusiastic about his new lawn mower. From the moment you step through the door of the first brewery, you'll be showered in a flow of beer, knowledge and love, followed by a BTS sneak peak of where all the magic happens.
Whether you're a seasoned swirling or just a weekend drinker, you're bound to leave with a new found appreciation for your favourite drink. Just when you thought it couldn't get any better, we've got a little surprise in store.
You don't just get to do this once, you get to do it over and over and over again, until you've hopped your way around to all the local gems. The privately chartered bus and personal driver will ensure your group gets between each venue in one piece. It's a hoppity good time in our books. 
Experience Overview
Delicious beers, good tunes and epic company
An insight into how your favourite beers are all put together
Your own private bus driver to get you to each venue
Who doesn't love a good cold beer?
Get a Quote
Call for Info
Reasons to do a Bucks Brewery Tour in Wanaka
Whoever said that "a dog is a man's best friend" obviously said it when they had a beer in hand and were slightly confused about what they were referring to. Beer is a staple of every guy's diet and it's the perfect accompaniment to any meal, any occasion and at any time of day. Celebrate your mate in the only way he deserves. 
The worst part about heading out for drinks in a new destination is at the end of the night, when you're trying to decipher the complex public transport system or do the maths to split an exxy Uber. With a Wicked Bucks Brewery Tour, your private bus driver will get you between venues without you even having to lift a finger. 
Designated driver? No one wants to miss out on the fun! Tee-up a Wicked Bucks Brewery Tour and there is no excuse for anyone to skip out! Even your Grandpa Joe has an excuse to sink some cold beers and everyone loves a retired old guy on the drinks. 
With delicious beers, good tunes and epic company, the vibe will be absolutely pumping by the end of your brewery tour. Who said the fun needs to stop there?! This is the perfect way to kickstart an epic night out on the town. 
Have you ever wondered what goes into the golden nectar that we all love so much? A Wicked Bucks Brewery Tour will give you a taste of the crowd favourites, a sample of some unreleased brews and an insight into how it's all put together. The knowledgeable and friendly brewery staff are always keen to share the love of beer making and it's the sort of knowledge that will definitely come in handy on a trivia night at the pub.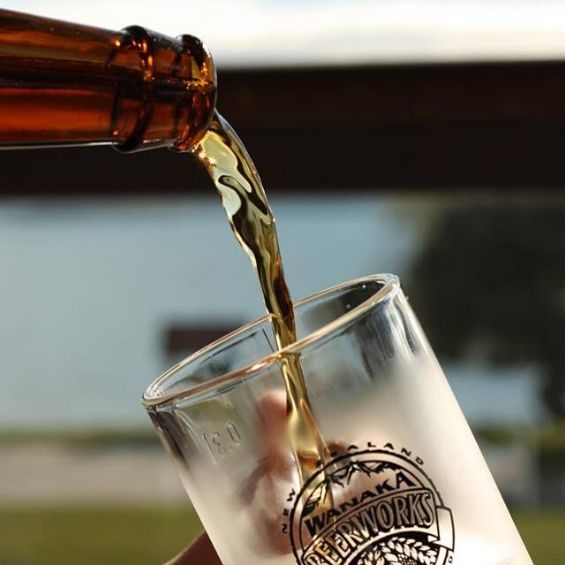 Making the most of a Brewery Tour in Wanaka
Most guys have a secret love. A special person that stole their heart, left a mark and then ran away in a day. It's the type of person that will randomly pop into your mind on a Monday afternoon while you're doing the groceries or on a Saturday night when you're getting ready to head out with the lads. We're not like most guys. It's not a tall-leggy blonde that dominates our thoughts, instead it's Wanaka. This South Island destination is just too beautiful to be real.

From the city centre you can see snow capped mountain peaks, fields of vibrant lupins, an abundance of colourful leaves during winter and clear blue skies all year round. This landscape is the perfect playground to satisfy our inner adrenaline-junkie. From skydiving and paragliding to kayaking and whitewater rafting there is a seemingly endless list of action-packed activities to fill your days with. Like all good destinations, you can also expect a diverse, lively and tasty nightlife scene. Imagine red wines by the fire, creative cocktails on a rooftop bar in the balmy breeze or all-you-can-eat pizza on a Wednesday night. There are so many options on offer, that your biggest challenge will be choosing where to start.
For a small town, Wanaka has a surprisingly burgeoning arts scene too. The local gallery and museum regularly play host to intriguing and unique exhibitions, while music venues and bars continually put up world-class bands and performers. As you can probably tell, we could brag about Wanaka until the cows come home. But because we value your time, we won't. Instead, we'll tee-up an epic bucks party so that you and your mates can experience it for yourselves.
It's a once-in-a-lifetime experience, which is a perfect ode to the man of the hour. All you need to do is get in touch and we'll earn you that Best-Best-Man title that you've been dreaming about.