Bucks Jet Boating Wanaka Bucks Idea
Do you wanna get wet and wild? No, we're not talking about the theme park you visited on a family holiday in primary school. And no, this isn't us trying to lure you into the bedroom. We're not talking about a water fight either. We've got something better than that – Jet Boating in Wanaka. This totally wild ride is guaranteed to get you wet, get your heart rate pumping and keep you screaming for more. 
Everyone knows that you've gotta risk it for the biscuit. Sometimes the best things in life come from pushing yourself outside of your comfort zone and having terrifying experiences. You can expect changes from doing the same thing. Ya know, all that jazz. While most people probably use these cliches in relation to going for a new job, asking that girl at the bar for her number or learning a new language, we've got a better idea – Jet Boating.
This action-packed and adrenaline-fuelled activity is perfect for the thrill-seekers of the group as well as the nervous-nellies down the back.
Wanaka is home to the iconic Lake Wanaka, which looks peaceful on first appearance but will actually leave you clenching on to your seat and masking your fear with a nervous cackle for the entire time. Rock up at the lake side and our expert team of boat drivers will run you through the basics. While they do go into some detail about what to expect, the quick summary is hold on and HOLD ON TIGHT.
Your ride will start off with a gentle cruise across the lake, slowly drifting past the lush greenery and surrounding mountain ranges. But just as you get comfortable, your skipper will hit the fast-forward button. From sitting still to whipping around in circles in a matter of seconds, this ride is full of surprises. Just when you think you've got the speeds, turns and jolts all worked out, the skilled driver will shake it all up again. You can blame the wet patch on your pants on that big splash, but we all secretly know the truth.
Seperate the boys from the men by the volume of their squeals and gather plenty of black mail content for your best man speech with a Wicked Bucks jet boat ride in Wanaka.
Experience Overview
For the thrill seekers!
Fast paced and adrenaline-fuelled
A unique view of the landscape
Get a Quote
Call for Info
Reasons to go Bucks Jet Boating in Wanaka
There is something so enjoyable about spending a day out on the boat with the boys. While cruising and sightseeing is great, sometimes you need something a little more fast paced and adrenaline-fuelled. Jet Boating is the perfect way to combine all those ingredients into one ultra-memorable experience! 
If the Bucks turned red and began sweating at the suggestion of jet boating, you can guarantee he's absolutely dreading the experience. Don't let him get off lightly. With his final days of freedom quickly running out, this is one of your last chances to throw him in the deep end and take the piss out of his girly squeal, without him using his Missus as an excuse not to come. 
Boys and toys go together like Friday arvo and cold beers. The greatest toy of all is a big boat with a powerful engine. If you can keep your thrill-filled mind from racing too quickly, you can sit back and enjoy the beauty of this epic water vessel. 
Wanaka is one of the most picturesque destinations in New Zealand, which is a pretty huge claim for a country that is internationally recognised for being an outdoor wonderland. A Wicked Bucks jet boating session will provide a unique view of the landscape and give you a completely new appreciation for the natural beauty. 
No trip to New Zealand is complete without an adrenaline-packed action sport. Jet Boating is the perfect way to tick this item off your bucket-list, without having to put your body on the line, face your fear of heights or swim in icy cold waters. It's a win-win situation.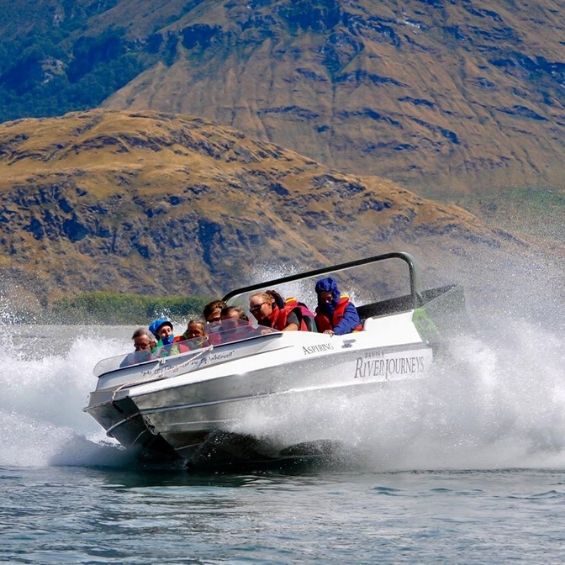 Making the most of Jet Boating in Wanaka
Do you remember that dream you once had? The one about the idyllic getaway to the mountains, with a lake that glistened under the sun and local that stopped to say g'day on the street? It was the dream that was so vivid, you woke up feeling like you'd been snatched from an alternate reality? Well you can stop searching your memory bank in an attempt to bring those details back into your mind. We've found the real deal.
Let us introduce you to Wanaka. This city on the South Island of New Zealand is like a National Geographic documentary but IRL. The lakeside town is home to stacks of adventure sports, a killer range of dining options, a burgeoning art scene and a string of world-class wineries and breweries. It's the type of place where you can start your day with a hike through the national park and a swim under a secluded waterfall and finish it off belting out your favourite karaoke tune on the table in a packed bar. Whether your soon-to-be-groom is a nature-nerd, night-owl, art-geek or sporting-nut, Wanaka will exceed all of his expectations.
Give the man of the hour the attention he deserves with a Wicked Bucks party in Wanaka.