Stag Trike Tours Wanaka
Have you ever wondered how your four-year-old nephew always has so much energy? Or why he gets excited over the smallest of things? Or how he can spend hours playing in the backyard by himself? Do you secretly want a slice of that simple happiness? Well, we've cracked the code. The reason for all this happiness is his trike. The three-wheeled machines just bring so much joy, which is why we've tee-d up a trike tour through Wanaka for you and the boys. 
Whoever said trikes are only for toddlers has obviously never experienced the magic of a Wicked Bucks Trike Tour. This head-turning experience is the ultimate way to attract attention, make a grand entrance and experience the breathtaking scenery of Wanaka, all at once. These classic Rewaco three-seater cruising trikes are equal parts cool and comfortable, making them the ultimate accessory for your Buck.
Sitting in the passenger seat, your private tour will encompass the beautiful vistas of Lake Wanaka and the surrounding areas including Glendu Bay, Albert Town and the Clutha River.
If you're looking to venture a little further away, Wicked Bucks can customise a tour through the Pisa Range, take you on a historic pub crawl or just cruise along the wide open roads. The experienced guides are a wealth of knowledge and are always keen to share information about the area and fill you up with fun facts. While some of their chatter won't be completely life changing, it will come in handy if you hit up the Trivia Night at the local pub afterwards. While you're busy enjoying the view, you will literally become the view for any passersby. These beautiful vehicles are fitted with padded seating, polished finishes and are maintained by a bunch of die-hard car-nuts. A Trike Tour through Wanaka puts a whole new spin on sightseeing and it's worth every second of the hype.
Experience Overview
Get to see Wanaka as you ride in style
Great for groups of any size
Great photo opportunities
Option to turn the ride into a pub crawl
Get a Quote
Call for Info
Reasons to do a Bucks Trike Tour in Wanaka
These experienced guides are the gurus when it comes to travelling throughout Wanaka. They've got all the local knowledge to skip the traffic, find secluded locations and enjoy the best the region has on offer. 
Wicked Bucks is just the way you like it – flexible. We can customise a trike tour to suit groups of any size or interest. Rides start from a 30-minute spin around town and go all the way up to a full-tour throughout the country side. 
There is nothing like the sound of a big engine. Sitting in the back set of these Rewaco three-seaters will make you feel like an absolute King. You'll be attracting attention from everyone passing by and we're totally not mad about it. 
Think of the photo opportunities! You've got an incredibly beautiful background, a killer prop and all the lads. Your instagram posts will be popping and your followers will be green with envy. 
If soaking in the scenery isn't your thing (What's wrong with you?!), you can transform your trike tour into a pub crawl. You'll get to try some very distinctive beers from a range of local craft breweries, as well as some of the special one-off brews.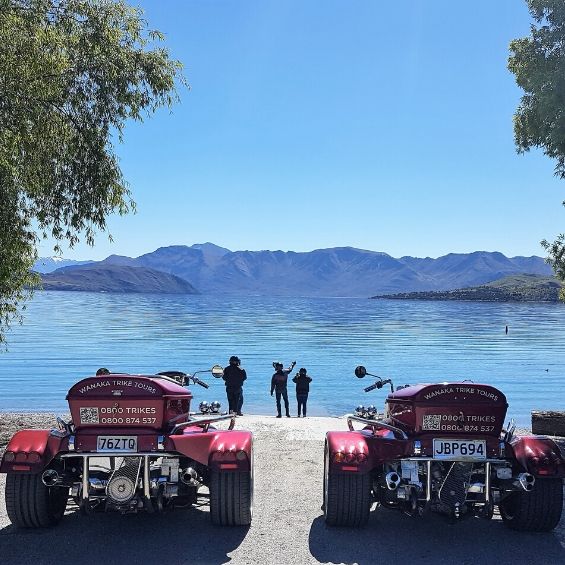 Making the most of a Bucks V8 Trike Tours in Wanaka
As a destination internationally recognised for #ThatWanakaTree, you might assume that there isn't much more on offer in this South Island destination. Well, ya wrong. Boasting one of New Zealand's most vibrant food scenes, an abundance of local wineries, incredible views and epic white powder, this lakeside town could easily become your new favourite destination. Just a one-hour detour from Queenstown, Wanaka is brimming with snow-capped mountains, breathtaking glaciers, fields of vibrant lupins and bucket loads of colourful leaves during autumn.
If you really want to make the most of the landscape, there are plenty of hiking trails close to Wanaka that lead to epic vantage points and uninterrupted views across the region. Another spot for insane views are the local wineries. These world-class vineyards are some of the most photographed spots in the region and the wine-tasting isn't half bad either. Talk to any Kiwi and you'll discover the only thing they love more than these good drops of vino, is an adrenaline-packed activity. Wanaka is full of all kinds of crazy adventure sports, including everything from mountain biking and kayaking to jet boating, jet skiing and skydiving.
If all that adventure doesn't wear you out too much, this South Island hot spot is a mecca for foodies. Considering it's relatively small size and population, Wanaka's cafes, pubs, restaurants and bar serve up a killer range of seasonally-inspired meals. Wherever you choose to dine, you'll be treated to great food, delicious coffee and tasty bevvies. After throwing your mate a send off in Wanaka, you might need to quit your day job and become a full-time best man – because your efforts are going to be in hot demand. Little do they all know, Wicked Bucks takes care of everything. We just let you take the credit for it.