Stag Golf Day Wanaka
As we grow older, we're starting to appreciate ball action for what it really is. It's not about how hard you go or which way you swing, it's all about enjoying the ride and playing the field right. Whether you bang it hard from behind or slip it in slowly, a Wicked Bucks golf day is the most satisfying ball experience you'll ever have.
Ahhh, boys and balls. It's a match made in heaven. Your girlfriend was totally onto something when she said "size doesn't matter" because where golf balls lack in size, they compensate with enjoyment. A Wicked Bucks golf day is nothing short of epic and just like bedroom action, you'll enjoy it even if you've got no skill. Before taking to the perfectly manicured course, you'll be decked out with clubs, cart hire and some jaw-droppingly beautiful caddy girls.
Once your hips are in position and you've got your eye on the prize, take a swing and let the fun begin. Golf is the sport of real men and this is your opportunity to put the rest of the lads to shame. The picturesque course has 18 holes and the scantily clad babes will cheer you on at every stage. But be careful, they could be your biggest distraction. However, they aren't the only view on offer. If you can manage to drag your eyes away from the ladies for long enough and take your attention off the game for just a moment, you'll be treated to an insane view of epic mountain ranges, the beautiful Lake Wanaka and beyond.
After proving that you're the true Tiger Woods of the group (take that however you want!), you can retire to the club house for some celebratory beers. It's a bucks afternoon of insanely good ball action with all the boys, that won't cause anyone to raise an eyebrow. 
Experience Overview
Golf, beers, and your best mates
An activity for everyone
Clubs and cart hire are included
Caddy girls are available to add to this activity
Get a Quote
Call for Info
Reasons to do a Bucks Golf Day in Wanaka
If you're looking for an excuse to play golf, you've obviously never really given the sport a try. While it's a past time generally associated with corporate executives and retired men, it's an activity that promises something for everyone. It's easy-going and slow-paced, but still channels your inner competitive streak. 
How many other sports can you play with a beer in hand? It doesn't get much better than showing the boys you've still got what it takes, while also sipping on an ice cold bevvy. 
Golf is one of the few times your Missus will happily let you go off in a threesome that doesn't involve her. 
As a relatively gentle sport, the art of golf is quite simple. All you need to do to master the shot is grip it and rip it. It's great advice to win the game and it can also be applied to other areas of your life.

Great for large bucks groups and well you can spread a little and not have to worry about getting lost just yet.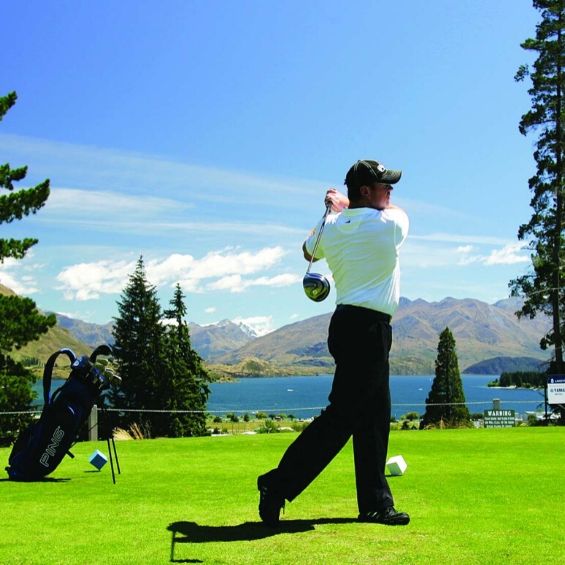 Making the most of a Bucks Golf Day in Wanaka
Wanaka has the "girl next door" appeal. The lakeside destination isn't as well known as it's older sibling Queenstown, but it does boast an incredible natural beauty. True to this innocent reputation, you can do just about anything with this city on New Zealand's South Island. The most popular attraction for tourists is the abundance of outdoor activities and adventure-based sports.
Whether you're spending your morning hiking through the mountains and overlooking the iconic Lake Wanaka, paragliding across the lush green forests or skydiving over the glistening blue waters, Wanaka does not disappoint. The CBD is also brimming with world-class dining options. This is practically the best excuse to indulge in more than your fair share of sumptuous food and delicious drinks. Coffee is more than a popular beverage in this town, it's a way of life. There are an impressive number of cafes dotted throughout the region and  these are the perfect places to start your day. It wouldn't be a proper bucks party without a big night out on the town though.
While Wanaka may not offer as many options as some of New Zealand's bigger cities, the high tourism numbers means that the available venues generally keep their doors open throughout the week. Unlike the girl next door, Wanaka is not out of your reach. Wicked Bucks is ready to be the ultimate wingman and set you up like a blind date. Get ready to impress the boys and give your buck the send-off he deserves. It's all possible with a Wicked Bucks party.