Bubble Soccer Wellington Stag Party Ideas
Get your balls out and ready to bang your mates. bubble soccer will let you bump, roll and flip over your buddies as you try to score a goal. Whatever game gets you and your balls going, Wicked Bucks can line it up for you. Have you ever wanted to whip your balls out in public and bang into your mates but you were worried it might not be considered socially acceptable? Wicked Bucks' has never been a fan of following the rules so we're chucking them out the window. 
Our answer? bubble soccer. Spilt your party into teams and get ready to dress to impress – in a giant inflatable bubble of course. In teams you can play football, soccer, ballrush, relay races or last one standing in your giant suits. If you thought these games were fun enough already, wait until you're charging into the best man at full speed, bumping into the groom, rolling over the bride's Dad and flipping into your Great Uncle John.
Experience Overview
Great for large and small groups
Bust out the competition
Full of rebound action
Get a Quote
Call for Info
5 Reasons to do Bubble Soccer in Wellington
You don't need to be the next Christiano Renaldo to take these fields by storm. Dressed in your hamster-ball looking suit, you can (literally) knock the competition out and score the goals to take your team home to victory.
Everybody knows that boys will always be boys. That doesn't just mean that fart jokes will never grow boring, but also that no guy will ever be too old for a bit of healthy competition. Set the boys apart from the men by splitting the party into teams and sending them head to head against each other.
We might not be able to offer much more than bragging rights for the winners but isn't that the best part of taking the title anyway?
Boys and balls. It's a match made in heaven. You can try naming a better duo but we think this is the best combo since avo and toast.
This is one for everyone. Regardless of who is tagging along to the bucks celebration, they can join in on the bubble soccer mayhem – no excuses!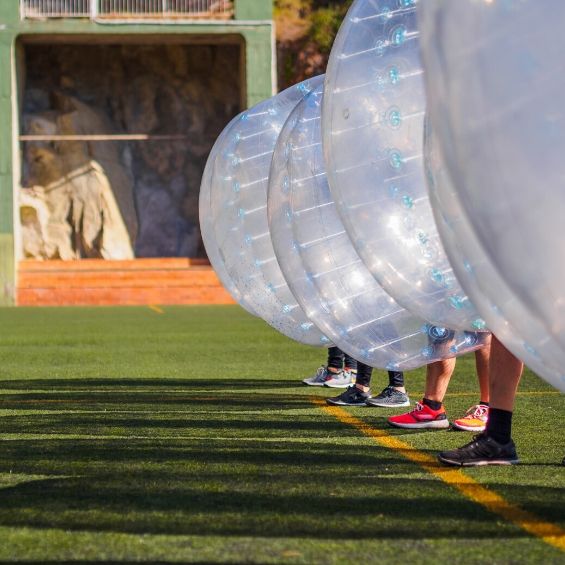 Making the most of Bubble Soccer in Wellington
Speaking to the local Wellingtonites, you'll quickly learn that they all seem to have two things in common. No one has ended up in Wellington by accident and no one wants to leave. The minute you step foot into New Zealand's capital it'll all make sense. It may be small and situated on a tiny island in one of the far reaches of the globe, but the world's southernmost capital city certainly punches well above its weight. Unlike other capitals, a trip to Wellington doesn't evoked traffic-induced headaches. Forget complex public transport systems or exxy taxi fares, everything you could possible want is only a short jaunt away.
Every corner of Wellington is home to a different activity and there is literally something for everyone – even your fussiest of cousins. For the adrenaline junkies, paintballing, go-karting and bubble soccer will quell your inner need for speed. If you're more of a night owl, Wellington offers a thriving nightlife everynight of the week. Choose from an array of impressive clubs, pubs and bars, or opt for a more intimate poker night or strip show. To top it all off, Wellington is true to New Zealand's picturesque reputation and boasts more views than your instagram followers will be able to keep up with. Don't leave all the fun to the Wellingtonites. Wicked Bucks can whisk you away and drop you into the centre of the action.