Sailing Charter Wellington Stag Party Ideas
Don your sailor cap and get ready to sail the seas because Wicked Bucks is hosting a Sailing Charter fit for a King – and you're invited. When you take off from Queens Wharf you will feel as though you're voyaging to Monaco or the South of France, and we're totally a-okay with that vibe. Let's be honest, there's nothing like a day out to sea with your nearest and dearest. Sailing through the postcard perfect waters of Wellington, with a cold beer in hend, you'll feel totally extra.
Just like your Dad in the kitchen, we also try to mix things up a bit and we can cater to whatever tickles your pickle. If you're a BYO and esky type of operator – knock yourself out! If you'd prefer to kick back and be doted on like you're living in Hollywood's golden age – let us pander to your every need. Your trip also includes the use of two kayaks and 3 stand up paddle boards. We're usually pretty modest but we're going to say that calling this offer impressive would be a (huge) understatement.
Experience Overview
Start the party on the water
Classy activity
See the natural wonders
BYO Drinks
Max 20 People on the boat
Girls available*
Get a Quote
Call for Info
5 Reasons to do a Sailing Charter in Wellington
If you don't want to say goodbye to the uninterrupted skyline views and serenity of the sea at the end of the day, you don't have to. If you're party is more of an intimate affair, we can drop the anchor and make this your home for the night. With the waves gently rocking you into the night, you'll sleep better than a baby.
No need to drop your daks and strategically position yourself over the edge. This sailing charter has not one, but three toilets on board.
You won't be the only wild creatures out there. Immersed in the beauty that is New Zealand, you're likely to see little blue penguins, dolphins, orca whales or even the odd seal. Keep a keen eye peeled and a camera ready to go. You won't want to miss this moment.
You might not be sailing the 7 seas and we can't take you to the waters of Monaco but Wellington may just be the world's best kept secret. These views are so drool worthy, you might need to physical pick your jaw up off the floor.
After a day in full-chillax mode and a few cold bevvys with the boys, you'll be primed and ready to hit the town for the ultimate night out. There really is no better way to kick start the party.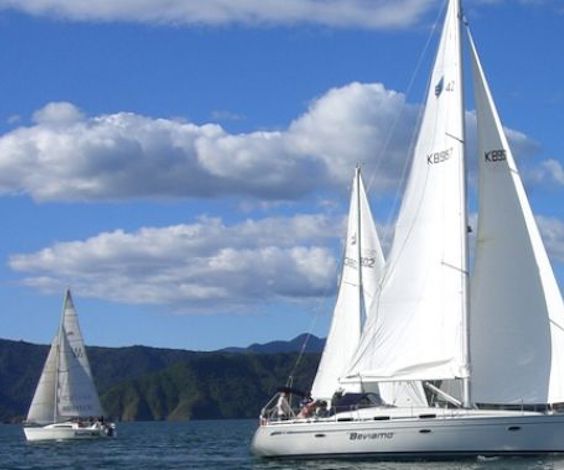 Making the most of your Sail Charter in Wellington
This small city exudes a massive amount of character and charm, without the headache-long traffic queues and skyscraper dominant views of those cities across the ditch. This North Island hotspot is one of the most walkable cities in the world and you can make your way to almost every corner of the city by foot. Where Wellington lacks in size, it definitely makes up for it in quality – the quality of their nightlife and coffee that is.
The city has a thriving nightlife and offer an impressive array of unique and cozy bars for every taste and budget. These Kiwi residents have also mastered the artform of making a dam good cup of coffee. With home roasted, cold brew, filtered coffee and everything in between, there is no better way to warm up on a chilly New Zealand morning. You can probably tell that we could boast about this city more than a new grandparents could dote over pictures of the family's newest addition. Instead of forcing you to forge interest through the 7th photo album we have on hand, we think you should just experience it for yourself. Let Wicked Bucks take you to this fun-sized, fun-fuelled destination for the Bucks Party of a lifetime.