Paintball Wellington Stag Party Ideas
Isn't playing with balls just so much fun? The faster the better, right? At Wicked Bucks we know just how you like it. That's why we've lined up an activity that will have your balls flying in a frenzy of excitement.
Paintballing in Wellington is the perfect opportunity to compare your balls skills with your mates – you might even learn a sneaky trick or two. Get those balls out and get ready to watch them fly. 
No man will leave this field dry. True to the typical manly celebration of Buck's Parties, Wicked Bucks Paintballing celebrates all things dude. While you can't very well play rough every day of the week, we've created the perfect controlled environment for your to channel your testosterone in a socially acceptable manner.
The tailored range of games including a gauntlet run and stag hunt will provide the perfect balance of fun for the groom-to-be and the challenge that he needs. Although this may be an alcohol-free zone, the inevitable adrenaline high will shape you up for the night to follow.
Experience Overview
Ready, aim, fire!
Test who has the best aim out of the group
Variety of missions
Elaborate playing fields
All gear provided
Get a Quote
Call for Info
5 Reasons to do Paintball in Wellington
Paintball is a friendly game that will test your stealth, aim and courage – because let's face it, it's always fun to belt your mates with a paintball or two.
Paintballing is the perfect opportunity to pretend you're a live character in a video game. All that ducking, weaving, defending and attacking your opponents is enough to justify all the hours you spent playing Grand Theft Auto and Call of Duty when you were meant to be washing the dishes.
Boys love their toys. You might be preparing to watch one of your best buddies sign up for a lifetime with his Missus but that doesn't mean it's time to say goodbye to your inner kid too. A game of paintball will transport you back to your childhood, when your biggest worry was which flavour ice cream to choose (Rainbow with chocolate topping, duh!)
This may not be 50 Shades of Grey but Paintballing will still leave you feeling bonded…with your mates that is. There is no better way to spend some quality bro-time than with a dose of healthy competition.
Paintballing is legit. So legit you watch that colour explode on your shoulder, you might cry like you're back in primary school. Some people would probably refer to  them as "gnarly bruises" but we prefer to call them "badges of honour" – the type that's sure to win you some free beers at the pub afterwards.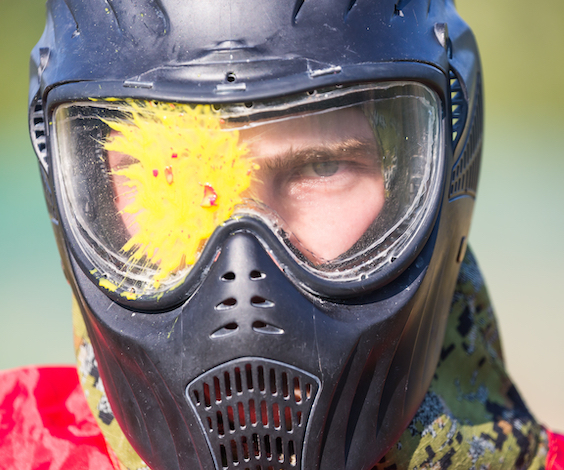 Making the most of Paintball in Wellington
Most people will know Wellington as New Zealand's capital city. With this in mind, some might automatically associate this destination with sheep and rolling green hills. Although these are some pretty big draw cards for the North Island hub, there are a stack more reasons why you need to drop by and visit this place. Kiwi's are pretty much internationally renowned for being chilled-out and hospitable. With more than 10% of the country's population living in the Wellington region, you can guarantee you'll meet some top blokes in your travels. Although this is the capital city, Wellington doesn't feel like a capital city.
Everything you could want – including parks and gardens – are all just a short jaunt from the CBD. The surrounding lush, green landscape offers a myriad of local wildlife and native species. What other city in the world offers the true David Attenborough experience?! Like most other NZ destinations, Wellington boasts an impressive array of panoramic view points. We won't tell anyone about the minor drooling situation you'll inevitably find yourself in when you reach these picturesque looks outs. Wellington may be pretty close to perfect, but it's only missing one thing. You. Let Wicked Bucks whisky you away to New Zealand's capital and show you how Bucks Parties should be done.