Go Karting Wellington Stag Party Ideas
Forget Mario Kart for a day live your childhood memories IRL – without the hassle of all those banana peels. Go-Karting in Wellington is the perfect opportunity to satisfy your need for speed, channel your inner competitive streak and show your mates how it's done.
We know that when you're riding, you like to be in control and you like to finish first. When you've got your mind out of the bedroom, you'll realise we're not talking about last Friday night's pick up.
You probably haven't been Go-Karting in the past 10-years so it's about time you round your mates up for this nostalgic and fun-fuelled activity. The track in Wellington is over 300m long, with a fast first half followed by a technically challenging 2nd half.
You can put your pedal to the metal, without worrying about spinning out, because the track is lined with a specially designed barrier system to help prevent crashes. When you've finished zipping through the course and smashing your mates, the cold beers will be ready to celebrate that inevitable win of yours. 
Experience Overview
Pedal to the metal action
Sexy race girls available
Strictly no drinking allow before racing
Great for large and small groups
Ideal for budgets of all sizes
Get a Quote
Call for Info
5 Reasons to choose Go Karting in Wellington:
These karts are designed to satisfy your need for speed and ensure maximum excitement, without putting your body on the line. We promise your Missus will be grateful when you're not sporting a black eye and sling at the wedding. 
It might just be you and your mates hooting around the track, but there is always a team of experienced karters (and Racing King's) trackside. They're full of pro tips, safety advice and will have the laughs ready for when that last poor soul crosses the finish line.
What guy doesn't love a bit of competition? When you pull up to the starting line you may as well don a red cap and moustache because you'll feel like you've been transported to a real life Mario Kart set. 
You might usually like your weekend rides as rough and wild as they come but unfortunately that's not something we can offer. This racing track is so smooth, you may as well call it Mr Steal Yo Girl. 
You're probably sick of the nagging to hang up the Xbox controller and get out of the house on a Sunday. Don't think all those hours of Grand Theft Auto training will go to waste. Go-Karting is the perfect opportunity to showcase your quick thinking and gaming skills in the flesh. We won't even interrupt to ask you to take out the rubbish (for the 7th time).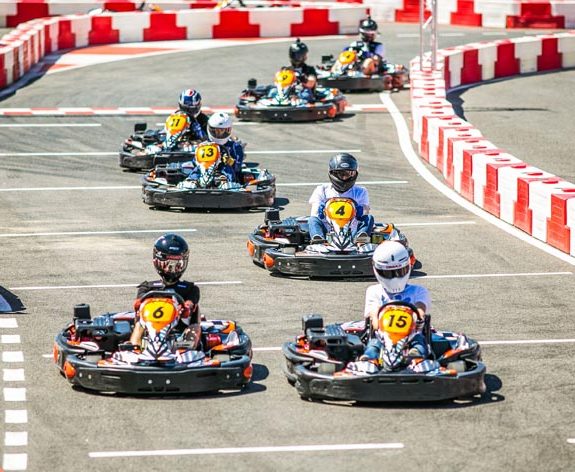 Making the most of Go Karting in Wellington
Wellington may be Auckland's younger cousin, but that doesn't mean this city doesn't pack a punch. If you're trying to escape the big time rush of a metropolis, you might be keen to stick clear of capital cities – but that shouldn't apply to Auckland. New Zealand's capital is missing the bustle of heavily trafficked roads and crowded pavements.
Instead of priding itself on a skyscraper dotted horizon, Auckland boasts being the country's coffee and craft beer capital. There are more boutique eateries and restaurants for all tastes and budgets than you can poke a stick it. You won't struggle to find a thriving watering hole on any night of the week – but your biggest challenge might be choosing which one will kick start your night. Being small also means everything you could ever want (and everything you never knew you wanted) is only a hop, skip and a jump away from the city CBD.
Forget the complicated public transport system and exxy Uber fares, all you need to do to enjoy the beautiful scenery in Wellington is to brave your way through the hills. So what are you waiting for? Get up. Round up your mates. And pack your bags. You're about to have a Buck's Party worthy of a spot in the history books. All you need to do is let Wicked Buck's show you how it's done.