Top Rooftop Bars in Brisbane
Brisbane is blessed with a year-round supply of sun-soaked days and balmy afternoons. When you've had a big day out exploring with the boys, there is nothing better than a sky-high feed and open-air drink with a good view of the city. Luckily for you, Queensland's capital is really upping the ante when it comes to rooftop bars. The impressive alcohol menus at these joints will have you moving and grooving well into the night. Here's our round-up of the best Brisbane rooftop venues on offer.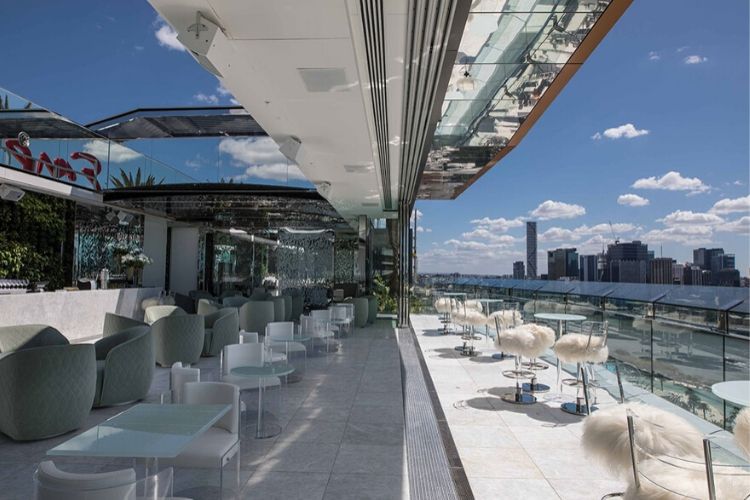 (Source: Emporium Hotels)
If you're a sucker for a good view, you'll want to have the panorama mode on your phone ready to go at this place. As one of South Bank's few rooftop bars, The Terrace at Emporium Hotel has views of the Brisbane river, city and all the way to Moreton Island.  When you're nestled in-between the lush landscaping, perched on white fur stool and sipping on one of the carefully crafted cocktails from the expansive bar menu, you'll be feeling oh-so-OTT. You won't want to leave this stunning elevated setting all night long… you don't have to leave either. 
The Terrace at Emporium Hotel – Level 21/267 Grey Street South Brisbane QLD 4101
(Source: Soleil Pool Bar)
As the capital of Australia's sunshine state, Brisbane gets pretty hot and steamy during the warmer months (aka. all the time). Soleil Pool Bar has the vibe of a non-stop pool party and is the ultimate place to kick back and cool down. During the day, you can sprawl yourself across the relaxing loungers by the pool, sip on a cocktail or two, or even treat yourself to their famous pool-side Garden Tea. Once the sun goes down, this place really comes alive. With DJs spinning track into the early hours of the morning, the celebrations will really be going off. 
Soleil Pool Bar – Podium Level, Rydges. Corner of Grey & Gleneig Streets, South Bank 4101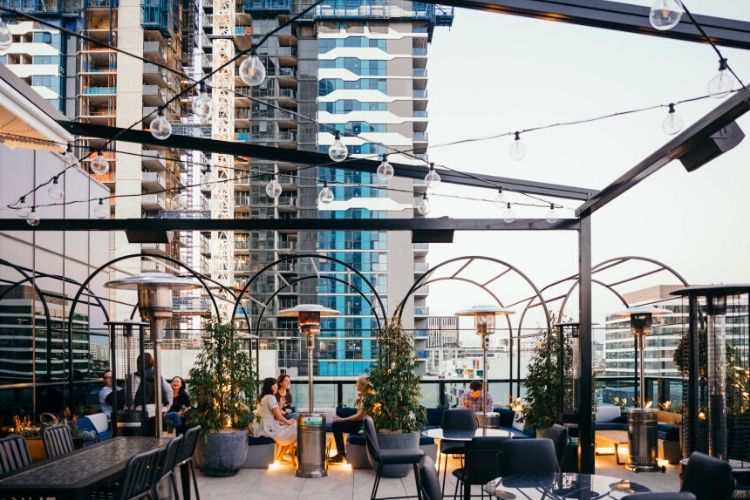 (Source: Dean Swindell)
Altitude is a sky-high drinking spot that you might find yourself at just about every night of your Bucks celebrations. The Fortitude Valley bar comes with stellar views and plenty of outdoor seating so that you can soak it all in. If you can manage to tear your eyes away from the scenic outlook for long enough, you'll find that the cocktail menu is just as eye-popping. Altitude boasts all the classics and plenty of creative new creations. Our favourites as the Salted Caramel Espresso Martini and the smoked gin Bushfire Negroni. The drool-worthy menu of nibbles also means you won't need to do a runner when your late night hunger strikes. What's not to love about that?!
Altitude –  209 -211 Brunswick Street Fortitude Valley 4006 QLD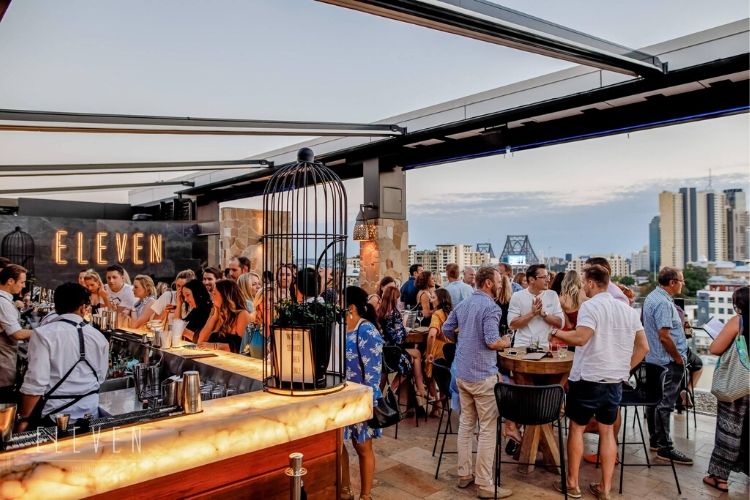 (Source: Eleven Rooftop Bar)
Picture this: You're lounging back in a leather booth, with a cocktail in one-hand and 180 degree views of the Brisbane CBD in front of you. Named after the floor that it resides on, Eleven Rooftop Bar is ideal for an arvo sesh with the boys. If it weren't for the city view, the swanky fit-out may make you feel more like you're in Aspen than Brisbane. The only thing more impressive than the outlook is the impressive array of bevies on offer. 
Eleven Rooftop Bar – Level 11 757 Ann Street Fortitude Valley 4006 QLD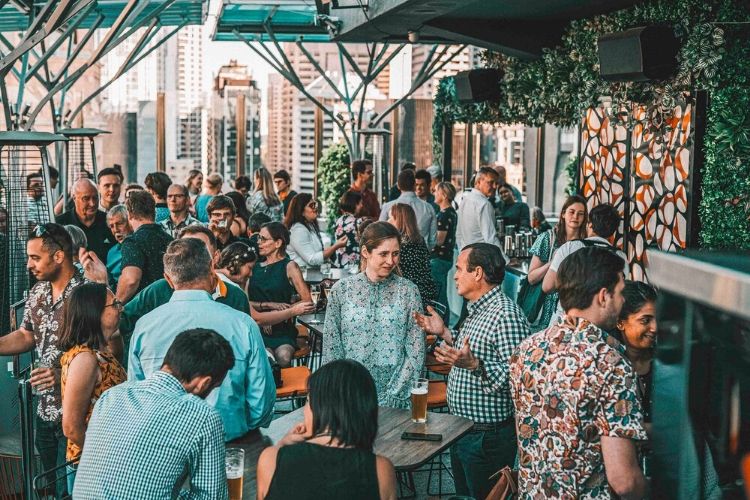 (Source: Sixteen Antlers)
This is one for the city slickers amongst the crowd. Sitting atop the Pullman Hotel, Sixteen Antlers boasts a killer cocktail menu that's almost as flawless as its views of King George Square and the CBD. We're talking share-style food, laid-back beats and an incredible array of local and international craft beers. We guess you could say Sixteen Antlers is pretty much a dream come true. 
Sixteen Antlers – Cnr Ann & Roma Street, Brisbane 4000 QLD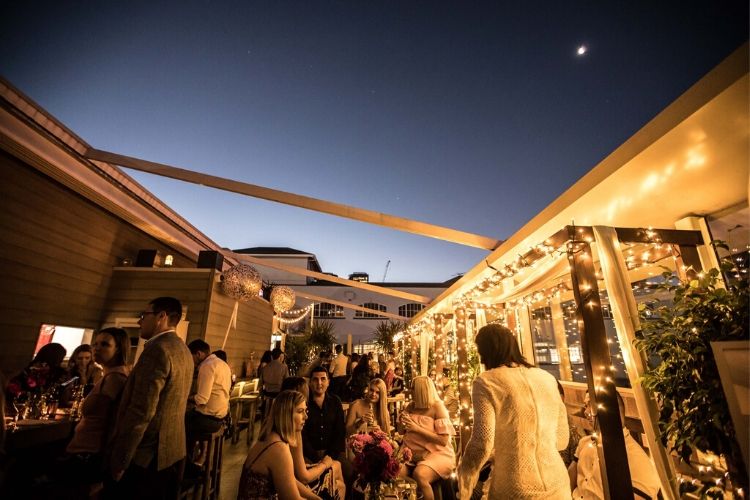 (Source: Elixir Rooftop Bar)
Drag yourself up a few flights of stairs and you might be surprised by what you find. Elixir Rooftop Bar is easily missed from the streets but stepping inside is like being transported into the pages of a fairytale. The urban oasis specialises in handcrafted cocktails and is a hideaway from the hustle and bustle of Brisbane. 
Elixir Rooftop Bar – 646 Ann Street, Fortitude Valley 4006 QLD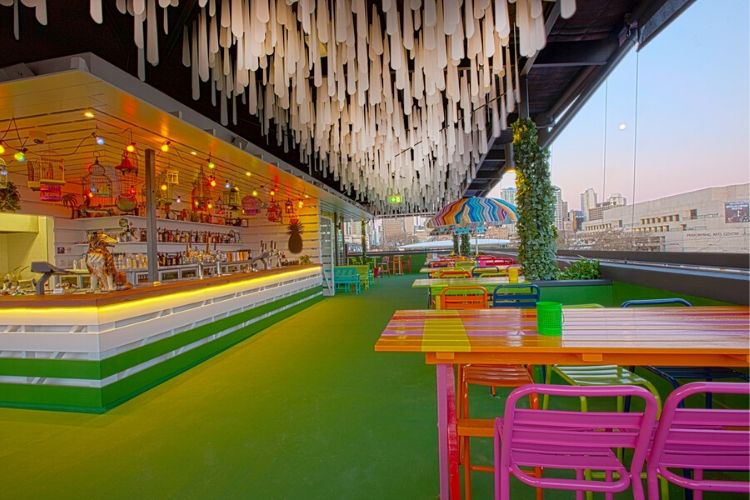 (Source: The Fox Hotel)
If you combine a backyard bbq vibe with a tropical beach club atmosphere, you have Dandy's Rooftop Bar. Located on top of the iconic The Fox hotel, the rooftop bar welcomes hoards of locals and travellers every Friday, Saturday and Sunday afternoon. Boasting live DJs and 360 views of Brisbane and beyond, you might find it hard to drag yourself away. 
Dandy's Rooftop Bar at the Fox – 71 – 73 Melbourne Street, South Brisbane 4101 QLD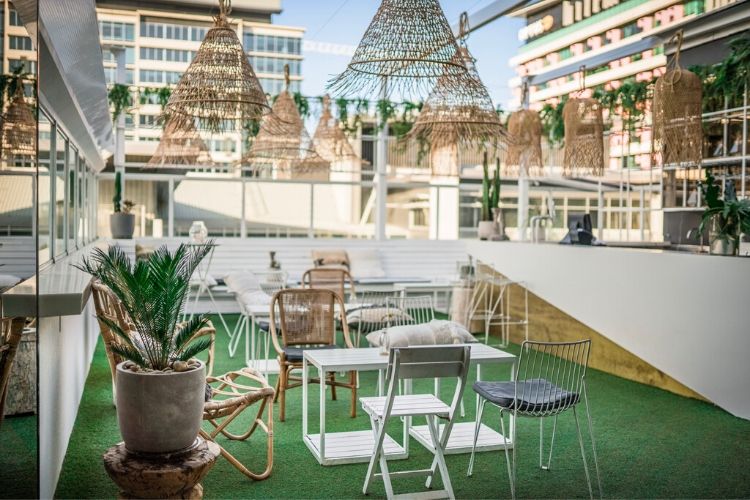 (Source: Limes Hotel & Rooftop Bar)
It turns out Limes aren't just for the white girls to mix with their Vodka soda. This rooftop bar has been a pioneer of the Brisbane nightlife scene for years, earning the sky-high destination an unparalleled reputation. It's got everything you could ever possibly dream of and more – snack, drinks, spas, live DJ, an open-air cinema and even accommodation options too. It's the ultimate summer hangout. 
Limes Rooftop Bar – 142 Constance Street, Fortitude Valley 4006 QLD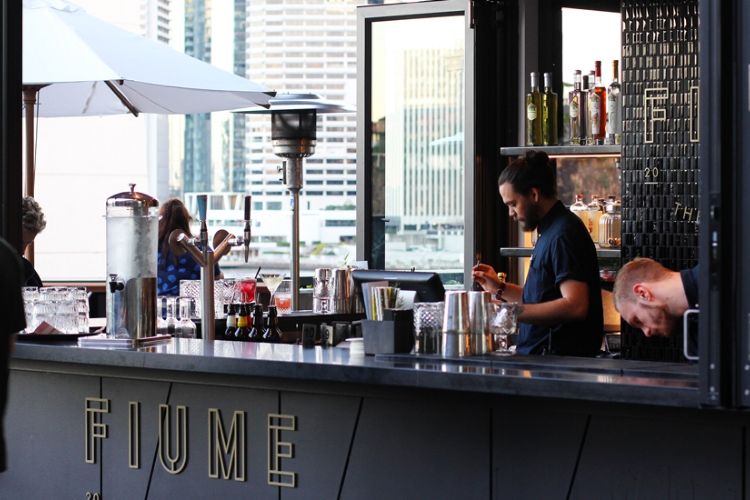 (Source: Fiume Bar)
Don your best suit and dress to impress because Fiume at the Fantauzzo is just as glitzy and glamorous as it sounds. The OTT venue might just be the closest you'll ever get to living the A-lister lifestyle that you've always dreamt of. With a fancy cocktail in hand and a jaw-dropping view to match, Fiume at the Fantauzzo is one of our faves. 
Fiume at The Fantauzzo – 5 Boundary Street Brisbane City 4000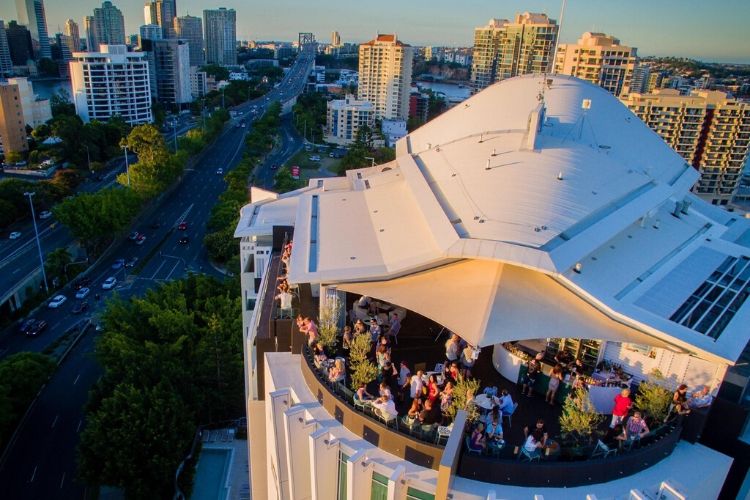 (Source: Eagles Nest Brisbane)
Eagles Nest Brisbane sits high above the city and is hidden within The Point Hotel. A visit to this aptly named rooftop bar comes with free-flowing Moet, including the world's first Champagne designed to be served over ice. If bubbles aren't your thing, you can also sip your way through the classic cocktails, extensive range of wines or just stick to a trust beer. 
Eagles Nest Brisbane – 21 Lambert Street, Kangaroo Point, 4169 QLD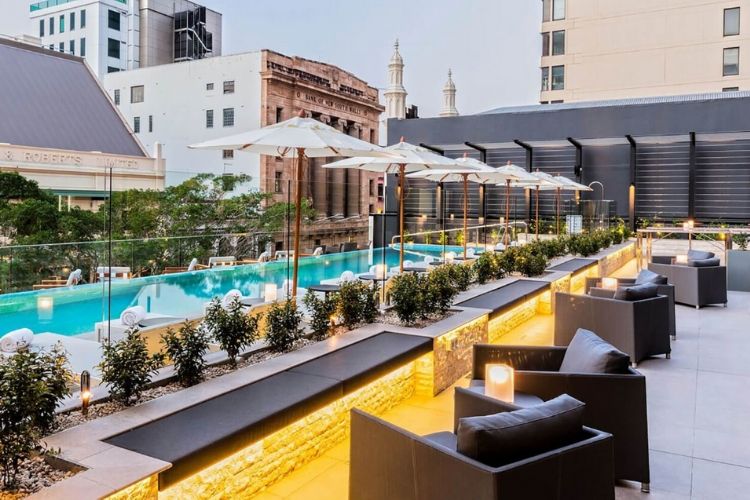 (Source: Next Hotels)
After a long day exploring Brisbane and beyond, Next Hotel Pool and Terrace Bar is where you and your buddies need to head to wind down. 'Chilled vibes' doesn't even begin to describe how laid back and relaxing this venue is – It's even got a 20 metre infinity pool for crying out loud! The team at Next Hotel also like to keep things fresh with regular events and live gigs. 
Next Hotel and Terrace Bar – 72 Queen Street, Brisbane 4000 QLD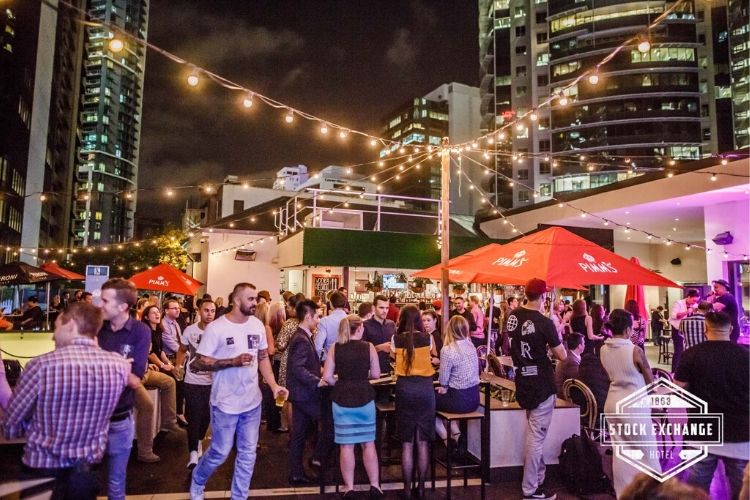 (Source: Stock Exchange Hotel)
Despite the name, The Stock Exchange isn't the place for boring old corporates to hang. The wooden tables, hanging plants and fairy lights gives the rooftop bar a distinct Sunday arvo vibe, making it the perfect place to sink bevvies and spin yarns with your mates. Round up the boys and get rid of the button up, there's a jug of Pimms already calling your name. 
The Stock Exchange – 131 Edward Street Brisbane 4000 QLD
Spicers Balfour Hotel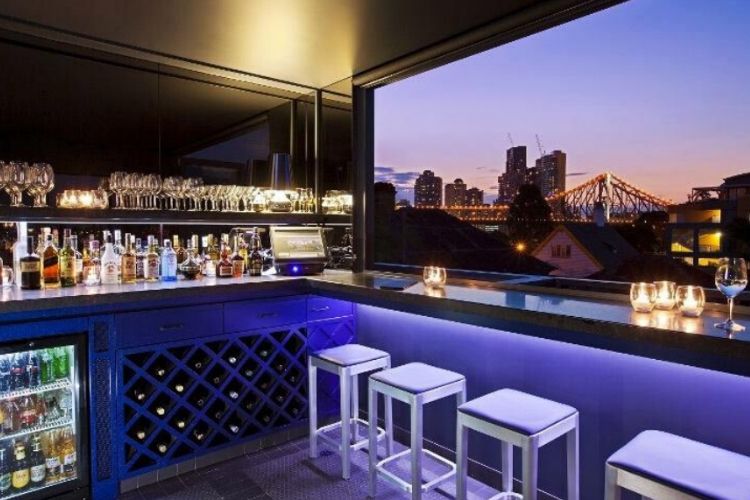 (Source: Spicers Retreats)
This might just be Brisbane's best kept secret. Spicers Balfour Hotel is a local favourite and is exclusive to diners at The Balfour Kitchen. After you've eaten more than your fill at the French-Vietnamese restaurant, make your way upstairs to be treated to a whopping views of the Story Bridge, Fortitude Valley and city skyline. It's the type of place where you can easily lose hours. 
Spicers Balfour Hotel – 37 Balfour Street, New Farm 4006 QLD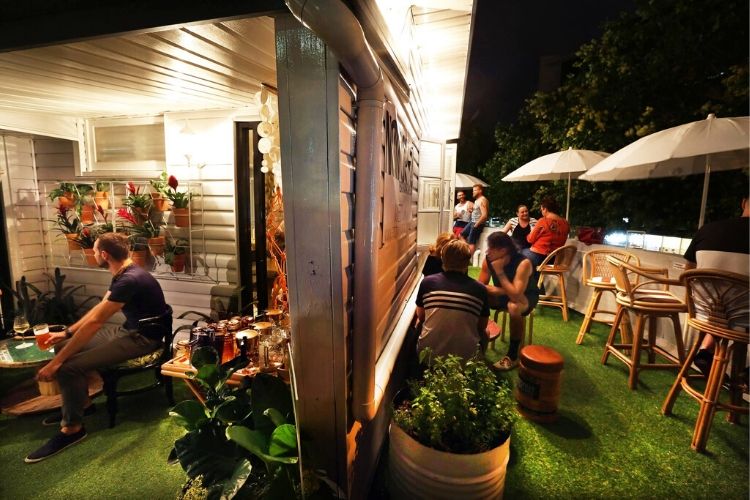 (Source: Fitz + Potts)
Fitz + Potts is the type of place that will make you feel like you're just cracking a cold one on the roof of your mate's place. The team at the suburban rooftop bar are the experts in chilled vibes and always deliver a summer arvo session to remember. They're committed to showcasing the latest and greatest in small-batch craft beers and Australian wines. The drinks are all served with ridiculous amounts of cheese. 
Fitz + Potts – Level 2, 1180 Sandgate Road, Nundah 4102 QLD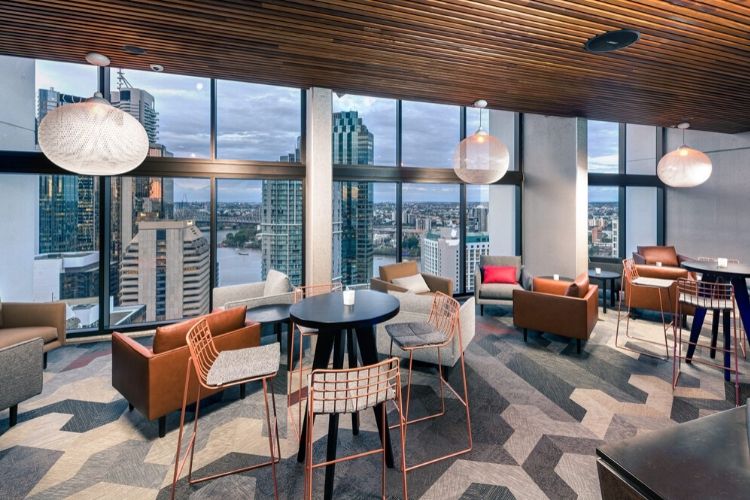 (Source: Sazerac Bar Brisbane)
Sazerac holds the title of highest bar in Brisbane, and it's ranks just as well in our books too. Sitting so far above the city undoubtedly provides some of the best views of the region of offer. Cocktails are their speciality, but the range of wine, beer and spirits are equally as impressive. 
Sazerac – 99 Mary Street, Brisbane 4000 QLD
Further Reading