Top Airlie Beach Nightclubs and Bars
As soon as you arrive in Airlie Beach, you can be sure you are going to have an amazing holiday. Although it is famous for its idyllic beaches and being the gateway to the Great Barrier Reef, it is well renowned for its nightlife, often being referred to as the backpacker party capital of Queensland.
What makes Airlie Beach so different is it has a wide range of backpacker hostels that are fully equipped with licensed bars and offer some of the best alcohol at the cheapest prices. These bars also have a wide range of activities, including pool tables, volleyball and giant jenga.
There is a wide mix of pubs and clubs throughout Airlie's main strip, providing some of the best live music and attracting some of the best international DJ's for guests to enjoy. Whether you're into a laid back pub vibe, or more of a dance club fan, you can be sure Airlie Beach has something for everyone.
If you're wondering where the best spots in Airlie Beach are, we have rounded up a list of the most popular just for you.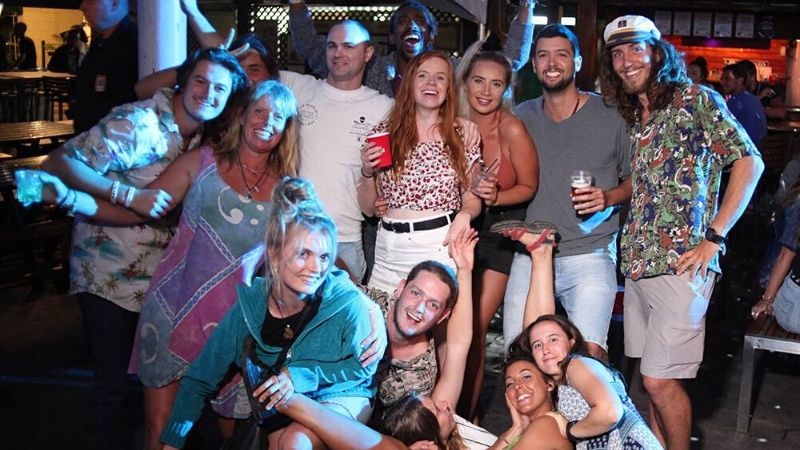 You've just wrapped up a huge day on the water. The boys are all sunburnt to a crisp and dying for a cold bevvie. Beaches is where every post-boat trip party should begin. It's a bar, bistro and hostel rolled into one, meaning you couldn't really miss the purple and green club if you tried. This joint is popular with locals and tourists, and the pool tables, live music and gaming rooms means there is something for everyone. Beaches starts packing out just after dinner but the only thing putting an end to your night will be the sunrise. 
Known as a backpacker favourite, Beaches is where most of the post-boat trip parties begin. It provides a laid back pub type atmosphere and is a massive hit with locals and visitors alike. Most of the boat trips organise a table for their passengers for a post-trip party, allowing everyone to enjoy each others company some more and make those extra memories. Beaches is a fun choice, with pool tables, a gaming room and great live music, not to mention it's incredibly affordable drinks. If you're looking for somewhere to start the night, Beaches is the perfect place.
356 Shute Harbour Rd, Airlie Beach QLD 4802
Magnums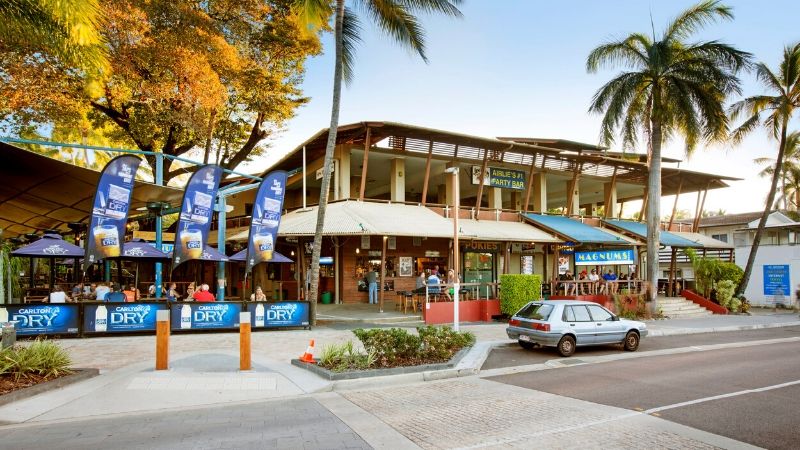 Just like the dessert, Magnum's is an absolute cheeky treat. The main street joint has a large patio seating area, gaming lounge, pool table and massive beer garden. The infectious atmosphere attracts live gigs, foam parties and plenty of good banter. This is where you'll need to go if you're wanting to meet some locals, bump into that guy you met on your sailing trip a few years ago or have a chin wag with lads from across the globe. Probably one of the biggest and most popular places to go in Airlie Beach, Magnums is a must visit on your list. 
366 Shute Harbour Rd, Airlie Beach QLD 4802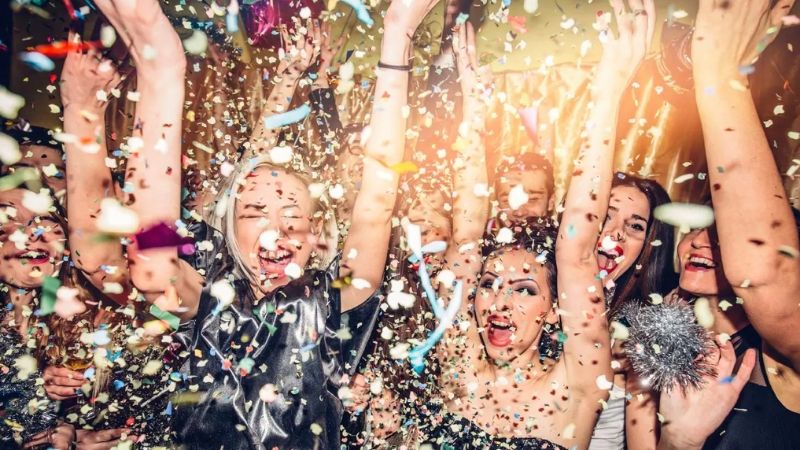 The team at Mama Africa Bar and Nightclub pride themselves on their friendly staff and exotic theme. With the promise of a relaxing and fun night out with the boys, you might get distracted by the somewhat quirky challenge on offer – find the three hippopotamuses hidden around the club. We can't confirm what the prize for completing the task is, but you're sure to have a groovy time trying to find out. Another very popular place to go is Mama Africa. True to its name, it is an African themed bar providing a great venue to dance the night away. Follow the red carpet up the stairs and you'll see zebra crossings at every turn. The music is widely popular, providing some funky mash-up beats that are sure to get you moving. Mama's also provides some of the most delicious cocktails, with the bar providing a wide range of drinks that taste amazing and are equally affordable. This is known as the place to be once all pubs shut at 12, guaranteeing a great venue to kick on and enjoy yourself with your friends.
Shute Harbour Rd, Airlie Beach QLD 4802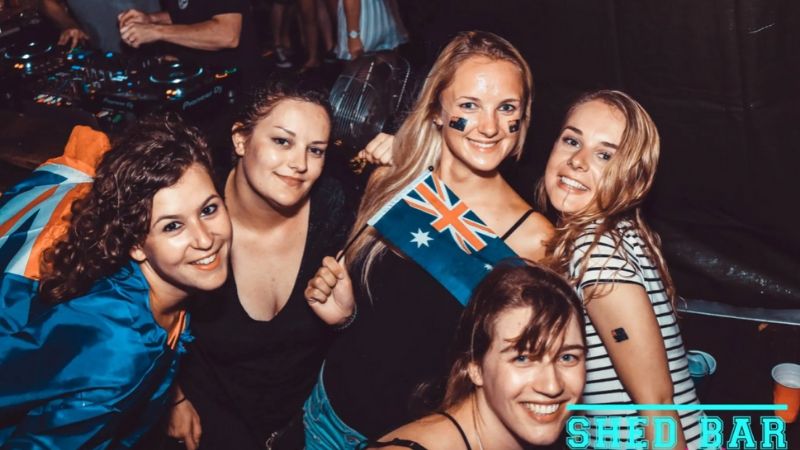 Located behind Nomads Backpackers Hostel in Airlie Beach's main strip, Shed Bar is one of Airlie's hidden gems.
It is easily one of the best bars in town, providing a great outdoor setting and amazing atmosphere. Shed Bar is another great place to start your night and is known as the place to be if you love a good Sunday session.
There is always a fun and upbeat crowd at Shed Bar, with it easily providing some of the cheapest drinks in all of Airlie.
354 Shute Harbour Rd, Airlie Beach QLD 4802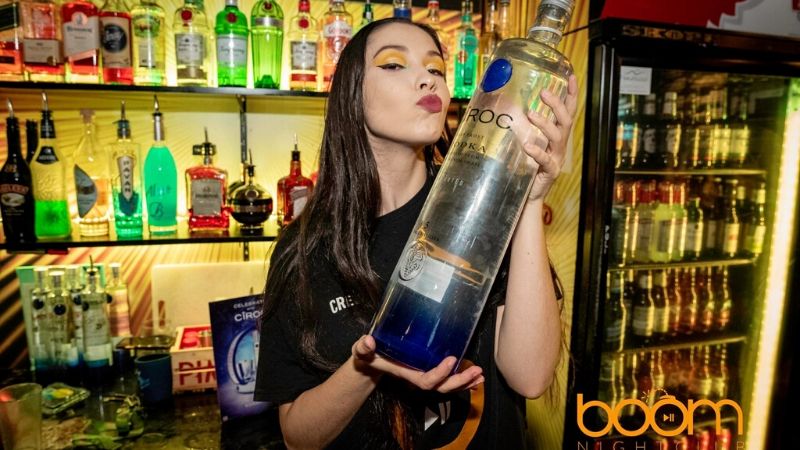 Located in the heart of Airlie Beach, BOOM Nightclub packs just as much punch as the name would suggest. Fitted out with state of the art sound and lighting equipment, the after dark hotspot also has killer decor to match. These guys are the experts when it comes to having a good time and have even got some special deals up their sleeves for any Bucks groups. Another place that completely kicks off after midnight, Boom Nightclub is a fantastic nightclub that is sure to keep you entertained. If you like to dance and move like no one's watching, then Boom better be on your list. With funky DJ beats playing all night long, you are sure to love Boom Nightclub.
LEVEL 1, 352 Shute Harbour Rd, Airlie Beach QLD 4802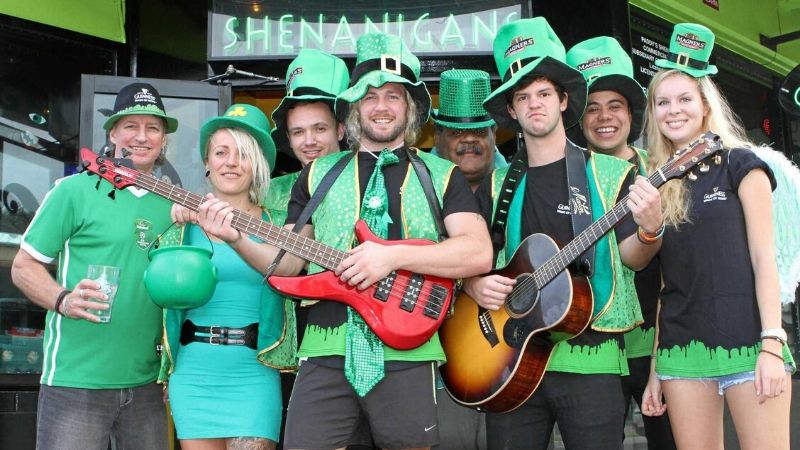 Located just below Boom is Paddy's Shenanigans. If you're into Irish bars then Paddy's is definitely worth checking out. Everyone knows that the Irish are the King's of having a good time, so lucky for you Airlie is home to one of the best Irish pubs on offer. Paddy's is the perfect mix of live music, comfy seating and open dance floors. It provides a great balance of entertainment from awesome live music, open dance space and a range of beverages. Paddy's is known for its signature drink, 'The Nashy' which is sure to give you the kick you're after. Mixing alcoholic cider, vodka and Redbull, it combines some absolute favourites making it a drink worth trying. Our list of top nightlife venues in Airlie Beach, provides a wide mix of backpacker bars, laidback pubs and dance clubs that you are sure to love. You can be sure that no matter where you go, you're going to have a great time.
352 Shute Harbour Rd, Airlie Beach QLD 4802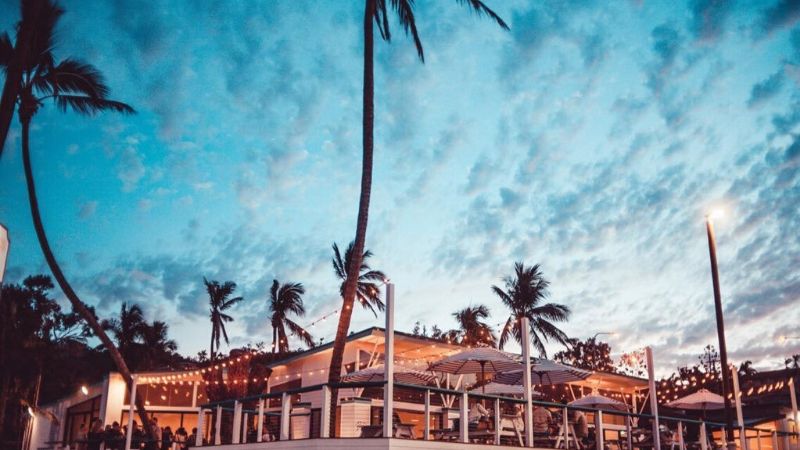 Boaty's is the new kid on the block but it certainly packs a punch. It's the perfect place to kick back and relax under an umbrella, with a cold beer in one hand and a fresh oyster in the other. The vibe is a little more low-key than some of the other venues but is a nice way to set yourself up for a big night to follow. We suggest frequenting Paddy's on a sunny Whitsunday afternoon… which is pretty much any afternoon.  
Boaty's – 336 Shute Harbour Road Airlie Beach 4802
If you're looking to enjoy a nice relaxed night with some good live music or dance the night away and have one drink too many, Airlie Beach has it all.
Airlie Beach has no shortage for choice, with its well regarded nightlife scene continuing to attract so many visitors each year.
You can be sure you will have a weekend not to forget in Airlie Beach and you won't go home disappointed. If you are looking for Airlie Beach party packages we have you covered. There is also group accommodation available. Be sure to check out our party specials.
Further Reading