Known as the gateway to the Whitsundays, Airlie Beach is a charming coastal town providing easy access to the Great Barrier Reef and all its stunning natural beauty.
It is a vibrant tourist hub and Mecca of the Whitsundays and is located so close to some of the most beautiful beaches and the best snorkelling spots. It continues to attract millions of visitors each year and it's easy to see why.
Visitors come to soak up the sun and enjoy the laid back, tropical atmosphere. It is the perfect place to enjoy a nice and relaxing holiday, while also providing a wide range of amazing outdoor activities.
Discover Whitehaven Beach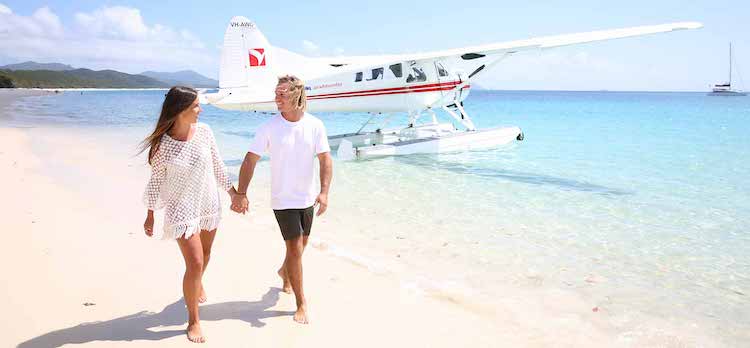 Famous for being one of the most beautiful beaches in the world, White Haven Beach is a must visit when in Airlie Beach. You will be dazzled by its breathtaking beauty and vivid white sand, providing you with an experience like no other.
Stretching over seven kilometres, Whitsunday Island is the largest of all 74 islands in the Whitsundays. It is one of Australia's true gems and continues to attract millions of people each year, it's hard to argue why. The uninhabited island of Whitsunday Island is truly spectacular, providing some of the best natural beauty you will ever see.
Its enchanting reef is home to some of the most magnificent corals and marine life, making it the perfect place to snorkel and dive. Whether you are looking for an introductory dive or are quite experienced, the tours on offer cater for all skill levels and experience, providing something for everyone.
Further Reading: Airlie Beach Scenic Flight
Learn to sail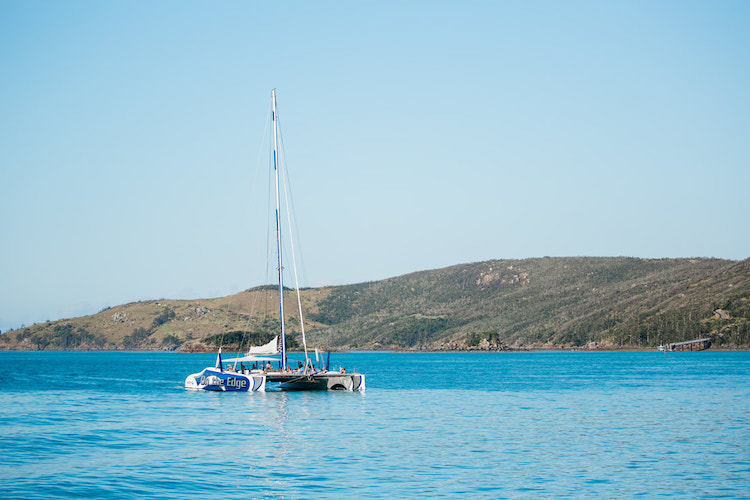 Airlie Beach provides visitors with one of the most magical sailing destinations in the world. There are many sailing tours offered from Airlie Beach, with bareboat charters where you can sail a yacht yourself, to a luxury cabin cruiser.
Sailing the Whitsundays is an enchanting experience, providing a truly wow-moment for those who decide to do so. Many people dream of being able to sail through and experience the Great Barrier Reef this way, making it a must do activity on your list.
Further Reading: Airlie Beach Yacht Sail Cruise
Airlie Beach Lagoon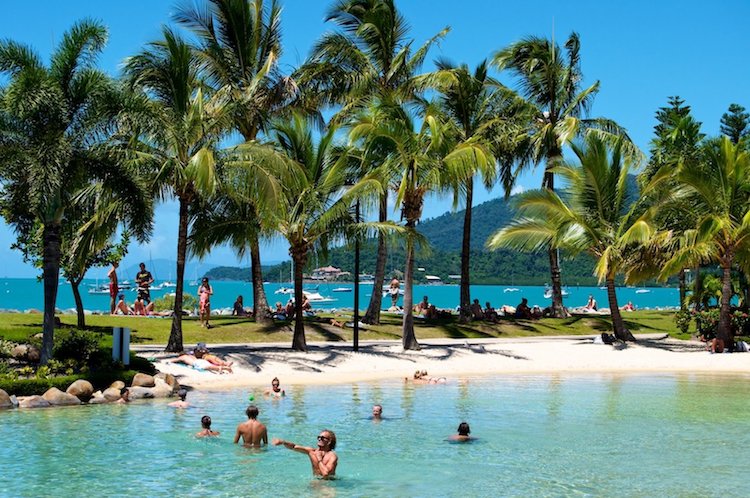 Every tropical area needs a central water park, with Airlie Beach being no different.
Just off the main street and behind the palm-fringed beach is an enormous man made lagoon, providing a great place to swim.
There are lifeguards there to provide you with peace of mind and also a kids pool for the children to enjoy. With plenty of shade and free barbecues in the area, its as if you're in your very own five star resort pool.
Further Reading: Airlie Beach Kayak Clubs and Cakes
Explore the hinterland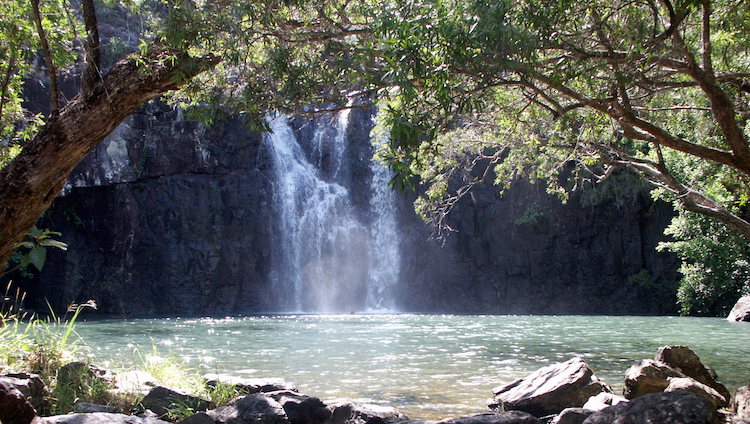 Airlie Beach is within close proximity to some amazing lush hinterland, with Conway National Park being only minutes away.
It is one of the best kept secrets of the Whitsunday hinterland, providing scenic lookouts with postcard views, in addition to fantastic walk and hike trails that wind through deep rainforest and lead to majestic waterfalls. Cedar Creek Falls is a great place to enjoy a swim, as it provides a natural rock amphitheatre where you can go underneath the falls.
Further Reading: Airlie Beach Skydiving 
Sleep on the Great Barrier Reef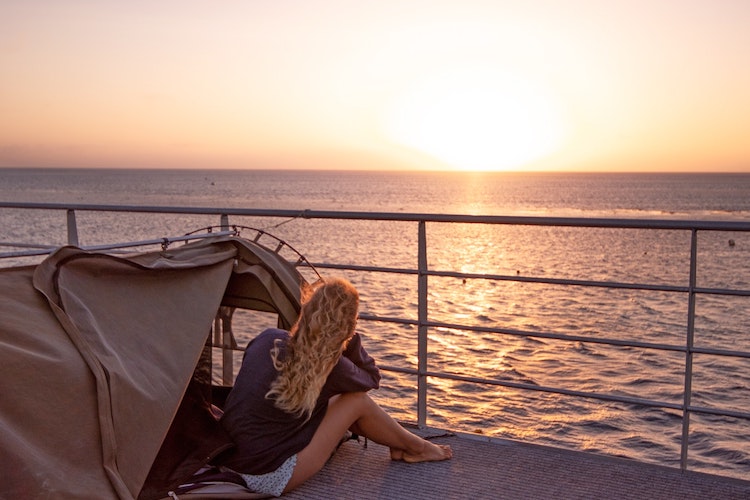 Another must do activity is to sleep under the stars at ReefSleep, which is a permanently moored pontoon on Hardy Reef. So grab your Australian Swag and enjoy falling a sleep on one of the Great Barrier Reef's most spectacular stretches.
During the day, you can go snorkelling on a large luxury catamaran and watch the reef come alive after dark from the underwater observatory.
Further Reading: Airlie Beach Sail and Beers Package
Shop the Markets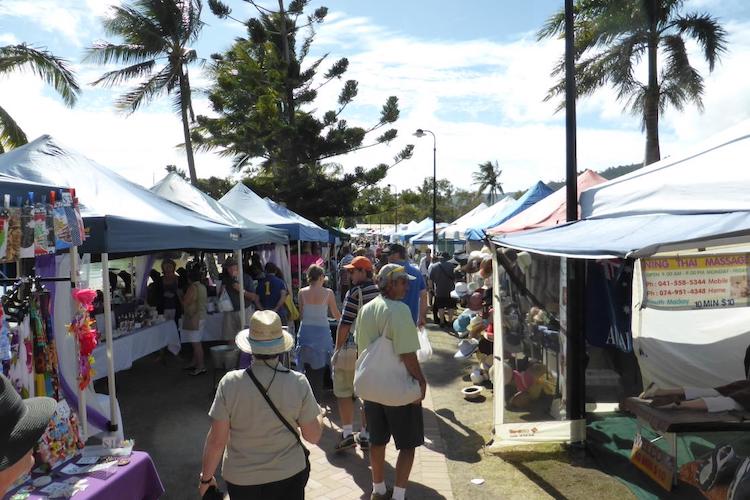 If you love a good seaside market, then you're sure to see some quirky stalls and grab yourself a good bargain when in Airlie Beach
Airlie Beach's main strip is home to some great shopping. With major brands such as Rip Curl and Billabong providing some option to buy swimwear, there is also a whole heap of markets held which provide locally made clothing, crafts and jewellery.
Further Reading: Airlie Beach Rum and Seafood Package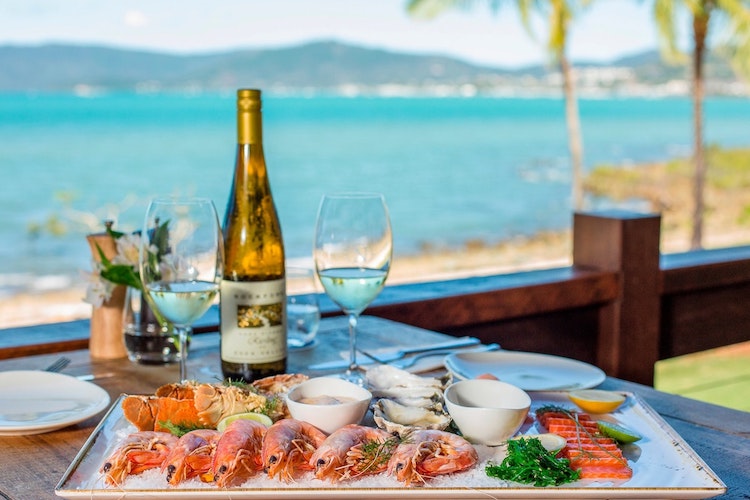 If you're looking to have a delicious dinner, then it is recommended to go and dine at The Clipper Restaurant Bar and Lounge, as it is regard as one of Airlie Beach's best restaurants.
Located at the Coral Sea Resort, this high end restaurant has spectacular views of the Whitsunday Islands and Coral Sea.
Another great option is Hemingways, which is a contemporary ocean view restaurant located on the waterfront.
If you're looking for some excellent seafood and a nice drink, then Fish D'vine and Rum Bar is the next best best. It provides a wide mix of delicious fish, prawns, bugs and more, with also more than 500 rums from around the world to choose from.
Airlie Beach is the perfect base to explore the beautiful Whitsundays and magnificent Great Barrier Reef.
It provides the opportunity to enjoy stunning idyllic beaches and wide mix of natural beauty, with so many activities also to enjoy throughout the town.
Visitors can stroll through the boutique shops of the main street, relax by the Airlie Beach lagoon and head to the Saturday morning markets which providing a whole heap of quirky stalls and stands. The town centre also boasts a bunch of alfresco restaurants, providing some of the most fresh local seafood you'll taste.
No matter your preference, there is something in Airlie Beach for everyone.
Other Resources: