Skydiving Airlie Beach Bucks Party Idea
This could be the ultimate adrenalin rush – jumping out of a plane high above the ground, and free falling down, down, down! Skydiving is a classic Bucks party activity for a good reason – it stretches the nerve of even the most stoic of Bucks. In other words, you will be scaring the daylights out of the man, with video evidence to prove it!
Your Skydiving experience here in Airlie Beach is operated by seasoned veterans. After a quick ride to the airfield, and some instruction, you will be sent aloft, to hurl yourself in to the abyss! You will be experiencing a tandem dive, meaning you are strapped to your instructor. Experiencing this thrill is the perfect way to send your man to the altar – with a white face and sweaty palms!
Experience Overview
Chuck the Buck
Adrenaline pumping experience
Pack a spare pair of undies
Plummet toward the beautiful coastline
Expert staff to make sure you land safely
Highest standard safety equipment
Separate the men from the boys
Get a Quote
Call for Info
5 Reasons to go Skydiving in Airlie Beach
The adrenaline. Really, there are few things that can compare to skydiving for the ultimate rush. Feel your heart pound as you free fall at speed!
Your provider offers video documentation, great for a laugh once you are back on firm ground. No matter how tough he is, you gotta know that he's feeling some knots in his stomach!
The Views! Even despite the nervousness, the views from up here – up and down the coast, with the Whitsundays out to sea and the blue of the ocean – are striking. They might even distract from the nerves – although it is doubtful!
One thing about tandem skydives – it can be awkward to land these things. Always good for a laugh for those on the ground when they come tumbling down!
That adrenalin rush is the perfect kicker for a day spent in this amazing town. Take that energy and use it! You have plenty of daylight left to work with!
Read More: Things to do in Airlie Beach | Airlie Beach Bucks Ideas | Airlie Beach Bucks Party Accommodation | Airlie Beach Bucks Party Packages | Airlie Beach Nightclubs | Bucks Party Games | Airlie Beach Fishing Guide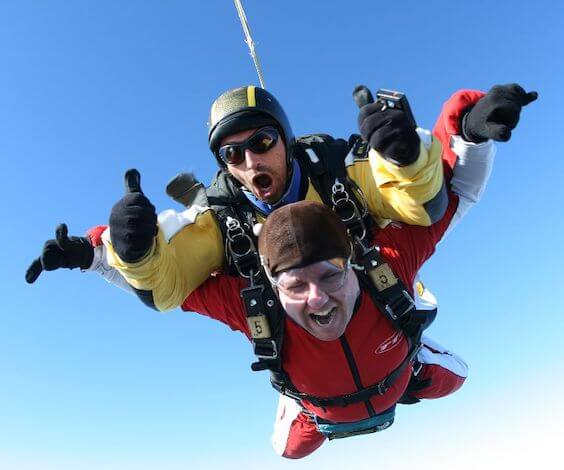 Making the most of your Skydiving in Airlie Beach
Looking to get stuck in to an amazing Bucks party experience? Airlie Beach provides the goods, and Wicked Bucks can sort it out for you. No matter what you and the crew love to do, we can make it happen!
Bespoke parties are our thing, so the only thing left for you to do is to choose your poison! And Airlie Beach is not short of amazing daylight and evening activities. The toughest part is narrowing down your particular party from the wide range of activities on offer here.
Here are some of our favourites:
Airlie Deep sea fishing: Game fish abound here, and some grow to remarkable sizes – enough to scream some line off that reel and give you a solid thrill! We have a bead on a well-renowned charter skipper who can show you the hot spots, while you dig in to the esky!
Why not a cruise in the Whitsundays? This amazing set of islands is largely protected by a national park, and serves as the perfect desert island escape. Chill by the pool and enjoy a drink on Day Dream Island, play some golf on Hamilton Island, and enjoy yourselves!
The area here is stunning – so why not enjoy a scenic flight? Take a flyover tour of a variety of amazing sites, including the Great Barrier Reef and the aptly-named Heart Reef. Not a bad look at all.
Airlie Beach Jelly Wrestling: This is a Bucks, after all. Enjoy the views, but maybe don't tell the missus.
Airlie Rum tasting: There are a number of distilleries nearby that are ready and willing to show you how to brew – and drink – this tasty beverage. Get stuck in to it!
Airlie Beach Sailing: Are you a sailor? There is an excursion waiting to show you the Whitsundays under a press of sail. Beautiful!