Experience Overview
Bouncing, bumping and rolling
Hell of a laugh and great time
Replicated soccer game in zorbs
6 - 12 players
Indoor and outdoor options
Get a Quote
Bubble Soccer Cairns Bucks Party Idea
Destination: CAIRNS
What's rubber, fun to play with and requires some level technique? Bubble Soccer, of course! The latest craze to hit the world sees football players strapped into inflatable balls with only their legs sticking out. Encased in a zorb like bubble, everyone is encouraged to bounce into each other as they fight for the action. Leave your dignity in the locker room. This is no ordinary game of football. In Bubble Soccer you'll be banging your mates. Playing with balls. Getting rough and squealing with joy. Sounds like something you're down for? Well duh, it's basically a dream come true.
Wicked Bucks will provide A-League quality, safe and secure pitches, and all the playing gear – so you'll look the part, even if you have no idea what you're doing. Once you're decked out, it's all about smashing into each other, bouncing around and doing anything within your means to stop the opposing team from scoring a goal. You'll be laughing so hard you might struggle to actually keep tally.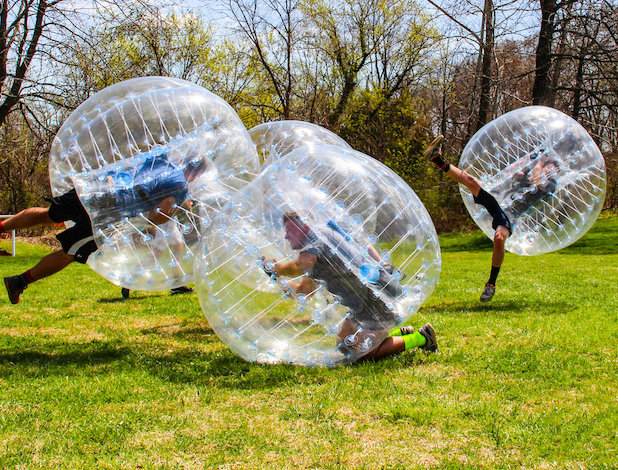 BUCKS BUBBLE SOCCER INFORMATION
5 Reasons to do Bubble Soccer in Cairns
Not a fan of rules? Bubble Soccer is made for you. In this game there are no faults, no yellow cards and no penalties. 
You can put your body on the line, without the fear of losing a limb. Tackle, body slam, roll around – you name it, and these inflatable bubbles will keep you protected. 
Watching is literally JUST AS FUN as playing. Seeing your mates bounce around, throw their legs in the air and struggle to stay up right. If that doesn't give you a 6-pack from laughing, we don't know what will. 
Bubble Soccer is not just for the super-fit but it is super-flexible. You can play with 6-12 players, indoors or out and with pals of all ages. 
Don't lie, we've all got a mate that deserves to be crash tackled. This might be your only opportunity to give him a piece of your mind. 
Read More: Top Things to do in Cairns | Cairns Bucks Party Ideas | Cairns Bucks Party Accommodation | Cairns Bucks Party Packages | Bucks Party Games
OTHER POPULAR CAIRNS BUCKS ACTIVITIES