Experience Overview
Safest chance to shoot your mates with arrows
Safety gear included
Great for large groups
Suits budgets of all sizes
Great fun and laughter
Get a Quote
Archery Tag in Cairns
Destination: CAIRNS
Forget laser tag or paintball – Wicked Bucks has found the next big thing. Archery Tag Attack is the perfect opportunity to channel your inner Hunger Games and get ready to let off some steam. You just have to check this one out for yourself. It's almost too good to be true. Every little boy dreamt of growing up to be Robin Hood. Archery Attack is where your dreams can become a reality. 
Round up your mates and get ready to take fire – with some foam-tipped arrows, of course. Don't worry if you've never picked up a bow and arrow before (most of us haven't) because each session commences with a quick briefing on shooting techniques and target practice. Under the guidance of these expert coaches, you'll be able to shoot your annoying cousin Bob from a mile away.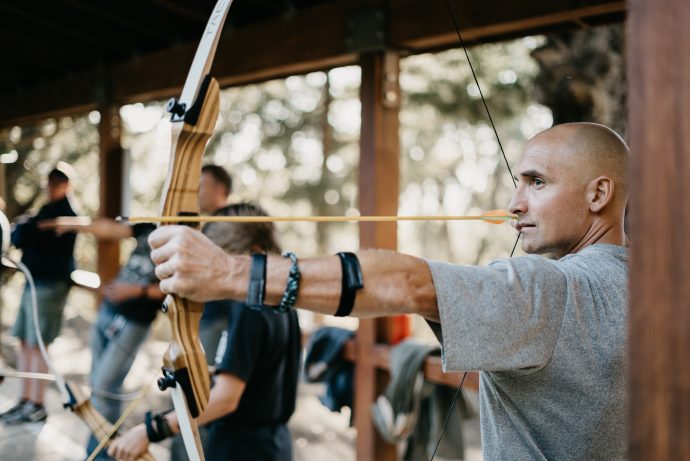 BUCKS ARCHERY TAG INFORMATIONS
5 Reasons to do Archery Tag in Cairns
If you've got a friend you'd like to put an arrow through but you still can't really fit the twenty-years-behind-bars in with all your wedding planning – this is for you. The gang at Archery attack allows you to shoot all your nearest and dearest without losing your right to international travel or winning you a trip to the lock up. 
Boys are competition are just like Sunday arvos and beers… It's a combination that everyone dreams about. Send your mates head to head on the reservoir and watch fully grown men turn into a bunch of squealing boys. 
Just like that yoga teacher down the street, Archery Attack is as flexible as they come. You can choose to host your 60-minute session in the Archery attack arena, or organise your own event at a destination of your choosing. 
Archery Attack is basically paintball's better half. You'll get all the same perks (the adrenaline rush, the competitiveness, the Hunger Games style survival tactics) without all the bruises and mess. Your missus will thank us later when you come home in paint-free clothing. 
We can do it anyway you like. Day or night. Private or with a group. We are here to please you. 
Read More: Top Things to do in Cairns | Cairns Bucks Party Ideas | Cairns Bucks Party Accommodation | Cairns Bucks Party Packages | Bucks Party Games
OTHER POPULAR CAIRNS BUCKS ACTIVITIES