Brewery Tour Hobart Bucks Party Idea
Sinking beers is a staple activity of almost every Party. A Bucks Party is no exception to the rule. There is no better way to celebrate your final days of freedom than by sharing a few cold ones with your nearest and dearest. That's why you shouldn't waste your time with bottom-shelf, university grade standards. Let's Wicked Bucks take you to where all the magic happens and give you a taste of liquid heaven.
ON this Brewery Tour you're guaranteed to get the head of your dreams.  Roll up, roll up, the bus to your Nirvana is ready to depart. Little did you know, it's hidden in the heart of Hobart and there's actually more than one. You may have heard of them before; they generally go by the name of a "Beer Brewery".
 These venues serve as a meeting place for people of all ages, and it's your dream come true. At each stop, you'll have your pick of the very best golden nectars this town has to offer, and you won't even have you worry about arranging a designated driver. Wicked Bucks has done the hard yards so that you can kick back, relax and spend your time arguing about which brew was best.
When you've finally agreed that your finance's Dad is right (good choice) we'll fill your bellies with a big spread of real man's food. We weren't kidding about this being a dream come true. Don't let anyone ever tell you that you can't organise a piss up in a brewery.
Experience Overview
Enjoy a local drop with the guy that made it
Craft beer tastings
Brewery tour with brewmaster
Learn how every man's favourite drink is made
Great start to a big night
Venue to venue transfers
Customise your package
Get a Quote
Call for Info
5 Reasons to have a Brewery Tour
Our Brewery Tours are lager than life. The only thing better than hitting a brewery is hitting a string of Breweries in a row. After sipping your way through Hobart's finest venues, you'll be beaming from ear to ear (that could be from your alcohol consumption but we'll take credit for it anyway)
A Brewery Tour is the ultimate opportunity to bond with your brews! Nothing says bromance like a day spent on the beers together. Our Brewery Tour will have you pulling out the "I love you man" before you know it. We promise not to let your Missus know that she might have some competition.  
Breweries sure know how to serve some sweet, sweet head. These frothy experiences are set to blow your 16-years-old, first time out of the water.
This is an activity that has something for everyone. Even if you're not the world's biggest beer drinker (you may change your mind after this tour), these joints generally have a small but mighty spirits and wine menu too.
It may be sold as whiskey, but we believe the correct term is liquid confidence. When you finish your tour and are gearing up to hit the nightlife afterwards, all your single mates will be singing your praises. You can thank us later.
Read More:  Top Things to do in Hobart | Hobart Bucks Party Ideas | Hobart Bucks Party Accommodation | Hobart Bucks Party Packages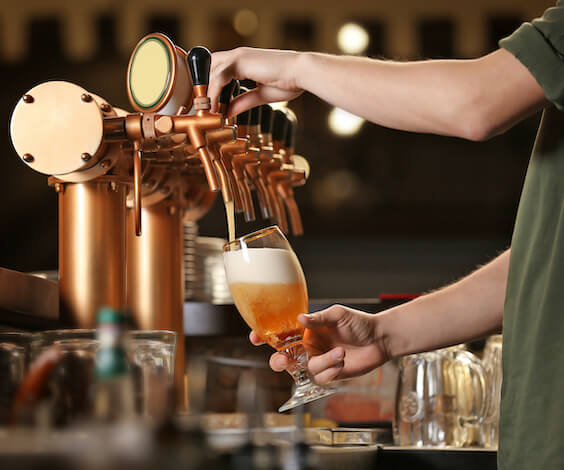 Making the most of your Brewery Tour in Hobart
Hobart may be one of Australia's capital cities, but it's not like the rest. There are no towering glass skyscrapers here. Instead, the streets are lined with old Georgian buildings, former warehouses and port buildings converted into small restaurants, cafes and craft shops.
Although the beaches are picturesque, the spectacular scenery of Tassie isn't limited to the Coastline. Driving inland, you'll find rugged mountains, great expanses of green and yellow fields laced with tall forests and sparkling highland lakes.
Although it used to be the punch line of every Aussie joke, Tassie is having it's moment now. The tables have turned, and this Southern state has only one thing to thank for that: Hobart.
So make sure you get to this tiny town before the rest of the country catches on. All you need to do is say the word, and Wicked Bucks can make it happen.