Deep Sea Fishing Hobart Bucks Party Idea
You know what they say…As you go deeper, it may get fishier, but the final experience is always better. This saying doesn't just ring true for catching birds. A Wicked Bucks Deep Sea Fishing charter have found the ultimate g-spot, where you're guaranteed to hook a keeper.
Is there anything you love more than fishing? Of course, there is. Fishing with all your mates! Tasmania's pure and remote waterways make it one of the world's last great fisheries with good fishing found within minutes of Hobart's city centre.
On a Wicked Bucks Deep Sea Fishing Charter, we will take you to the local fisherman's favourite spots, where the waters are filled with some of the world's most sought-after species.
Several world-record catches have been hauled from these waters, including a 119-kilogram Southern Blue Fin Tuna. We can't promise that you'll go home with a world record under your belt, but we can guarantee an epic day out with the boys.
Experience Overview
Roda, tackle, bait etc all included
Take home the catch of the day
Gorgeous coastline to explore
Sit back, relax and watch the fish come to you
Plug into the onboard stereo
Catering and beverage packages available
You'll be hooked once you reel in your first catch
Get a Quote
Call for Info
5 Reasons to go Deep Sea Fishing in Hobart
Every guy thrives off a bit of healthy competition. A Deep Sea Fishing Charter is the perfect opportunity to compare sizes with your mates. This is a onetime time where you can't use the "size doesn't matter" excuse.
Fishing is best served with a side of banter. Being ribbed when you've cast in a tree or gone over your wellies when netting a fish is just all part of the experience. You're guaranteed to escape a sunburn with the amount of shade that'll be thrown.
No one wants it over as soon as it's begun. Fishing is all about the long-haul, and you'll learn to love the slow-paced action – It makes the end even sweeter.
This is an activity that has something for everyone. Even if you're not the world's biggest fisher (you may change your mind after this tour), this charter is the perfect opportunity to soak in the postcard-perfect scenery.
We're afraid to inform you that this ride is far from rough. Tassie's waterways are as smooth as they come.
Read More:  Top Things to do in Hobart | Hobart Bucks Party Ideas | Hobart Bucks Party Accommodation | Hobart Bucks Party Packages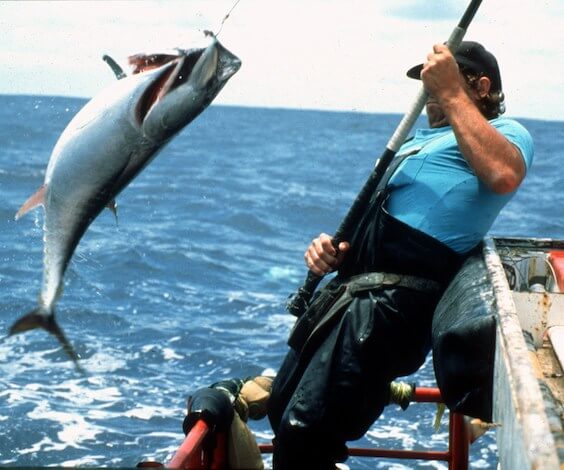 Making the most of your Deep Sea Fishing Charter in Hobart
Hobart may be one of Australia's capital cities, but it's not like the rest. There are no towering glass skyscrapers here. Instead, the streets are lined with old Georgian buildings, former warehouses and port buildings converted into small restaurants, cafes and craft shops.
Although the beaches are picturesque, the spectacular scenery of Tassie isn't limited to the Coastline.
Driving inland, you'll find rugged mountains, great expanses of green and yellow fields laced with tall forests and sparkling highland lakes. Although it used to be the punch line of every Aussie joke, Tassie is having it's moment now.
The tables have turned, and this Southern state has only one thing to thank for that: Hobart. So make sure you get to this tiny town before the rest of the country catches on. All you need to do is say the word, and Wicked Bucks can make it happen.