Experience Overview
Mobile nightclub on wheels
Venue to venue transfers
Dance poles and LED lighting
Pumping sound system
4 drinks and dinner included
Experienced driver
Customise your tour
Get a Quote
Party Bus Hobart Bucks Party Idea
Destination: HOBART
What's a Bucks Party without a ride to remember? This one is big, loud and will go all night. It's a Party Bus, and it's the only way to get around these days. While everyone else is sitting at a red light, you'll be swing from poles, sinking some beers and grooving to an epic surround system. What's not to love about that?! Limos are cool and all, but in 2019, the real way for big groups of people to get around is by a party bus.
They're like limos on steroids, complete with bars, dance floors, laser lights, surround sound systems, and side facing seats so that no one needs to miss out on the fun. You can fit up to 40 people on board, and it's the ultimate way to kick off your party. Whether you're just cruising around town, you're on a pub crawl, or you're just on the way to your next activity, a party bus has your name all over it. Hobart may be Australia's smallest capital city but that doesn't mean getting from A to B needs to be boring.
MOST POPULAR HOBART PACKAGE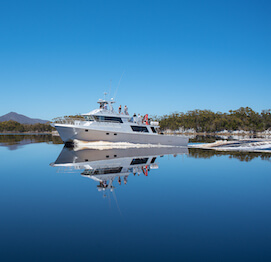 Hobart Bucks Hangover Weekend Party Package
From $540.00 per person
2 Nights Accommodation
Day One:

Private Boat Charter
Party Bus Pub Crawl
Strip Club Entry
Day Two

Full Day Brewery Tour
Group Dinner
Nightclub Entry

Detailed Itinerary
Personal Event Planner
Check this package out!
View all packages
BUCKS PARTY BUS INFORMATION
5 Reasons to get a Party Bus in Hobart
There's no need to worry about finding a designated driver. With this moving party bus guaranteeing you a chauffeur back home, the only thing putting an end to your night will be the sunrise.
No one wants to break up the party! It can be difficult trying to bar hop or travel to different locations when you're in a big group. This party bus means everyone can make there without any hardships.
If having a moving party wasn't enough, you can always opt for some extra onboard entertainment. Fitted with a surround sound system and some shiny poles, Hobart's finest young ladies are practically begging to brighten up your trip.
Why not combine a party bus with a pub crawl or whisky tasting tour? When you're rolling around town in this bad boy, the wheels won't the only thing rolling by the end of the night.
Without any neighbours around, you can drop the bass as loud as you want without worrying about noise complaints. What a way to start your party!
Read More:  Top Things to do in Hobart | Hobart Bucks Party Ideas | Hobart Bucks Party Accommodation | Hobart Bucks Party Packages
OTHER POPULAR HOBART BUCKS ACTIVITIES