Bubble Soccer Hobart Bucks Party Idea
What's round, squishy and fun to play with? Bubble Soccer, of course. Just like normal balls, these come in all sizes and are best played rough. Round up your mates and get ready to go head to head, this is some ball action you won't want to miss out on. 
The name pretty much says it all. Bubble Soccer is soccer played in a giant inflatable ball.  You'll spend the match as a human wrecking ball, sweeping across the field and knocking your friends over.
The game runs almost identically to a traditional soccer game but when you're bubble wrapped, tackling is a whole new experience. This fun isn't just limited to soccer though.
Once you've got your suit on, you can play anything from Capture the Flag to Sharks and Minnows. Whether you win or lose, after taking that many bangs in one sitting, you're guaranteed to leave one happy chappy.  
Experience Overview
Zorb balls included
Field set-up equipment included
Staff to set-up
Staff to referee
Forget scoring goals, just staying vertical is an achievement
Bump the Buck
Unique soccer experience
Get a Quote
Call for Info
5 Reasons to do Bubble Soccer in Hobart
Every guy loves some rough ball action. Bubble Soccer is one of the few times that it is socially acceptable to whip your balls out and bang your mates in public, without copping any strange looks.
It's a competition. Nothing beats going head to head with your mates and taking home the top prize. We can't guarantee anything more than bragging rights for the winners, but isn't that what everyone wants anyway?
Skill isn't important. You may have the next Christiano Renaldo on your team, or you may have that one friend that trips on the flat footpath. Regardless of their coordination, everyone is on the same playing level when they're wearing one of these suits.
It's pretty unique. Bubble Soccer is a relatively new sport. This is your opportunity to try it out before the word gets out and everyone jumps on the bandwagon. That's some pretty good bragging rights.
Whether you win or lose, the fun is all in the game. When else are you going to get the chance to knock your soon-to-be father-in-law to the ground without your Missus losing the plot?
Read More:  Top Things to do in Hobart | Hobart Bucks Party Ideas | Hobart Bucks Party Accommodation | Hobart Bucks Party Packages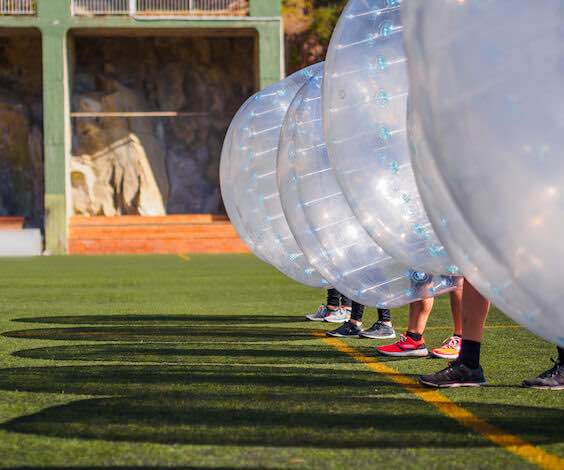 Making the most of your Bubble Soccer in Hobart
With all the drama, shows, film and fireworks of Foma Mona and its associated festivals taking over Hobart every six months, we'll forgive you for forgetting that the city does exist beyond these parameters. Australia's littlest capital city punches well above its weight when it comes to keeping you busy.
But where this fun-sized town really sticks out from the rest, is that you don't have to travel too far to reach anything. The nightlife is all clustered in one hot spot; a waterfront road which offers everything from chic clubs to cosy dive bars. Only a hop, skip and a jump away; you'll find Mount Wellington summit.
From the lookout, you can take in panoramic views of the city and beyond. This view area is also the starting point for numerous bushwalking, bike riding and horse riding trails. For the true local experience, Bruny land is only a short boat ride away from the mainland and boasts a wild coastline, tall forests and gentle green hills to get lost in. Along the way, you're likely to spot Australian fur seals, dolphins, migrating whales and seabirds.
If you're not much of a David Attenborough, Wicked Bucks has you covered too. Some of our top pick activities include:
Deep Sea Fishing Charter: You know what they say, as you go deeper it may get fishier, but the final experience is always better. This doesn't just ring true for catching birds. A Wicked Bucks Deep Sea Fishing charter have found the ultimate g-spot, where you're guaranteed to hook a keeper.
Brewery Tour: Sinking beers is a staple activity of almost every Party. A Bucks Party is no exception to the rule. Let Wicked Bucks take you to where all the magic happens and give you a taste of liquid heaven. On this Brewery Tour, you're guaranteed to get the head of your dreams.