Gaming Sports Bar Sydney Bucks Party Idea
We know you. Your greatest loves in life (after your Missus, of course) are beer, the boys and sport. That's why we've bundled them up in a package tighter than some perky boobs and served them to you on a silver platter. An evening at a Gaming Sports Bar, with a free flow of beers and a private topless waitress to dote. You can thank us later. Who doesn't love some ball action? The only thing better than being there for the real deal is watching it all unfold on the big screen.
With a private VIP lounge at the Gaming Sports Bar, a free flow of beer, unlimited dude food and an unobscured view of the screen, you'll be panting and screaming before you know it. If soccer, football or golf isn't enough to keep you satisfied, we can line up some half time entertainment too. She may not be on your favourite footy team, but we promise she is just as fit and athletic. Regardless of the final score, an evening at this Gaming Sports Bar will be a win for everyone.
Experience Overview
A winning combination: sport and beer
Whatever your sport enjoy it with a beer in hand
Exclusive access to a VIP Sports Bar
Add some girls for some half time entertainment
Catering packages available
Don your team colours
This may be the last un-interrupted sports match you'll ever get to watch
Get a Quote
Call for Info
5 Reasons to do go to a Gaming Sports Bar in Sydney
Whether you're a sporting prowess or an absolute kook, every guy loves getting in on the ball action. The balls on play may come in all shapes and sizes, but they're all handled with absolute expertise. It's a recipe for success.
A Gaming Sports Bar is the ultimate opportunity to catch the latest game without your Missus nagging you to turn the volume down.
With your own sexy waitress – who will not only dote on all the boys and keep the beers flowing – she will also provide some extra entertainment for the less sporty members of the group.
As we've combined beer, boys and sport, we know you're going to be pretty amped up by the end. This sets the pace for the night to follow, which promises to be anything but tame.
Gaming Sports Bars are generally associated with a grimy looking, corner pub, offering a few sad looking TVs and sadder looking patrons. Wicked Bucks has turned that stereotype on its head, and we've found the bar of your dreams. This one has to be seen to be believed.
Read More: Top Things to do in Sydney | Sydney Bucks Party Ideas | Sydney Bucks Party Accommodation | Sydney Bucks Party Packages | Bucks Party Games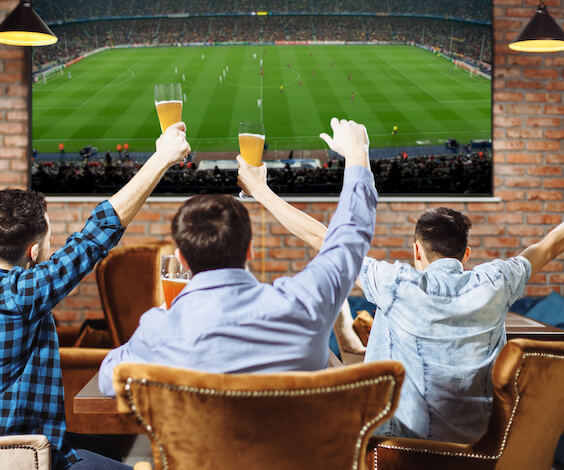 Making the most of your Gaming Sports Bar experience in Sydney
If you've ever wondered how Sydney has captured the hearts of thousands from around the world, you've obviously never visited. Australia's biggest city has absolutely everything you can imagine. EVERYTHING. You can soak in the sunrise from the top of the iconic Harbour Bridge or watch the sunset from the Opera House with a cocktail in hand.
The redeveloped wharves of Walsh Bay are the perfect place to groove to your favourite tunes and cut shapes into the early hours of the morning. Further into the heart of the CBD, you can find everything from big name and local designers to buzzing markets and discount outlets.
Only a hop, skip and jump from the hustle and bustle of the city, lies seemingly endless golden beaches. There are the big names like Bondi and Manly, as well as their equally beautiful, yet less frequented younger siblings. The one thing they all share in common is that they look exactly like every Sydney postcard you've ever seen.
If that doesn't sound like enough to keep you busy, Wicked Bucks has a list of bucks activities that feels longer than a minute on the treadmill. We are here to do all the hard yards so that all you need to do is round up your crew and prepare for the party of a lifetime.