Chartered Boat Cruise Airlie Bucks Party Idea
Get out there and live your best pirate life! The beautiful blue waters off Airlie Beach provide some of the finest cruising ground to be found anywhere. And on this epic Bucks party jam, you are about to explore them! Take to the high seas with an experienced skipper guiding you, to explore this world-class archipelago of islands with a drink in hand and the whole Bachelor party at your side. Not a bad look, we reckon!
The Whitsundays are the largest archipelago of islands to be found in Australian waters, and the scenery among these mountainous islands has to be seen to be believed. And to top it off, you have the entire posse at your side, digging deep in to the esky for some refreshment, and soaking up the sun. And, if you want to step the debaucherous element a notch, you can be joined in your adventure by a pair of lovely, and topless, Wicked Angels. As if the views could get better!
Experience Overview
Luxury with the lads
Have a couple of cold ones on the deck
Option to include girls
Stereo system on board
Catering and beverage package options available
Captain and cabin crew included
Rock the boat
Get a Quote
Call for Info
5 Reasons to go on a Boat Party Cruise in Airlie Beach
The Whitsundays! This is truly a world-class destination, and even the seasoned traveler will be blown away by the sight of these postcard, photo, and instagram-worthy islands.
The white silica-infused sands of Whitehaven Beach! This incredible spot is ranked by many as one of the most stunning beaches in the world, and it is a must-see on this venture.
Hop in for a swim in the clear blue waters, and stay cool, while enjoying this stunning and protected landscape. That's right – all these islands are part of a national park.
Live out your pirate fantasy. Face it, mate – ever since you watched Hook as a child, you have yearned to join the fun. Set sail on this boob cruise, with your grog in hand!
Soak up the sun and the atmosphere, and take that energy in to your evening. The perfect way to spend the daylight portion of your Airlie Beach Bucks party!
Read More: Things to do in Airlie Beach | Airlie Beach Bucks Ideas | Airlie Beach Bucks Party Accommodation | Airlie Beach Bucks Party Packages | Airlie Beach Nightclubs | Bucks Party Games | Airlie Beach Fishing Guide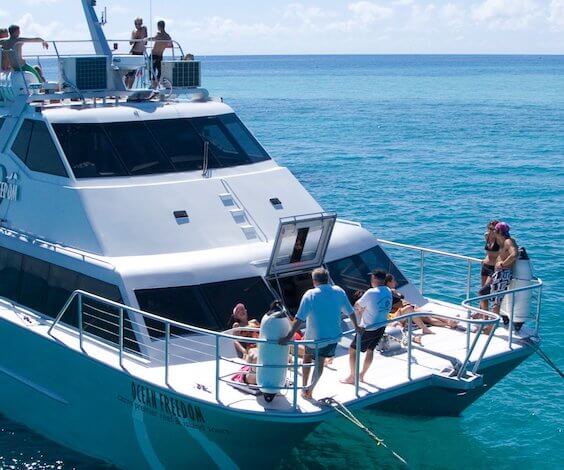 Making the most of your Chartered Boat Cruise in Airlie Beach
A Bucks party in Airlie Beach puts you within striking distance of one of the jewels of the Queensland coast! No, we aren't talking about Townsville, or even Bundaberg. The Whitsundays are one of the largest island archipelagos in Australia, and among their sandy beaches, waving palm trees, and narrow passages, they never fail to impress.
Did you know that Cook was actually mistaken when he named them 'Whitsundays'? It was actually 'Whitmonday', but no one had thought to invent the international date line yet. Why is this important to you and the crew? Well, if you have any qualms about partying your arse off in a spot named after our supposed day of rest, stress it no longer.
Because most of the islands are incorporated in to a national park, the majority of them are not inhabited. This is a plus, because it means that you can explore nature in all of her pristine beauty! It also means that the fishing here is world-class, so why not tack on a bluewater fishing trip? A variety of species can give you a solid thrill at the end of your line, and we have sourced an absolutely A-grade charter skipper to take you out on the water.
Once we are back on terra firma, the town of Airlie Beach is no slouch. It may be small, but that doesn't mean that you are short on options for your night of debauchery. Maybe a jelly wrestling show🦌 Wicked can get you there. Maybe some games of pool with the boys? That's doable too. Get after your party coordinator at Wicked Bucks, and let's plan a Bucks party that will be spoken about in hushed tones for years to come – unless the lady is around. Remember, what happens in Airlie, stays in Airlie.