Island Escapes Party Airlie Beach Bucks Party Idea
The Whitsundays are a lot larger than you might realise. Everyone tends to focus purely on Whitehaven Beach, but there are over 80 beautiful, palm-lined islands here for you to explore! Sticking to one seems like you would be needlessly limiting yourself, doesn't it? So let's get you amongst it, on the Island Escape Party! Jump off on to an uninhabited beach, where you and the lads can enjoy the water, the sand, and a few tinnies, all at once. Not a bad way to spend a day, we reckon!
Your excursion boat picks you up from Airlie Beach, and you head across the Whitsunday Passage and in to the archipelago that defines this striking area. You will stop at the famous Hamilton Island, where activities await you, such as golf, snorkeling, and go karting. Even a helicopter flight is available! Day Dream Island brings a pool bar and a spot to beat the heat with the boys in tow. Soaking up the sun and the scene with a drink in hand and the lads at your side – not a bad way to spend the day, we think!
Experience Overview
74 Islands to choose from
Incredible sand
Clear, calm waters
Work on that tan
Enjoy some Australia's finest beaches
Island hopping with the boys
Relax before a big night
Get a Quote
Call for Info
5 Reasons to choose an Island Escape Party in Airlie beach
Desert island paradise, with blue water and spotless white beaches. What could possibly top that? Nothing, mate, that's what.
The ride alone is worth the price of admission. Ripping across this clear blue water, with the destination ahead of you and the whole day of fun and relaxation at your fingertips…you can't stop be feel a bit elated!
Hamilton Island is a world-class destination for good reason. It is chock-full of fun activities, cool bars and restaurants, and a vibe that just screams 'relax'.
Day Dream Island brings a chill vibe and some truly instragrammable views. Get to it and make your followers just a little bit jealous – especially if they are stuck amongst the southern cold.
Get some sun, some shots, and a nice little buzz going, and shortly it's time to head back to Airlie Beach – where the evening festivities are set to begin. Get amped, this Bucks party is about to hit the town!
Read More: Things to do in Airlie Beach | Airlie Beach Bucks Ideas | Airlie Beach Bucks Party Accommodation | Airlie Beach Bucks Party Packages | Airlie Beach Nightclubs | Bucks Party Games | Airlie Beach Fishing Guide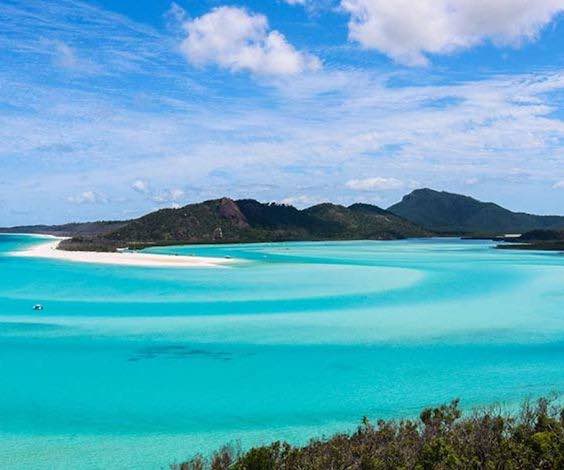 Making the most of your Island Escape Party in Airlie Beach
Let's throw a Bucks party in Airlie Beach! You've chosen well – this spot brings a huge variety of cool activities, an incredible climate, and some of the finest landscapes you could find anywhere. But that's not all – despite its small size, Airlie Beach can show you a night that you will not soon forget.
So what are your options for this party of par-tays? Here are some of our favourite things to do.
A cruise: The Whitsundays truly do live up to all the hype, and they are a must-see on this tour. Head out to the islands on an excursion boat, and experience the wonders of the national park. It won't let you down.
What about some deep-sea fishing? The area around the archipelago comes with some of the finest fishing to be found on the whole coast, and an experienced charter skipper is waiting to show you how it is done!
Want some more speed? A jet ski tour gives it to you! Rip one of these machines out to the islands for a tasty lunch. You won't soon forget the feeling of one of these babies getting up to speed!
Rum tasting: Once you are back on terra firma, you should sample the local cuisine. And Airlie Beach has long produced some very tasty sugarcane distillations. Cheers!
At Wicked Bucks, we specialise in sending Bucks to the altar with no regrets. And in Airlie Beach, we want to make sure that you party exactly like you want to! Contact one of our party planners today and let's make it happen.