Kayaking Airlie Beach
The gorgeous blue siren of the ocean here in Airlie Beach calls to all of us. So why not experience it up close? A kayaking trip sees you get amongst the blue stuff, in a single or a double kayak, to cruise the lagoon and the beautiful waterfront of Airlie Beach! Enjoy the views and the wildlife of this iconic area, with no noisy engine to distract you.
The waterfront of Airlie Beach is more than just a gateway to the Whitsundays – it is an environment that is chock full of action, wildlife, and some gorgeous ladies sunning themselves beachside. Now isn't that a site to behold? You can take it all in on this cool kayaking excursion, where you can absorb all that this amazing oceanside landscape has to offer. Not a bad look!
Experience Overview
Explore the beautiful Whitsundays
Incredible scenery
Work up a thirst
Relaxing group activity
Great way to ease into a big night
Kayaks and all equipment included
Instructional tutorial
Get a Quote
Call for Info
5 Reasons to go Kayaking in Airlie Beach
Kayaking is one of the oldest methods of water transport out there. Even if you haven't got any Inuit blood in you, we reckon you will take to it quickly.
The ocean is a striking place, a great leveler, impersonal, massive, it cares nothing for our measly trifles or inconsequential bullshit. But it's pretty. And babes sun on the beaches. Sounds worth the price of admission!
There is a striking amount of ocean wildlife that exists here in these waters. Every day, you have the chance to spot any number of rays, sea birds, massive sea turtles, and much more. Channel your inner David Attenborough, you lovely Bird of Paradise.
You will be using your arms and your shoulders to move through the ocean today. That exertion will be a good look once you all get suited and booted for the night ahead of you. Break out the fitted shirts!
Once your tour is over, you can take your tales of the open sea to the bar, there to describe in vivid detail, to every girl within ear shot, of your battle with the dreaded Kraken. We are sure they will be very impressed.
Read More: Things to do in Airlie Beach | Airlie Beach Bucks Ideas | Airlie Beach Bucks Party Accommodation | Airlie Beach Bucks Party Packages | Airlie Beach Nightclubs | Bucks Party Games | Airlie Beach Fishing Guide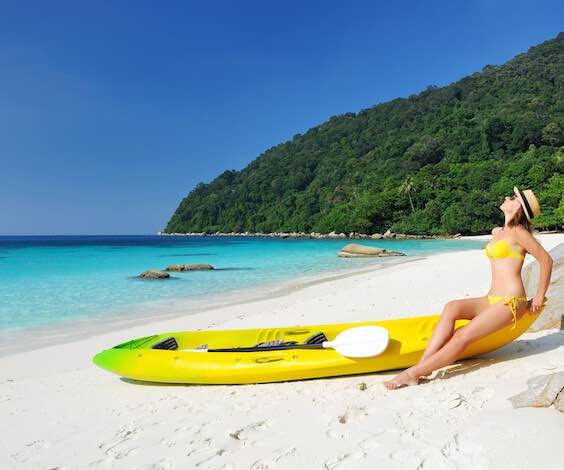 Making the most of your Kayaking in Airlie Beach
The central coast of Queensland might play host to a number of pretty sights, but Airlie Beach, and the incredible Whitsundays, might just be the prettiest of them all. These islands, the largest offshore group in Australia, play host to a massive national park, some first-class beaches, and water that basically begs for you to jump in. And you are celebrating a Bucks party here, you lucky sod.
The islands form the centrepiece of your experience here, and for good reason. The majority of them are unpopulated, and with navigable channels between them, you can cruise to that postcard-perfect beach that you have always wanted to experience. Further offshore, have you considered trying out some deep-sea fishing? Species like cobia, nannygai, emperor, and of course, sailfish are waiting for you in these waters, to provide a solid thrill! And we have an experienced skipper who is just aching to show you his knowledge of the area. Get to it!
Not enough adrenalin for you? Why not head aloft and view these islands from a spot in the sky? An excursion flight over the Whitsundays provides some killer views, a proper thrill, and if your Buck isn't a huge fan of heights, a bit of white-knuckle terror. There's no harm in that, right? We are sure he'll be fine with it, probably.
Once the evening comes down, Airlie Beach's small size belies its fun side. There is no shortage of good times to be had here, from the wealth of bars that inhabit the strip, to the restaurants, to the late-night pubs and clubs pumping the beats. What are you looking for🦌 Wicked Bucks can make it happen for you here in Airlie Beach. Contact us today and let us book a Bucks party that will set the new standard!