Skydiving in Sydney Bucks Party Idea
Here's a new idea for an old tradition. Take your Buck skydiving over one of the most iconic skylines in the world – Sydney. Wicked Bucks promises to give him an experience he will never forget. Are you ready to strap on? Go faster than you ever have before? Experience something completely new? You won't find a bigger adrenaline-hit than Skydiving. Go up with your Buck in the air, watch him hold his breath and take that crazy leap of faith. 
He may be cursing at you between his teenage girl like squeals while he's in the air, but he'll definitely be thank you by the time he meets you and the bottom. Once the fear passes, you'll be able to enjoy the view as you fly through the sky and gracefully float back down to land. Just make sure you hold back on the beers – those cold ones will definitely taste better afterwards. 
5 Reasons to do a Bucks Skydive in Sydney
Surprise your Buck with something that's always been on his bucket list but something he's never actually gotten around to doing. It'll be a once in a lifetime experience. 
Skydiving is terrifying and exhilarating all at once. After you come back down to earth (literally), you'll be amped up and ready to kick start an epic night to follow. 
The skydiving team will be with you every step of the way. You're in safe hands when you're with our professional and experienced trainers. 
While skydiving isn't for everyone, tandem jumps allow you to soak in the thrills without having to worry about the technicalities of it all. Just kick back and enjoy the views!
Sydney is internationally renowned for its postcard-perfect location. Floating from the sky, you'll have the best seat in the house to see it all. 
Read More: Top Things to do in Sydney | Sydney Bucks Party Ideas | Sydney Bucks Party Accommodation | Sydney Bucks Party Packages | Bucks Party Games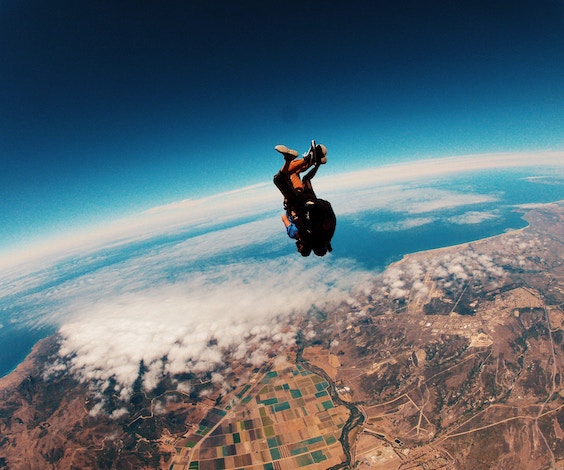 Making the most of a Skydive in Sydney
Have you ever wondered why Sydney receives over 10 million international and domestic visitors every year? If you're sitting there scratching your head, you've obviously never visited this iconic East Coast destination. This thriving hub offers a little something for every type of Buck, from iconic landmarks to secluded beaches, from adrenaline-fuelled activities to endless swimming locations, and of course the pumping nightlife scene. Sydney is the type of place you can eat avocados every day, without being lectured that you'll never be able to afford a house.
The relatively temperature climate means you can also wear your thongs practically year round in Sydney, without getting frowned upon. If that's not a good enough reason to want Sydney to be the location of your Bucks Party, then we don't know what is. Let the team take the hard work out of throwing the ultimate celebration and get ready to farewell your Buck's final days of freedom in style.