Putt Putt Golf Gold Coast Bucks Party Idea
Get ya balls out and take a swing! It turns out that Putt Putt Golf is still a thing and it's not just for kids. This miniature sport has made a total come back and we are all on board. Fancy a hit? Wicked Bucks can show you how it's done. Putt Putt Golf really is just the gift that keeps on giving. It was a hit for your 5th birthday party and the miniature sport is still as much of a crowd-favourite amongst the oldies. Putt Putt Golf is just like a real golf course, only mini. 
Decked out with all the annoying obstacles (rocks, sand, water, dinosaurs, wind mills… you get the picture), each section contains things that splash, distract and confuse you. You may think it's a game designed for your nieces and nephews but these 9-holes will keep you on your toes for the entire time. Putt Putt Golf is best played with a club in one hand and an ice cold beer in the other. There's also a BBQ zone and canteen, so you can stock up on mid-course snacks. 
5 Reasons to do Putt Putt Golf on the Gold Coast
You can swing by any time of day or night. The Putt Putt Golf course on the Gold Coast is all action from 9am until 10pm. Every. Single. Day. 
Can't hit a ball to save yourself? No worries! Every group needs someone to laugh at.
We've all probably driven past plenty of Putt Putt Golf Courses on road trips, drifted past one on a late night out or even reminisced on the greens we hit as a child. This is your chance to tick it off your bucket list and remind yourself of why this game is so great. 
Putt Putt Golf is the perfect activity for a big group. You can split the party in teams and send them head-to-head. With everyone on the greens and out in the sun, you're bound to be laughing – even years after the event. 
 Do you remember that time your Dad took you to the Putt Putt greens and tried just a little too hard to win. And then he didn't. And then he chucked his club in the windmill and sulked the whole way home? This is your opportunity to relive that comedic gold all over again.
Read More: Things to do on the Gold Coast | Gold Coast Bucks Ideas | Gold Coast Bucks Party Accommodation | Gold Coast Bucks Party Packages | Gold Coast Strippers | Gold Coast Nightclubs | Bucks Party Games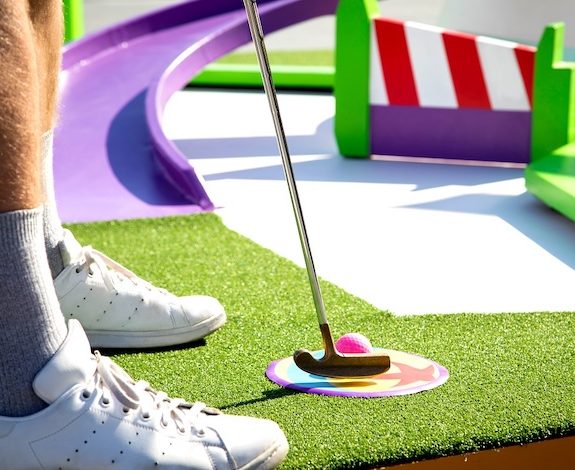 Making the most of Putt Putt Golf on the Gold Coast
The Gold Coast really is the epitome of the Australian dream. This East Coast hot spot is the type of place you can hang out on the beach all day, hit the waves on a surfboard in the afternoon, and party the night away once the sun goes down. The Gold Coast is also home to some serious caffeine addicts. It may not have the reputation of Melbourne, but you can definitely get a mouth watering cup of liquid gold. For something a little stronger, the Gold Coast is also synonymous with an epic night out.
It's got bars, clubs, nightclubs and pubs, you're destined to find something that ticks all your boxes. When you're looking for your morning after recovery, there are an abundance of breath-taking natural sites just waiting to be explored. Take a walk through the wilderness to find a waterfall, lookout, wildlife or  plenty more. There really is no further explanation as to why you should visit the Gold Coast. Save the date and get ready to celebrate your bachelor party in style.