Clay Pigeon Shooting Perth Bucks Party Idea
Line up that target, and squeeze the trigger! Clay pigeon shooting has been around nearly as long as guns themselves, and they let you put your hand-eye coordination and judgement to the test. Get instructed on this sport from a local expert, then it is out to the range. On this Perth Bucks party, best aim gets bragging rights, so focus up!
At this well-regarded provider, you will be schooled on the safest and best methods of handling firearms, by a fully qualified instructor. There is no prior experience necessary here – your greenest rookie will be a sharpshooting legend by the end of your session! Once you get geared up and educated on the basics, it is officially go time. Your job? Take down those clay pigeons, with extreme prejudice!
Experience Overview
Explosive experience
Bang for your Buck
Shotgun handling and firing techniques
Gun selection and fitting
Private coaching
Mini competition
Are you a sharp shooter?
Get a Quote
Call for Info
5 Reasons to go Clay Pigeon Shooting in Perth
The Thrill! The crash of the gun and the almost-immediate sound of the target being struck means that you were on target. But no time to celebrate – your next target is coming out soon!
Test your skills! You have precious little time to react and get your bead on the target when the pigeons come flying out, so make the very most of it!
A new skill set. Many a man (or woman) enjoys a spot of hunting now and then, and this could become your new passion! Why not, right?
Bragging rights! You don't need to nail every target – you just need to hit more than your closest competitor!
A taste of the old world. Clay Pigeon shooting was originally viewed as a gentleman's game, for the elite. And what better a day to get classy?
Read More: Things to do in Perth | Perth Bucks Ideas | Perth Bucks Accommodation | Perth Bucks Packages | Bucks Party Games | Perth Costume Shops | Perth Nightclubs | Perth Strip Clubs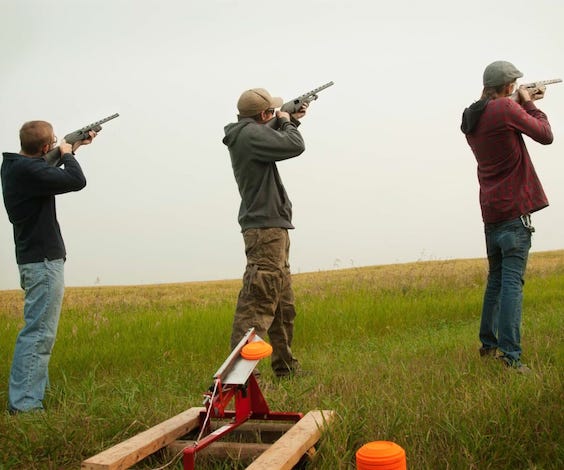 Making the most of your Clay Pigeon Shooting in Perth
The city of Perth is no stranger to absolute bangers. It is the party and cultural centre of Western Australia, and over the years, it has breathed life in to a party scene that is all its own! For example, have you ever watched footage of the America's Cup being paraded down the streets of Fremantle, escorted by a giant inflatable kangaroo, streets lined with screaming crowds and waving flags? Sure, some people might say 'that was over thirty years ago' but you know what? Those people are dickheads.
So where do you want your Perth Bucks party to take you? High adventure out on the blue ocean? A mellow evening of gambling with the boys? Or something a little bit more outrageous Wicked Bucks can fill whatever need you had in mind with our awesome lineup of bucks party packages, each bringing their own little element of debauchery and celebration to the table.
Perhaps some deep sea fishing turns your crank? Keen to get amongst the wind and waves of the Indian Ocean, in search of a true monster of the deep?
The cool waters here provide a number of game species, and Wicked Bucks has a bead on some first-class charter skippers who can put you on to the big one! In the spirit of adventure, Wicked Bucks can see you live out your Hemingway-esque fantasy!
Not so keen on open ocean? You can still get your boating fill, with an awesome boat trip down the lovely Swan River. With the boys in tow, some lovely helpers, and a full esky, you can absorb the sights of this city from a brand new perspective.
Keen to swing a club? How about a day on the greens? With all of your gear covered, and a lovely pair of sexy bucks angels to help you stay hydrated and motivated, you can play nine or eighteen holes of golf at this unique and excellent course. Remember – cheating on your score card isn't necessarily against the rules.
Contact one of our bucks party planners today, and let's organise a party like no other. Your Buck, and the occasion, befits it!