Body Sushi Perth
Didn't ya Mumma ever tell ya to wrap it before ya tap it? You may not be able to tap this treat, but that doesn't mean you shouldn't be able to wrap it. Our naked body sushi experience will wrap everything you've ever dreamt of into a delicious sushi roll, to be served on a sexy entertainer. A Bucks Body Sushi experience is something you'll never forget. You and the lads are in for a treat. In the secluded and very private venue, the chef will prepare mouth watering sushi for the boys. Instead of serving the masterpieces on a regular platter, an impressive array of women will literally become your dining table. 
After disrobing and draping themselves across the table, the sushi will be scatter across their bodies. Then it's time for you to eat! We do have to warn you though, the jaw-droppingly gorgeous women are very chatting. It can get difficult trying to stay still with all the giggling too. After you've had your fill, your sushi platter will transform into an erotic show for your eyes only. So kick back and enjoy the sight – we just ask that you don't touch the china.
Experience Overview
1 hour human food platter
1 hour nude or topless waitress
Unique bucks experience
Great way to ensure a night to remember
Get a Quote
Call for Info
Top 5 Reasons to do Body Sushi in Perth
Body Sushi is sure to get your taste buds (and a whole lot of other things) tingling. 
Body sushi is literally all the good things in life rolled into one. You get food, drinks, hot ladies and a private show. What more could you want?!
This experience will set the tone for an epic night to follow. After your personalised experienced and a free flow of drinks, you'll be ready to hit the town and party it up. 
We're not sure what the most beautiful part of the experience is. It's a tough call between the models and the delicious food. I guess there's no need to pick a favourite because you'll get both. 
How many people can say they've had a Body Sushi experience? This is a once in a lifetime opportunity that will make your Bucks Party one to be remembered.
Read More: Things to do in Perth | Perth Bucks Ideas | Perth Bucks Accommodation | Perth Bucks Packages | Bucks Party Games | Perth Costume Shops | Perth Nightclubs | Perth Strip Clubs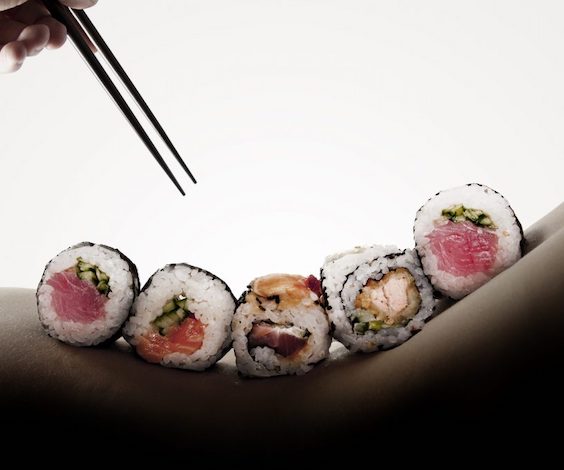 Making the most of Body Sushi in Perth
Whoever told you that Melbourne or Sydney were Australia's coolest cities, has obviously never visited Perth. The Wild West has tried to fly below the radar but now we're letting the cat out of the bag. Perth is EPIC! If you love 30-plus degree days and bathing in crystal clear salt water, the best time to visit P-Town is in Summer. Only minutes from the city centre, you'll find a bunch of well known beaches like Cottesloe and Scarborough, as well as plenty of hidden gems (where you're likely to have the beach to yourself). 
If you're more of a city slicker, Perth CBD is small but mighty. There are an abundance of cafes, restaurants and shopping squares just waiting to be explored. The street art is cool enough to give Melbourne's laneways a run for their money too. Once the sun goes down, the Perth-ites come out to play too. This happening-place offers more cultural festivals, live music and bustling nightclubs than you can poke a stick at. So, whatta waiting for? Let Wicked Bucks show you how it's done.