Deep Sea Fishing Perth Bucks Party Idea
Face it – ever since you read Hemingway's 'Old Man and the Sea' you have dreamed about catching the big one. Now is your chance. Get out on the blue water of the Indian Ocean, strap in to the fighting chair, and get ready to watch that reel scream! Get your rods ready and your head in the game this is going to be a big day. If it involves, beer, fishing, boats and boobs it makes our list of top Perth bucks party ideas.
You will be taken out on to the bluest of blue water on a renowned charter vessel, equipped with all requisite safety gear, and a well-experienced skipper who knows where the hot spots are! Wielding an esky full of beverages, and with all of your gear and bait included, you can be assured that he will put you on to some hungry – and angry! – denizens of the deep! And when you find one at the end of your line, you can expect the fight of your life!
Experience Overview
Fishing equipment and bait included
Will you take home the catch of the day?
Exclusive use of fishing charter boat
Experienced crew to take you straight to the fish
Catering and beverage packages available
Sit back and wait for the fish to come to you
You'll be hooked once you reel in your first catch
Get a Quote
Call for Info
5 Reasons to go Deep Sea Fishing in Perth
The Adventure! The high seas are not for everyone, but luckily, with this experienced charter skipper at the helm, you can be assured of safety, and can focus on the fun.
The Variety. Depending on the season, you have a shot at a number of different species that occur off the coast of Western Australia.
The Views! There are few places as savagely beautiful as the open ocean, and bringing your camera along to record these moments will provide memories that last a lifetime.
Whose turn is it? When they are on, they are on. Choosing who gets the first chance in the seat to do battle can determine who goes home with bragging rights!
The Memory! This is one voyage that you won't soon forget. Get to it!
Read More: Things to do in Perth | Perth Bucks Ideas | Perth Bucks Accommodation | Perth Bucks Packages | Bucks Party Games | Perth Costume Shops | Perth Nightclubs | Perth Strip Clubs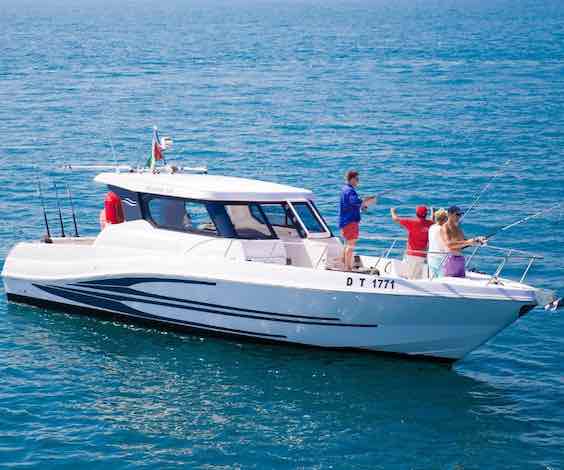 Making the most of Deep Sea Fishing in Perth
Doing battle with some serious fish is the dream of many an outdoorsman. And Perth provides some absolutely world-class opportunities! The cold currents sweeping south to north along the coast of Western Australia brings a wealth of cold, rich water welling up from the depths, feeding a range of sportfish and growing them to massive proportions.
But the blue water is far from the only option available for adventure-hungry Bucks like yours. There are a pile of chances for fun, adrenalin, and debauchery in this town.
Why not suit up and get the crew stuck in to a bit of paintball? This well-regarded provider offers the opportunity to go to war against some of your best mates! Kit up, and load out, with a full hopper of paintballs with which to light up your enemies.
With a huge arena, and an awesome, well-designed layout, you can employ all of your skills of strategy and agility as you fight for eternal glory! Once you have had your fill of active pursuits, Perth is ready to take you in and show you some of its more refined side. You can wine and dine yourselves at some of the finest restaurants and cocktail bars to be found anywhere.
Refuel for what promises to be a late night, and chase it with a cheeky cocktail or two, before ramping the energy up for a wicked night of fun alongside the whole crew!
At Wicked Bucks, we can tailor your Bucks night in Perth to reflect exactly the kind of party that suits you and your Buck. Let us bring together a jam that befits the occasion! Contact one of our expert party planners today and let's make it happen.