Paintball Skirmish Perth Bucks Party Idea
Line up your target, squeeze that trigger, and light him up in technicolour! Get geared up and head in to battle, in a no-holds-barred war to determine who possesses the best aim and the finest mind for strategy while 'in the shit'. With all of your gear covered, and an awesome arena in which to do battle, this Perth bucks party idea is sure to get the group's energy levels up!

Paintball sees you and the crew get geared up in protective kit, including faceguards and helmets, and equipped with a gun with a full hopper of high-velocity paintballs! Depending on your format, you can engage in a battle royale, a team war, or a spot of capture the flag. In any event, the rules of engagement are 'weapons free'! Take down your opponents while staying paint-free yourself, to take home the bacon and win the war for the good guys!
Experience Overview
Plan a surprise attack on the Buck
Variety of missions
Dress-up the Buck
Multiple fields to battle on
Protective gear included
Guns and ammunition included
Ready, aim, fire!
Get a Quote
Call for Info
5 Reasons to do a Paintball Skirmish in Perth
Glory! Those old war stories that your grandpa told you? They will have nothing on you by the end of this day!
The pain! Sure, you are padded up, but a paintball still packs a kick. You can feel it when you fire it off, and so can your target!
The adrenalin. Lining up your target, while he lines you up, is one of the biggest thrills to be had anywhere. Don't lose focus – squeeze that trigger and take him down!
Planning your mission! The best paintballers aren't about speed or agility – they plan their advance with their teammates. Lay out your strategy, and ball out!
The bragging rights. Nothing stings the ego quite like a well-placed shot to knock out your opponent, something that they will not forget – especially after you keep reminding them throughout the evening to follow!
Read More: Things to do in Perth | Perth Bucks Ideas | Perth Bucks Accommodation | Perth Bucks Packages | Bucks Party Games | Perth Costume Shops | Perth Nightclubs | Perth Strip Clubs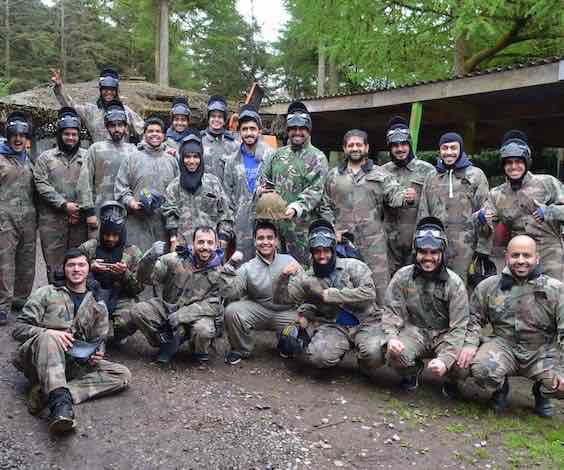 Making the most of your Paintball Skirmish in Perth
It is party time, and the city of Perth is your venue! You could do little better than this gem of a city for an absolute banger, and how better to send off your bachelorhood? Party and activity options abound, and you are not about to find yourself short of fun bucks party ideas for activities, either in the daylight hours, or when night falls.
Have a need for speed Wicked Bucks can line up a racetrack experience involving you, your Buck, the entire group, and some high-powered go-karts! Get qualified in practice, then punch the throttle, to do battle against your best mates and the track itself. With electronic timing and laps, and a lineup of evenly-matched karts, this experience provides the true essence of motorsport!
What about something a bit more laid back Perth is on the doorstep of a solid helping of great wineries, in the Swan Valley and Margaret River, along with sparkling expanses of beach to the west.
Out on the water, perhaps a bit of Perth deep sea fishing will suit the crew? Fortune favours the bold, and a variety of game species grow huge off these shores. With a well-experienced charter skipper awaiting you, you can get amongst, and try your luck for that trophy of a lifetime!
Back indoors, how about a bit of poker? Grow your own stack while you enjoy some excellent views – as your game will be aided by a pair of sexy bucks angels, dealing the cards and serving drinks all night. And did we mention that they will be topless? This is a Bucks party, after all!
At Wicked Bucks, we are ready to put the finishing touches on an experience that will send your Buck to the altar with no regrets! Contact one of our party planners today, discuss your preferences, and let us plan a bespoke Bucks party in Perth that will be the talk of the group for years to come.