Visit Whitehaven Beach Bucks Party Idea
The incredibly white, postcard and instagram-perfect sands of Whitehaven Beach have been serving as a huge draw to the Whitsundays for a long time. And what better time to experience a world-beating destination than on your Bucks party here in Airlie Beach? Stretch your legs and experience a beach that consistently ranks among the very finest in the world.
This activity has it all – a solid drenching of Queensland sun, the feeling of freedom as your rip across the light blue waves of the ocean, and at the end, one of the most postcard-worthy beaches you will ever see. The whiteness of the sand here, a result of high amounts of silica in the sand, must be seen to be believed. A world-class destination – suitable for a party like this one!
Experience Overview
Celebrate with the sand between your toes
Sink some beers by the water
Great views of the coast
Unique party setting
Option to include girls
Catering and beverage package options
Prime location
Get a Quote
Call for Info
5 Reasons to go to Whitehaven Beach in Airlie Beach
This stretch of beach is known throughout the world, and for good reason. The incredibly fine sand squeaks underfoot, the result of its silica-based composition, and reflects the sun back upwards. A stunning spot.
Half the experience is getting there! The run across the Whitsunday Passage, and through the islands, puts you within range of some of the finest scenery to be found anywhere. Take it all in, with your best mates alongside.
Take a dip in the ocean and enjoy the sense of space – the next stop to the east from this beach is a long, long way off!
Relax. Hop in the ocean, snap a picture, and just relish the sense of freedom and the impressiveness of this landscape. We are here to be awed, and this spot will not let you down!
Once you have been adequately wowed, it's time to make tracks back to Airlie – and for the night to kick on. Strap in lads, it could be a late one!
Read More: Things to do in Airlie Beach | Airlie Beach Bucks Ideas | Airlie Beach Bucks Party Accommodation | Airlie Beach Bucks Party Packages | Airlie Beach Nightclubs | Bucks Party Games | Airlie Beach Fishing Guide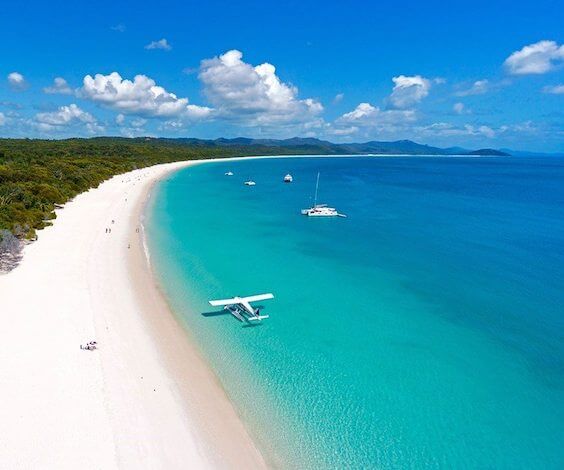 Making the most of Whitehaven Beach in Airlie Beach
So you are sending your boy to the altar! This can't be allowed to happen without a first-rate Bucks party, and Airlie Beach, teamed up with Wicked Bucks, can bring together an absolute banger on your behalf. And you wouldn't want to send your man to the altar with regrets, now would you?
It pays to consider how best to put this jam together before you get started. What are you looking for? Something outdoorsy? Terror-inducing? Is he a nature lover? Opportunities abound, and on this Bucks party in Airlie Beach, there is something for everyone. Here are some of our favourite activities, as industry veterans:
Deep-sea fishing: The sound of a screaming reel will get even the slowest pulse racing up to its peak! With a variety of game fish, and an experienced charter skipper, you and the lads will be hauling them in until your arms are sore.
Airlie Rum Tasting: The large amounts of sugarcane that are grown around Airlie Beach are put to their best use when distilled in to this, the original pirate grog! Learn about the process and enjoy some food pairings, before testing some of the finest, freshest drops around.
Airlie Skydiving: Is your Buck scared of heights? All the better! Now is the time to test his nerve and throw him out of a plane at 4000 metres!
Airlie Beach Snorkeling: Slap on that sunscreen – you might find yourself transfixed. With quick access to the Great Barrier Reef, you are about to discover a brand new world, teeming with life, for you to explore!
At Wicked Bucks, we make it our business to put together parties that suit you. Want to combine a few activities in to one epic event? We can make it happen for you. Send your boy to the altar in style, with Airlie Beach and Wicked Bucks!