Experience Overview
Craft Beer Tastings
Enjoy a local brew with the guy who made it
Guided tour with brewmasters
Transfers between venues
Catering options
Sink some beers with the lads
Perfect start to a big night
Get a Quote
Bucks Brewery Tour Melbourne
Destination: MELBOURNE
Day Drinking. It's a staple activity of almost every Bucks Party. Nothing beats the joy of sinking a few cold ones with the boys. Let us take you one step further and transport you to where all the magic happens – A Craft Brewery Tour. You're guaranteed to get the head of your dreams.
Roll up, roll up, the bus to heaven is ready to depart. Little did you know, there are a few little slices of heaven hidden in the heart of Melbourne. You may have heard of them before, most of the time they go by the name of "Beer Brewery".
These venues serve as a meeting place for people of all ages, and it's basically a dream come true. From the minute you step inside, you'll have your pick of the very best golden nectars, and you won't even have to worry about sussing out a designated driver.
What always goes best with beer? A feed of course.
While you're arguing over which beer was best, you can feel your belly with a spread of real man's food. Don't let anyone ever tell you that you can't organise a piss up in a brewery.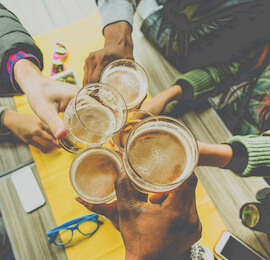 Melbourne Beers Steak and Tits Party Package
From $280.00 per person
Brewery tour
Food and drink package
Return transport to the brewery
3hr dinner at Melbournes best lingerie restaurant
3hr drink package included at restaurant
Entry to a leading Stripclub
Detailed bucks Itinerary
Personal event planner
Check this package out!
View all packages
More Information
5 Reasons to do a Craft Brewery Tour in Melbourne
Our Brewery Tours are lager than life. The only thing better than hitting a brewery is hitting a string of Breweries. After making your way through our top picks of venues, you'll go home with a smile from ear to ear (that could be from your alcohol consumption, but we'll take credit for it anyway)
What a chance to bond with all your Brews! Nothing says bromance like a day spent together over a few beers. Our Craft Brewery Tour will leave you with a bromance that rivals the cast of The Hangover.
When your Brewery Tour bus is chugging around town, you'll also get the chance to tick off some of the big name sites from your bucket list. Don't ever let the Missus tell you that you can't multi-task.
Breweries sure know how to serve some sweet, sweet head. These frothy experiences are set to blow your 16-years-old, first time out of the water.
This is an activity that has something for everyone. Even if you're not the world's biggest beer drinking, these joints generally have a small but mighty spirits and cocktail list.
Read More: Top Things to do in Melbourne | Melbourne Bucks Party Ideas | Melbourne Bucks Party Accommodation | Melbourne Bucks Party Packages | Melbourne Strip Clubs | Melbourne Attractions | Bucks Party Games
OTHER POPULAR MELBOURNE BUCKS ACTIVITIES