Experience Overview
Watch the Buck go red in the face
Buck paraphernalia provided
2 hot girls keen to embarrass your Buck
We hope the Buck likes to be dominated
Dress him up and parade him through a public area
Great content for a wedding speech
He's sure to be surprised
Get a Quote
Kidnap the Buck Melbourne
Destination: Melbourne
Bucks Parties and Pranks. Name a more iconic duo. We'll wait. You'd be doing your Buck a serious disservice if you let him down in this area. Let Wicked Bucks kidnap him and whisk him away to give him the night he was never expecting but has always dreamed of. This is a guaranteed hit with the bucks group. This is hands down one of our most raunchy Melbourne bucks party ideas.

The night may start off like an ordinary party. The Buck was lured in with the promise of a few beers and a game of card. When you're midway through your "quiet one" when a knock on the door reveals an unexpected, lingerie-clad girls.
Let's just say she's pretty much the woman of your dreams (Don't worry, we won't tell your Missus) and this is where things get spicy. After a saucy little bucks strip show, the man of the hour is blindfolded and ushered away.
The entire crew will be bundled into some impressive wheels and whisked away. We could tell you what happens next, but that would just ruin the fun. All we can say is, you're going to wish kidnapping wasn't illegal.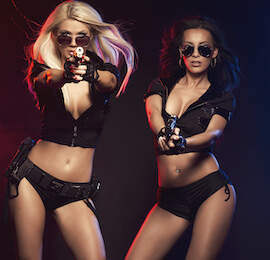 Melbourne Kidnap The Buck Party Package
From $275.00 per person
1x night accommodation
Kidnap the buck experience
All props included
3 Hour dinner at Melbourne's best lingerie restaurant
3 Hour drink package included
Reserved area for your group
Detailed Bucks Itinerary
Personal Event Planner
Check this package out!
View all packages
Kidnap The Buck Information
5 Reasons to do Kidnap the Buck in Melbourne
Kidnapping the Buck is perfect for the guy who doesn't realise what he really wants. Wicked Bucks can take control and give the Buck the night he's always dreamt of – That just leaves you to bask in the glory of being the greatest best man ever.
Whether you're laughing at the Buck's baffled facials or you're enjoying a show from the lingerie-clad kidnapper, this night offers something for everyone.  
Kidnap the Buck may be the only opportunity where the Buck can be handcuffed and blindfolded by a stunner, without his missus having a fit.
This lingerie-clad kidnapper isn't just going to tie up the Buck for fun. This is just step one of your epic night out. You'll be delivered in style to your very own VIP lounge, where you'll be greeted with a free flow of beer and another topless waitress to keep you satisfied.
No Melbourne Bachelor Party is complete without a few pranks along the way. Kidnap the Buck is the ultimate opportunity to impress the Buck without too much planning from your end – Wicked Bucks can take care of that for you!
Read More: Top Things to do in Melbourne | Melbourne Bucks Party Ideas | Melbourne Bucks Party Accommodation | Melbourne Bucks Party Packages | Melbourne Strip Clubs | Melbourne Attractions | Bucks Party Games
Other Popular Melbourne Bucks Activities
Browse our customer reviews
4.8 rating from Google Reviews
Learn More
I got tasked with the awesome duty of best man. I came across the Hangover package at Wicked bucks in the Gold Coast, with hummer, strippers, poker, pub crawl and sub penthouse. A big thanks to the Rachael who made this bucks the one that will never be beaten.
- Ben Calder