Bucks Cruise Melbourne | Bucks Party Boats
It's time to whip out your sailor's cap because there's a boat party bucks cruise – Ahoy! This boat is nothing like the tinny you and the boys take out of the river during summer. This is a Hollywood A-Lister worthy luxe experience, with all the trimmings. It'll be all smooth sailing from the minute you step onboard. Nothing says good vibes like a bucks day out on the waters with the boys. We all know you like getting a little wet, but this is one time you'll be grateful for a dry spell.
In your finest threads, you'll be kicking back, drinking from the private bar and partying like you're headed for the Mediterranean Sea. The best thing about being so far from land is that you can drop the bass as loud as you like, without triggering any old-folky neighbours. It might all seem to good to be true, but we promise it's just as perfect as it sounds. This will be the best Melbourne bachelor party to be remembered for years to come.
Experience Overview
Luxury with the lads
Set sail on a bucks party to remember
Leave your responsibilities behind
Lay back and enjoy a few beers on deck
Catering and beverage packages available
The best way to explore the Yarra
Professional Captain and crew
Get a Quote
Call for Info
5 Reasons to do a Bucks Cruise in Melbourne
Don't lie, we all know you daydream about being a Leonardo DiCaprio or James Bond. You may not have paparazzi chasing you but you'll feel like a true celebrity when you're cruising the sea on your private boat bucks party cruise.
Melbourne is just as pretty as it looks in the pictures. A cruise around the Victorian waterways can only guarantee one thing – an afternoon of "pinch me, is this real?" moments.
Fancy a little more entertainment? We've got some stunners lined up and  waiting to rock your boat. They will keep the drinks flowing and your belly full. When they're not running around after you, they might even have time for a private bucks show.
When you're in a big bucks group, bar hopping or trying can meet up for a drink can get tricky. This saves the hassle of ubers, designated drivers and group messages. You'll all be in once place for the day and it promises to bring you a bromance stronger than The Beatles.
This is chill af. You'll be so relaxed and all your worries will feel a world away. It's the perfect way to set up your night out.
Read More: Top Things to do in Melbourne | Melbourne Bucks Party Ideas | Melbourne Bucks Party Accommodation | Melbourne Bucks Party Packages | Melbourne Strip Clubs | Melbourne Attractions | Bucks Party Games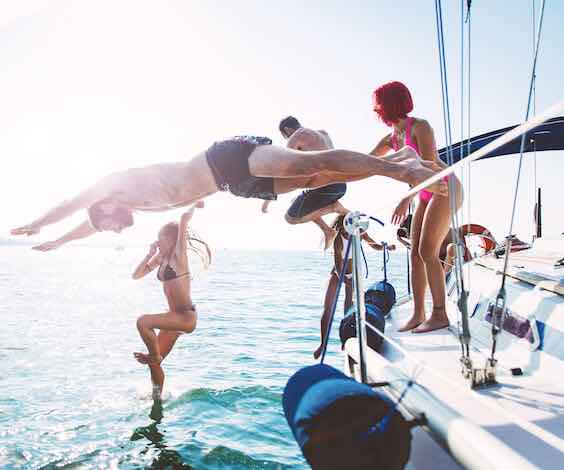 Making the most of your Bucks Party Cruise in Melbourne
Food in Chinatown, fashion in arcades and footy at the G are just a little taste of what a trip to Melbourne can mean. Victoria's capital is the type of place that you can spend a lifetime in and still not make your way through everything there is to do. On the North side of the city you'll find the backstreets of Fitzroy, grungy pubs on Smith Street, bike tracks in Clifton hill and weekend markets in Abbotsford. Down south is a melting pot of bays, beaches and boutiques. Highly regarded as one of the classy Melbourne bucks party ideas worth adding to your itinerary.

The one thing shared by all Melbournites is a love of AFL. Actually, this place is nuts about any sport. Whether it's cricket, rugby, golf or ping pong, Melbourne's stadium's fill up every weekend with passionate supporters. If you're looking for night out – look no further. There are a load of bars in the city and half the fun is stumbling across them yourself. Without the restriction of lock out laws, the only thing putting an end to your night will be the sunrise. We hear you – Melbourne is calling you! Pack the boys and get ready, Wicked Bucks will do the rest.