Paintball Skirmish Melbourne Bucks Party Idea
Let Wicked Bucks pick you up, deck you out, drop you off in a field and let you fend for yourself. Paintball Skirmish is the ultimate ball action that will leave you bruised, panting but screaming for more. Who could say no to that? Get the war paint on, extra layers of clothing and hit the field some competitive action. Has to be in our top 3 Melbourne bucks party ideas. If you've never dreamt of living a day in the life of James Bond, then you're either lying or you've been living under a rock.
Wicked Bucks has an activity that promises just as much action and adventure, and you don't even have to don a tuxedo. Spend the day hidden in trenches and let your Call of Duty training take over – it's shoot or be shot. Melbourne Paintball Skirmish gives an epic adrenaline rush and a great excuse as to why you have those hickies (sorry, welts) all over yourself the next day.
Experience Overview
Protective gear included
Strategise an attack on the Buck
Variety of missions
Dress-ups for the Buck
Annihilate the competition
Gun and equipment included
Ready, aim, fire!
Get a Quote
Call for Info
5 Reasons to do a Paintball Skirmish in Melbourne
Paintball Skirmish is a full body workout. You'll be crawling, diving, sprinting, dodging and shooting in a fast paced and strategic environment. Don't hold us to it, but you'll probably look like Channing Tatum afterwards
What guy doesn't love some good ball action? You're balls will be shooting out faster than ever before.
It's the perfect bonding opportunity. The strategy and execution needed to avoid looking like a rainbow, will ensure you leave with a bromance stronger than XX.
Paintball is a growing international pro-sport. You might discover you've got a hidden talent and it could spark a career change.
Wicked Bucks will deck you out with all the gear so even if you've got no idea what you're doing, you'll look the part. It could make for a pretty epic instagram shot. Maybe even your best yet.
Read More: Top Things to do in Melbourne | Melbourne Bucks Party Ideas | Melbourne Bucks Party Accommodation | Melbourne Bucks Party Packages | Melbourne Strip Clubs | Melbourne Attractions | Bucks Party Games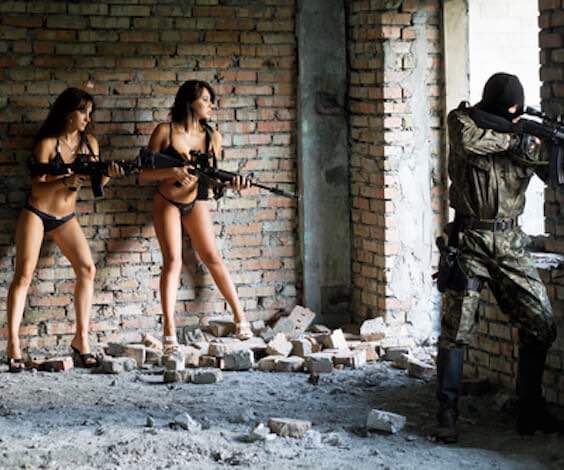 Making the most of your Paintball Skirmish in Melbourne
Melbourne. It's regularly listed among the world's greatest cities in which to live. It attracts celebrities and tourists from around the world. So what's all the hype about? Well, where do we even start!?  The city's art scene is one of the most vibrant you'll ever find.
Sprayed, stencilled alleys like the city centre's Hosier Lane have become a must-see sight and probably the most grammable place around. Only a hop, skip and a jump out of the city, there's seaside fun at St. Kilda. Palm trees, Art Deco mansions, retro flats, roller coasters, kosher bakeries, yuppies and rollerbladers – this bayside suburb is a melting pot of perfection. 
This southern hub is also Australia's Capital of Music – A title solidified by the iconic Corner Hotel. Everyone from Mick Jagger and The Dandy Warhols, to The White Stripes and Crowded House have played here, and the venue still remains a top-notch live-music hot-spot.
If you're a keen night owl, the drinking scene is packed full of vibrant and sociable places where you can enjoy a quiet drink or 10 cheeky cocktails. We really could keep bragging about Melbourne, but we think it would be better if you just experienced it yourself. Wicked Bucks style.