Experience Overview
Drinks package
Equipment all included
State of the art technology
Score yourself a hole in one
Social battles
Fast enjoyable format
Par-tee time
Get a Quote
Bucks Golf Simulator Melbourne
Destination: Melbourne
What does a guy love more than some good quality ball action? Absolutely nothing. Whether you bang it from behind or slip it in slowly, a game of Golf is fun for everyone. A Pro Golf Simulator will have you screaming for more, without even having to get all hot and sweaty. You can thank us later.
Nothing beats a hit of golf with the boys, primarily because it reminds you of the good old days of mini golf, when Mum paid for everything but also because every guys loves perfecting his aim.
What we love most about this Pro Golf Simulator is that is packs all the same fun as regular golf, but you don't have to spend the day baking under the sun as you walk between holes.
Instead you can take a swing at the balls, within close proximity to a full stocked bar. If you say no to this one, you obviously couldn't see a great deal even if it putted you in the face.
MOST POPULAR MELBOURNE PACKAGE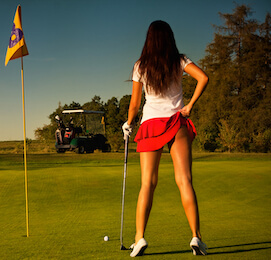 Melbourne Bucks Golf Party Package
From $300.00 per person
1x night accommodation
Return transfers
9 Holes of golf
Lunch, and beverage included
2x Golf bunnies
Entry to a leading Melbourne stripclub
Detailed Bucks Itinerary
Personal Event Planner
Check this package out!
View all packages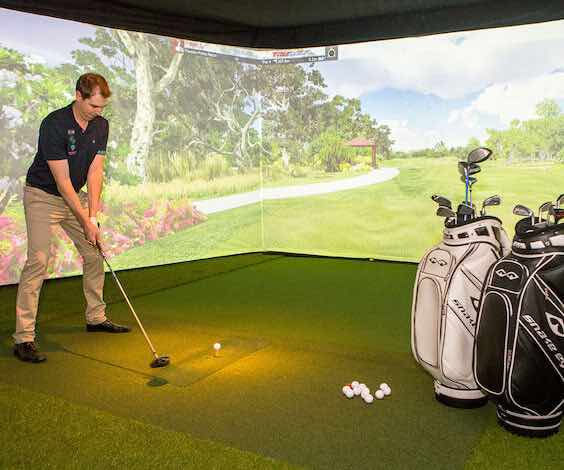 Bucks Golf Simulator Information
5 Reasons to try the Golf Simulator in Melbourne
Balls and a competition. Name a better duo. We'll wait. When you combine every guy's two greatest loves, it's destined to be a day to remember.
The more beers you consume; the more excuse you'll have to miss the hole. Don't let anyone ever tell you that you're bad at golf again.
After you finishing playing with your balls and comparing your hole counts, you can knock off for an in-house drink and bite. Talk about convenience.
We can't promise much more than bragging rights for the winner but isn't that the greatest prize you could ever ask for? We hear "I'm a pro golfer" is a pretty tried and tested, but successful pick up line anyway.
It's the perfect way to kick off a big night on the town. Whether you're out to celebrate a win or drown your losing sorrows, Pro Golf Simulator is the pathway to the ultimate night out.
Read More: Top Things to do in Melbourne | Melbourne Bucks Party Ideas | Melbourne Bucks Party Accommodation | Melbourne Bucks Party Packages | Melbourne Strip Clubs | Melbourne Attractions | Bucks Party Games
Other Popular Melbourne Bucks Activities
Browse our customer reviews
5 rating from Google Reviews
Learn More
I got tasked with the awesome duty of best man. I came across the Hangover package at Wicked bucks in the Gold Coast, with hummer, strippers, poker, pub crawl and sub penthouse. A big thanks to the Rachael who made this bucks the one that will never be beaten.
- Ben Calder