Experience Overview
Bring home the catch of the day
Fishing equipment included
Experienced crew to take you straight to the fish
Exclusive use of fishing charter boat
Sit back and wait for the fish to come to you
Catering and beverage packages available
You'll be hooked once you reel in your first catch
Get a Quote
Deep Sea Fishing Melbourne | Day Bucks Party Idea
Destination: Melbourne
We know how you like it. You like it deep. You like it fishy. You like it rewarding. We've rolled all your favourite things into a perky little package. Let us present to you: Wicked Bucks Deep Sea Fishing. With our expert fishing charter, you're guaranteed to hook a keeper…Don't let the Missus find out she has some competition. This all time favorite is one of the best Melbourne bucks party ideas available. A Bucks Deep Sea Fishing cruise is everything you can imagine and more. Imagine you're on a boat, looking at the shore as you head out towards the glistening skyline. The water around you is 50 shades of blue and puts the lakes and rivers your used to to shame.
There's something pretty special about the waters of Melbourne and the only thing better than the view from the boat, is the abundance of sea life below the surface, just waiting to be caught. No need to squeeze your rod into your carry on luggage because we will deck you out with all the gear. If catching fish isn't really your speciality, why not just enjoy the cruise and have a beer or two. Whatever floats your boat, a Wicked Bucks Deep Sea Fishing trip will have something for you.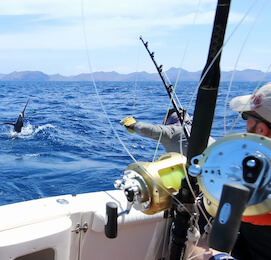 Melbourne Bucks Fishing Package
From $275.00 per person
1x night accommodation
Return transfers
5hr exclusive fishing charter
BBQ included
Entry to leading stripclub
Detailed Bucks Itinerary
Personal Event Planner
Check this package out!
View all packages
Deep Sea Fishing Information
5 Reasons to go Deep Sea Fishing in Melbourne
Fishing is the ultimate bonding activity. After a day on the water with your buddies, you'll have a bromance strong enough to leave your Missus questioning you.
There is nothing more relaxing than fishing. Out at sea, the hustle and bustle of everyday life feels a world away. You'll be heading home with a monk like zen.
Every guy loves a bit of competition, right? This may be the only socially acceptable opportunity for you to compare sizes with your mates. We can't promise anything more than bragging rights for the winners but isn't that what it's all about!
With no neighbours to worry about, you can crank the tunes to your heart's content and not even have to think about how to deal with the noise complaints. It's the ultimate way to kick start the good vibes.
Whether you're in it for the good views, the good fish or the good vibes, it's guaranteed to be a good time.
Read More: Top Things to do in Melbourne | Melbourne Bucks Party Ideas | Melbourne Bucks Party Accommodation | Melbourne Bucks Party Packages | Melbourne Strip Clubs | Melbourne Attractions | Bucks Party Games
Other Popular Melbourne Bucks Activities
Browse our customer reviews
4.8 rating from Google Reviews
Learn More
I got tasked with the awesome duty of best man. I came across the Hangover package at Wicked bucks in the Gold Coast, with hummer, strippers, poker, pub crawl and sub penthouse. A big thanks to the Rachael who made this bucks the one that will never be beaten.
- Ben Calder