Day at The Races Melbourne Bucks Party Idea
As the home of "The Race That Stops The Nation", Melbourne has mastered the art of a champagne-fueled, big day out. Racecourses around the city are regularly transformed into a riot of colour, with headbands and hemlines competing against stilettos and suits for our attention. It's the perfect opportunity to check out some good looking fillys (oh and don't forget to look at the horses too).
Can you smell that? It's a whiff of freshly cut grass and that can only mean one thing. The jewel in Melbourne's floral crown is right around the corner. Of course, we are talking about the Horse Racing.
It's more than just watching a bunch of horses run in a circle repeatedly. Bringing with it the promise of warmer weather, Melbourne's Spring racing never fails to produce the ultimate day out.
You can sip champagne, wave goodbye to your dollars as you take some wild bets, munch on gourmet food and hopefully score the title of Best Dressed on your way out. We promise this is ride you won't want to miss. Giddy up!
Experience Overview
Check out the fillys (and the horses too)
Suit up and place some bets
General admission
A punters dream
Don't let the Buck blow the entire wedding fund
Day drinking at its finest
Saddle up for a brilliant day
Get a Quote
Call for Info
5 Reasons to do a race day in Melbourne
At the end of the day, there won't be any long faces. Whether you're there for the horsey action or it's really just an excuse to participate in everyone's favourite pastime (day drinking), Melbourne's Horse Racing scene offers something for everyone.
The best part about day drinking at the races is that if you decide to hit the hay straight after the action, you're bound to wake up tomorrow hang-over free and bounding to tuck into your next activity. If you're more of a night owl, what better way to kick start your wild night ahead?
It'll be the ride of a life-time and you won't even have to mount her, ride her or listen to her neigh.
The Horse Races are also the perfect opportunity to whip out of your best tux, style your hair and polish your shoes. When you're surrounded by Melbourne's finest looking men and women, you'll feel like you're living an A-Lister's lifestyle. What a hot-to-trot stud.
If you take home some big winnings, you could be kick starting your married life financially stable.
Read More: Top Things to do in Melbourne | Melbourne Bucks Party Ideas | Melbourne Bucks Party Accommodation | Melbourne Bucks Party Packages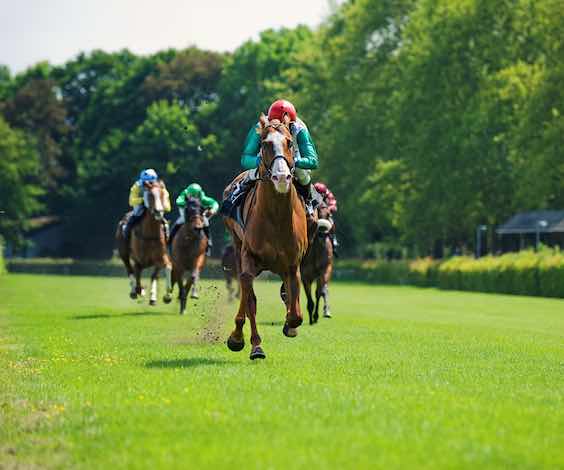 Making the most of your Day at Races in Melbourne
Anyone can ramble on about how great their home city is, but no one has more merit than Melbournites. Victoria's capital has been granted the title of the World's Most Liveable City. Not just once. Not even twice. But six times. IN A ROW. In addition to being Australia's home of sport, it's also the culture capital.
Hidden within the laneways of Melbourne, you can find quirky cars and intimate cafes surrounded by ever-changing street art murals. In contrast, Melbourne's arcades ooze European charm. The National Gallery of Victoria is no school-excursion, bring your grandparents day out.
It's the country's most visited art gallery and boasts a host of internationally prized pieces. Another thing Melbourne locals have down pat is the art of food and drink. Whether is cold press, espresso or soy lattes, Melbourne's baristas will undoubtedly knock your socks off with their delicious brews. The restaurants are basically a foodie's paradise and offer a melting pot of different cuisines.
Oh and the nightlife? Well that's just something you're going to have to experience for yourself. All we can say is, the only thing putting an end to your night will be the sunrise. Don't stress about fitting everything in. Wicked Bucks is here to do the hard yards and ensure you're celebrating your Buck's final days in ultimate style. What are you waiting for?