Gaming Sports Bar
Women may be right… Maybe men are all the same. We do all love beer, the boys and sport after all? We know these are the three ingredients to a perfect night so we've bundled them up in a package tighter than some perky boobs and served them to you on a silver platter. It doesn't stop there though, we'll even throw in a free flow of beers and a private topless waitress to dote. An evening at a Gaming Sports Bar is everything you could dream of and more. We say BALL ACTION. You say HECK YEAH. The only thing better than playing yourself is watching the action on a big screen with surround sound.
The private VIP lounge of the Gaming Sports Bar offers a free flow of beer, unlimited food and an unobscured view of the game. The vibe is so epic, you'll be panting and screaming before you know it. If soccer, football or soccer isn't your cup of tea, maybe the half time entertainment is more up your alley. This performer may not qualify for your favorite footy team but she makes up for it in flexibility and athleticism. Regardless of the final score, an evening at this Gaming Sports Bar will be a win for everyone. Definitely a top option for a bachelor party in Melbourne.
Experience Overview
A winning combination: sport and beer
Exclusive access to a VIP sports bar
Add some girls for your half time entertainment
Catering packages available
Don your team colours
Whatever your sport, enjoy it with a beer in hand
This could be the last un-interrupted sports game you ever get to watch
Get a Quote
Call for Info
5 Reasons to go to a Gaming Sports Bar in Melbourne
Whether you're a sporting prowess or an absolute kook, every guy loves getting in on the ball action. The balls on play may come in all shapes and sizes but they're all handled with absolute expertise. It's a recipe for success.
A Gaming Sports Bar is the ultimate opportunity to catch the latest game without your Missus nagging you to turn the volume down.
With your own sexy topless waitress – who will not only dote on all the boys and keep the beers flowing – she will also provide some extra entertainment for the less sporty members of the group.
As we've combined beer, boys and sport, we know you're going to be pretty amped up by the end. This sets the pace for the night to follow, which promises to be anything but tame.
Gaming Sports Bar are generally associated with a grimy looking, corner pub, offering a few sad looking TVs and sadder looking patrons. Wicked Bucks has turned that stereotype on it's head and we've found the bar of your dreams. This one has to be seen to be believed.
Read More: Top Things to do in Melbourne | Melbourne Bucks Party Ideas | Melbourne Bucks Party Accommodation | Melbourne Bucks Party Packages | Melbourne Strip Clubs | Melbourne Attractions | Bucks Party Games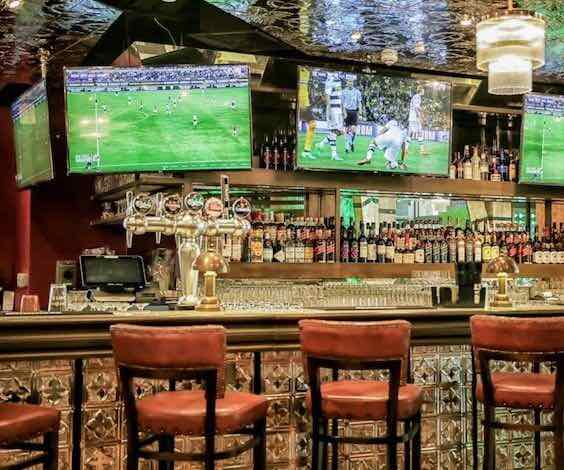 Making the most of your Gaming Sports Bar in Melbourne
Melbourne is known for many things. To some people, it is the World's Most Liveable city. This southern city has been ranked 1st out of 140 cities worldwide, for 7 consecutives years. But that doesn't mean you need to be a resident to take full advantage of the place. For other people, Melbourne is attractive for it's food. As Australia's most multicultural city, it is a melting pot of cuisines and you can find nearly any type of food you can think of. From the French influences of Vue De Monde to the colourful eateries in Chinatown, you might be rolling yourself back home. Melbourne has won the hearts of some for it's world class sporting facilities. Few cities in the world can match the atmosphere on a Friday night at the Melbourne Cricket Ground.
You could find yourself buried in a crowd 0f 100,000 excited spectators, all chanting for their teams as if it were the AFL grand final. Something that everyone can agree on, is that Melbourne is the home of all things nightlife like the strip clubs. There are so many bars and clubs, that your biggest struggle will be choosing where to kick start your bucks night. These venues open well into the early hours of the morning, so the only thing putting an end to your night will be the sunrise. Whichever aspect of Melbourne makes your heart sing, Wicked Bucks is here to tee-up a customized Bucks experience for you and the gang. All you need to do is say the word and we can make it happen.