Gaming Sports Bar Perth Bucks Party Ideas
Get stuck in to some first-rate gaming experiences with the Gaming Sports Bar package! This unique Perth bucks party idea sees you take on a variety of games, with the V8 and grand prix racing experiences serving as the premier event! Go up against your mates and your Buck, while being treated to some excellent fare and ice-cold drinks from the bar. Not a bad way to get the party started! Are you a gamer? A true newb, or a full-timer? Whatever your accreditations, you can bet that this experience will be for you!
This gaming sports bar brings with it all the perks of your favourite sports bar, with you, and your crew, providing the on-screen action! Go toe-to-toe with your whole group, across a variety of gaming and racing formats, and determine who is the sucker who is headed to the bar to refill a few empty glasses. And once you've had your fill, you can dig in to some absolutely lip-smacking tucker, chased via a full bar.
Experience Overview
A winning combination: sport and beer
Whatever your sport of choice, enjoy it with a beer in hand
Exclusive use of a VIP sports bar
Add some girls for some half time entertainment
Don your team colours
This could be the last un-interrupted sports game you ever watch
Catering and beverage options available
Get a Quote
Call for Info
5 Reasons to go to a Gaming Sports Bar in Perth
Do you like them pixelated screens? Gaming has been bringing crew together for many years now. Who doesn't remember cussing out the TV screen after getting pinged by your own green shell?
The spirit of competition runs deep! Even if you are not a huge fan of motorsport, you are likely a fan of wiping the floor with your best mates, and letting them know about it. All night.
Your venue brings together some of the best and friendliest bar staff to be found anywhere. Need a specific drink or shot for the soon-to-be groom? They have you covered.
These racing car simulators see you experience the true taste of auto racing! You can almost taste the exhaust and the smell of burning rubber.
Take that competitive spirit, and channel it! This energy will carry you through what promises to be a late night on the town. Bottoms up!
Read More: Things to do in Perth | Perth Bucks Ideas | Perth Bucks Accommodation | Perth Bucks Packages | Bucks Party Games | Perth Costume Shops | Perth Nightclubs | Perth Strip Clubs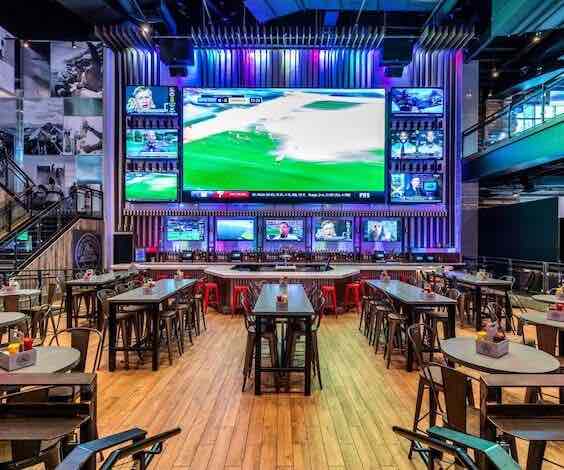 Making the most of your Gaming Sports Bar in Perth
What more can be said about the city of Perth? A lot, as it turns out. This spot, the fourth-largest city in Australia, can bring a party that competes with anywhere in the country. What else would you expect from the home of Australia's highest percentage of millionaires?
At Wicked Bucks, our goal is to provide bespoke party solutions for Bucks parties in Perth that want it to their way. Perth provides the variety, and Wicked hooks you up! It pays to consider what your particular group of legends will enjoy the most, whether it is indoors or outdoors, mellow or adrenalin-spiking, terrestrial or marine.
But here are some of our favourites!
A day on the green. A round of golf is neither fast nor slow, bringing out your competitive side without breaking too much sweat. Best of all, our course of choice is well-maintained and beautiful – you simply can't beat the great outdoors, can ya? Nah mate. Nah.
What about living the racing life in a slightly more visceral format? Head to the Go Kart track and punch the throttle for real! With automatic timing, high-powered carts, and all your gear provided, you can put your crew through a proper test of nerves!
How about some offshore adventuring? The Indian Ocean beckons, and this city has always turned to the ocean for much of its identity. Who doesn't remember the America's Cup parading through Fremantle?
In this spirit, you can take to the calm waters of the Swan River for a cruise, with some lovely helpers on board, or you can head 'outside', for some deep-sea fishing with a renowned charter captain. Whichever one you choose, you will gain a new perspective, and enjoy the ride!
At Wicked Bucks, we can help to send your Buck to the altar with zero regrets. Contact one of our party planners, and let's plan a day of fun and a night of debauchery!