Whiskey Master Class Perth Bucks Party Idea
Try out a Perth Whiskey Tasting class on your next bucks. Tell me how you like it. Let me give it to you the way you like it. Whether you like it shaken, stirred, straight, on the rocks or in a cocktail, a Wicked Bucks Whiskey Master Class can serve it to you whichever way you please. Don your best tuxedo because tonight we are going James Bond style – and nothing says sophisticated male stud like a good quality whiskey. This is a unique Perth bucks party idea taking you into the world of whiskey.
But because we know it's not just about looks, we like to go deeper as well. This whiskey master class will explore the history, production, styles and trends of all things whiskey. The classes are run by award winning distillers which means we won't be showcasing any of bottoms-shelf bottles you fancied in college. Served with light finger-food from the drool inducing menu, everyone will leave with a new-found appreciation of this liquid gold.
Experience Overview
Whiskey included
Great to start the party
1hr 30mins tasting class
Max group size 12
Get a Quote
Call for Info
5 Reasons to do a Whiskey Master Class in Perth
This Perth Whiskey Tasting Master Class is nestled underground in the city CBD. The interior pays its respects to the nouveau dive bars of the States, but throws a sly nod to Perth's own history. It's a pretty special joint.
Size really does matter to us. Our bar area can accommodate parties of up to 120 people so nobody has to miss out.
Thought it couldn't get any better? This venue also boasts a famous bacon flight. Four different styles of bacon paired to four different styles of American Whiskey. Yes, you read that right – and it's just as good as it sounds.
We can give you the keys to kentucky. To celebrate your Buck in the way he deserves, we can arrange the hallowed grounds of this distillery to be your exclusively.
If whiskey isn't your thing, there is also a small but mighty menu of wine and spirits on offer. Whatever it is that tickles your pickle, we can make it happen.
Read More: Things to do in Perth | Perth Bucks Ideas | Perth Bucks Accommodation | Perth Bucks Packages | Bucks Party Games | Perth Costume Shops | Perth Nightclubs | Perth Strip Clubs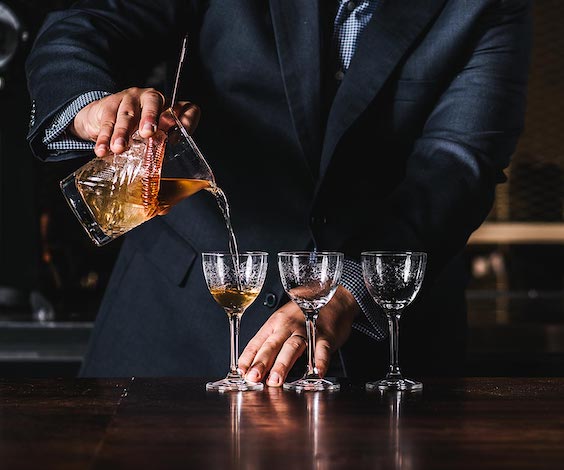 Making the most of Whiskey Tasting in Perth
Most first-time visitors to Perth will come out with the same response within hours of jetting into the city – How did I not know how great this place was?! They're not wrong either. Red hot right now, Perth is a winner for everyone. With a population of almost 2 million, there is always a new place to drink, eat or stay in the city. Only a short jaunt from the CBD, you'll find the home of the cute-as Quokka. Rottnest Island may be the only spot to find these furry critters, but there is a lot more to see too.
There are 63 beaches to choose from and more snorkelling trails than you can poke a stick at – without the crowds of most beach destinations. WA's superb wines have plenty of fans, but there are also plenty of other local brews here to sample. Choose from whiskeys, gins, vodkas or rums. You can't go wrong with any option. In fact, you really just can't go wrong with choosing to have your Buck's Party in Perth. Let us make it happen.