Golf Day Byron Bay Bucks Party Idea
Take a swig of beer for every time you miss the fairway. Take a swig if you get a hole in one or any time you F up, because let's face it… golfs a lot more fun when there is alcohol involved! Every bloke enjoys a day on the green, with the sun on his head and boys around for some wicked bants.
We'll arrange the best golf course in Byron for your party – featuring sexy caddy girls, a mean feed, all the necessary equipment and non-stop beers to *cough* improve your game. This popular activity will bring you all together as you unwind and tease the Buck over his upcoming wedding.
Experience Overview
Golf Bunnies to serve you throughout the game
Hope you've been working on your swing
Onsite bar
Relaxed competition
Club and ball hire included
Show off your ball skills
Time to par-tee
Get a Quote
Call for Info
5 Reasons to do a Golf Day in Byron Bay
Golfers live longer. Science says so and with the amount of damage headed your livers way you should take every precaution.
Golf is a great way for your buck (and heck the lot of you working men) to destress and enjoy a day with the lads.
There is nothing better than playing a gorgeous course on a sunny day and Byron's course is truly stunning.
You can eat and drink while you play! Let our sexy caddy girl cater to your every need as you knock out a couple of hole in ones.
Buck's parties often have a somewhat interesting combination of attendees and a day swinging clubs is the perfect ice breaker to get everyone going and excited for the night ahead.
Read More: Top Things to do in Byron Bay | Byron Bay Bucks Party Ideas | Byron Bay Bucks Party Accommodation | Byron Bay Bucks Party Packages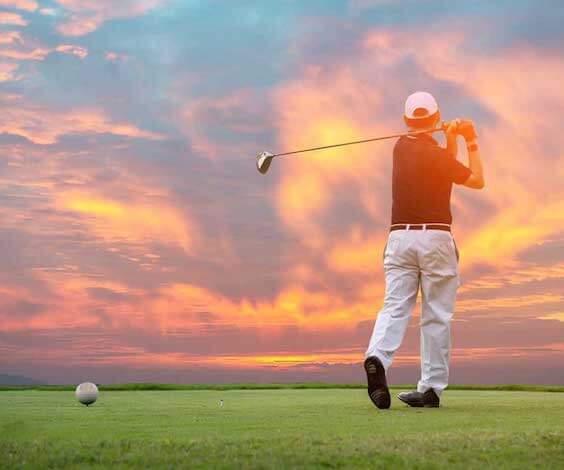 Making the most of your Golf Day in Byron Bay
Get excited boys because you're coming to BYRON! Rapidly gaining a global reputation for it's mega chill beach vibes and electric nightlife, make the most of this hidden gem before it become overrun with tourists.
Byron will provide you with breweries, beach bars, nightclubs that DON'T require long pants and the infamously stunning local surfer chicks who are down for more than a cheeky chat. Cool off in some of the bluest waters, bustling with surfers as Byron is home to some of the best waves. You would be crazy not to make the most of this banging bucks location.
Another available activity is the popular sport of Stand Up Paddleboarding! Chuck each of your mates a board and a paddle and get out and amongst it in the surf. The cruisy currents and great weather provide optimal conditions to explore the coastline upright on a board.
If you're lacking in the balance department and are a bit of a kook, simply book in for the Surf School activity!
Our Byron instructors will turn you from loser to expert in no time, as you learn in some of the easiest waves across the East Coast. You absolutely MUST give surfing a crack in these waters.
Better yet, why not go all in and organise your very own Poker Tournament! The ultimate gentleman's retreat has to include a couple of wagers over the great game of Poker. We'll provide everything you need, including a super sexy dealer and hostess.
Or if you're looking to get high, like super super high then take part in the Byron Bay Skydive! The MOST thrilling activity you as best man and the groom can do before he is lost forever to matrimony. The stunning visual scenery of Byron is best enjoyed from above, that is if you're brave enough to open your eyes between screams!
The mechanical bull makes a great addition to any party, offering instant entertainment for hours upon hours as the drunker you get the less likely you are to stay on! Watch the buck's Grandpa lose his shit trying to feed his ego only to be chucked like the rest of you.