Kayaking in Byron Bay Bucks Party Ideas
Give your liver a break for a few hours, sit back and relax on some of the most beautiful waters to grace the planet with the Byron Bay Kayak experience. With enough kayaks for your whole party and guaranteed warm weather this is the gift your buck truly needs.
Who knows you might even run into some dolphins, turtles or manta rays! Picture this; gliding across crystal clear salt water with the sun on your back and best mates beside you.
 Is there anything more healing and soothing than spending a few hours amongst nature? While we have been privy to a somewhat alcoholic influence at most of our bucks activities, this is one that really doesn't require any kind of distraction.
The perfect remedy to any pre-wedding jitters your buck may be experiencing and the best way to spend a day off! Get in touch with the Wicked Party Planners today for a custom package to suit you.
Experience Overview
Explore the beautiful Whitsundays
Incredible scenery
Work up a thirst
Relaxing group activity
Great way to ease into a big night
Kayaks and all equipment included
Kayak lessons
Get a Quote
Call for Info
5 Reasons to go Kayaking in Byron Bay
Kayaking doesn't really require much skill. You get on, sit back and let the current do most of the work! You might even notice yourself feeling a bit of a sneaky arm workout.
Byron is quite literally FULL of models, there to capture the perfect shot in the unmistakingly gorgeous scenery… if you're lucky you might even be able to capture their attention in between Instagram posts.
I know we've said it and we're saying it again but you probably are in need of SOME kind of booze break… so why not make the most of it and enjoy some watersports in the process?
Secretly wanting to get your tan on but know the boys will rip you one? Well this is the perfect excuse to get your top off under the warm NSW sun without copping a roast (from the boys at least).
You need at least one reasonably appropriate story to tell the mother of the groom about your bucks weekend! This is it.
Read More: Top Things to do in Byron Bay | Byron Bay Bucks Party Ideas | Byron Bay Bucks Party Accommodation | Byron Bay Bucks Party Packages | Bucks Party Games | Large Group Accommodation Byron Bay | Party Bus Hire Byron Bay | Byron Bay Nightclubs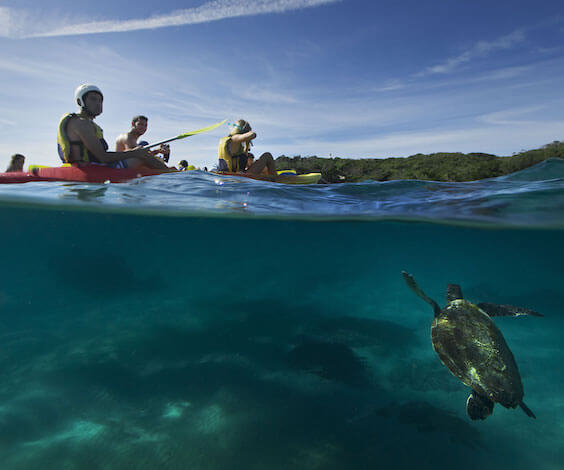 Making the most of your Kayaking in Byron Bay
THE place to be… what once was Australia's best kept secret is now home to some of the rich and famous. Take a note out of Chris Hemsworth's book and bring your party to the beautiful coastal town of Byron Bay. Where you will be overwhelmed with not only the friendliest free loving locals but the most diverse dining options. Feel boujee while sipping on Oysters and Wine at the rooftop bar or kick it back with some classic Fish and Chips by the water. High end meets casual beach bum is one way to describe all that is on offer in this great little town!
Byron is famous for its pristine surfing conditions, aqua blue waters and crisp white beaches, but there is a growing recognition for the town's wild party scene. Cheeky monkeys is one of the most popular clubs where you can find yourself dancing on tables and knocking back a few too many jagerbombs with the visiting backpackers. 
If your not feeling too hungover, spend the morning after making your way up to the Lighthouse and feast your eyes on the most Easterly point of Australia. Or head inland to one of the many rockpool spots such as Killarney Falls, which features an EPIC waterfall for you and the lads to bathe under. The sunsets, sunrises, happy hours and locals have a magnetic allure that will have your mates slapping you on the back for finding!
Read More: Large group accommodation Byron
If you're in need of an excuse to drink with your Bucks party then sign yourselves up for Barefoot Bowls. The perfect combination of cruisy and fun, this popular activity wont dissapoint and might even have you rubbing shoulders with some of the friendly locals.
Or if that doesn't tickle your fancy, why not try our most EPIC activities and take the plunge (literally)… SKYDIVING! This will have you from 0 to 100 in no time and feeling ready to not only take on the night but the world!
Perhaps your party is less surfy and more gammer, well don't skip on Byron because it really does have something for every kind of buck. Book in for our Virtual Golf experience! We're talking aircon, refreshments, big ass screens and a fun couple of hours hitting (figurative) balls with your best mates.