Mechanical Bull Bucks Party Idea
Come on lads, lets chuck the buck! One of the greatest pleasures a man can have in life is watching his best mates get absolutely rooted by none other than a big fat bull! A great addition to every buck's event a mechanical bull offers hours of entertainment and none stop laughs watching each blokes ego be knocked down a few notches as he too only lasts a few seconds on the big girl.
Let your inner cowboy shine through as you straddle the mechanical beast and take your turn at enduring her kicks, turns and rolls. Sure to be the strongest sheila you've ever had under you, keep your eyes on the prize and tune out the noise coming from the sidelines. You'll be amazed at how quickly this amps up the party atmosphere and how willing the boys are to get kicked on their ass time and time again. Not to mention the epic banter flying across the room.
Experience Overview
Buck the Buck
This will be the ride of your life
Grab on tight and outlast your opponents
Every woman loves a cowboy
Set-up and packdown included
Experienced operator to ensure the Buck gets back to his missus in one piece
Yee-haw!
Get a Quote
Call for Info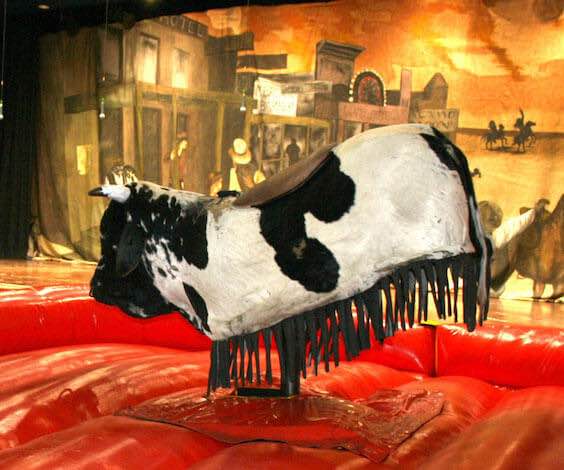 Making the most of your Mechanical Bull in Byron bay
Byron… home to all, full of wonder and adventure just waiting for your wild bucks party to come visit! You'll have more than enough things to do in this jam packed beach town. The only trouble is deciding what to do first!
It's your best mate's last night with the boys as a bachelor and you're looking to have him riled up, six drinks down at all times and having the time of his life! Just ask and Byron will provide, beautiful bountiful beaches full of stunning surfy chicks and nearby bars with affordable drinks will have you satisfied all night long. There are more than a few great spots to have a boogie and flex your latest pick up lines and our gorgeous hostesses are recommending only the best.
Delve into the natural riches by exploring some of the killer waterfalls, country lanes and exquisite seafood.
You'll soon see why Byron's become a bit of a haven with the likes of the Hemsworth brothers, Margot Robbie and Miley Cyrus. There really is something for everyone, whether that includes hours in the ocean or litres in the bar.
You can't come to Byron and not take your chances on the perfect waves. Don't worry beginners, we've got you covered with our Surf School activity! You
will be up and impressing the ladies in no time with your golden tan and smooth surf skills. So suck in that beer belly and spend a few hours catching waves at Main Beach.
Taste Byron's famous brews, with the Brewery Tour. You and your best mates can feel utterly cultured as you endeavor on a learning experience that incorporates only one main focus; beer and a lot of it. See more than one of the magical places that produce your favourite drink and immerse your taste buds in a range of flavours that will have your buck truly dazzled. Can't you taste it already?