Virtual Golf Byron Bay Bucks Party Idea
Calling all golfers, to take their turn in experiencing the game of golf virtually. The future is now and with this experience you can take your pick of any course worldwide. Whether you've long been admiring the traditionally beautiful St.Andrews Old Course in Scotland or prefer the architectural allure of the Pine Valley course in Jersey… you'll be spoilt rotten with selecting which course to hit your hole in one on. Don't worry the balls, caddy girls and alcoholic beverages are 100% physical for your enjoyment.
As the internet of things advances, we have jumped on the bandwagon in providing a virtual experience that still encompassess the bucks necessities of booze, beautiful girls and bonding with the boys! Rain, hail or shine this is one golf day the weather will have absolutely no impact on as you galavant across a figurative field of excellence. Enjoy the luxury of air conditioned comfort as you get your swing on and the tasty food. You really can't go wrong with a virtual session of golf in Byron's only VR golf venue. Your buck will be super impressed with you and somewhat reminded of the old days of hitting a few rounds on Wii long before the responsibilities of life got in the way.
Experience Overview
Drinks package
Equipment all included
State of the art technology
Score yourself a hole in one
Social battles
Fast enjoyable format
Per-tee time
Get a Quote
Call for Info
5 Reasons to do Virtual Golf in Byron Bay
The claimability factor. You're bucks event is going to be more than memorable with the incorporation of a Virtual Reality activity… it just sounds epic.
There is not risk of any weather interruptions! You've only got this one night, with all the boys, celebrating your buck's last night of freedom and booking in for Virtual Golf is a sure promise of NO disasters.
Can't think of anything worse than sweating it up under the hot summer sun? This is the sneakiest cover up for your more indoorsy inclination.
The options. It is never easy getting a group of men to agree upon something other than another drink… VR allows each player to pick their golf range and keeps everyone happy!
Your whole crew will be blown away with the realness of virtual golf and find themselves gobsmacked at the new experience you have provided for them.
Read More: Top Things to do in Byron Bay | Byron Bay Bucks Party Ideas | Byron Bay Bucks Party Accommodation | Byron Bay Bucks Party Packages | Bucks Party Games | Large Group Accommodation Byron Bay | Party Bus Hire Byron Bay | Byron Bay Nightclubs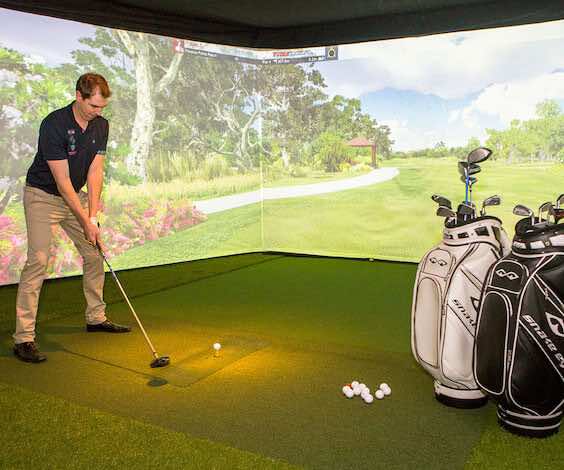 Making the most of Virtual Golf in Byron Bay
Once you're finished playing with your balls, step outside and embrace the stunning Byron Bay. The warm waters and soft white sand make the warmest of welcomes for a weekend of mischief and partying with your best mates. Byron is notoriously picturesque all year round, with stretches of beach, killer sunsets and banging waterholes featuring more than a few waterfalls this is the optimal location to celebrate your main man's stag.
Get around the beers as you make your way through the centre of town. Some of the friendliest people in Australia have made Byron home and you will soon understand why as you enjoy the laid back lifestyle of beach and fun.
If you rather spend your time in Byron, getting amongst the pristine outdoor conditions then book in for our kayak experience. Completely up to your party on whether you want to treat his activity as a relaxing glide across aqua blue waves or more of a pump sesh as you show off to the girls sunbaking ashore.
If you're here for one reason and one reason only… drinking, then get around the Pub Crawl! The best way to see all of Byron's greatest drinking holes, our sexy escort will keep the boys on track as you sip your way through some of the finest bevvies you've ever wrapped your lips around. Rub shoulders with the infamous combination of European tourists and surfy Aussie girls as you find yourself laughing, dancing and stumbling across town.