Stand Up Paddle Boarding Byron Bay Bucks Party Idea
SUP boys? Looking to do something physical and super fun as part of your Buck's event? Well then book in for the Stand Up Paddle Boarding (SUP) activity that will have you flexing some seriously hot guns in no time! A great way to spend a day in Byron with the sun on your back and water around your ankles. There is nothing better than a carefree paddle across some of the most smooth beaches with a banging view of the local hotties! Pleasantly surprise your buck with an activity he can tell his future wife about!
Take your turn with the fastest growing board sport in the world, Stand Up Paddle Boarding! A great way to explore the the coastlines of Byron, even the softest tool in the shed will have this one mastered in no time. Perfect for the mix of ages across your bucks party, as all it requires is a bit of balance and a love for being on the water. You really should book your buck in for something other than pounding his liver and this is the perfect go to!
Experience Overview
Stand up paddle board hire
Work on your tan
Explore pristine waterways
Relaxing way to enjoy the Whitsundays
See the Great Barrier Reef
Work up a thirst
'How-To' lessons
Get a Quote
Call for Info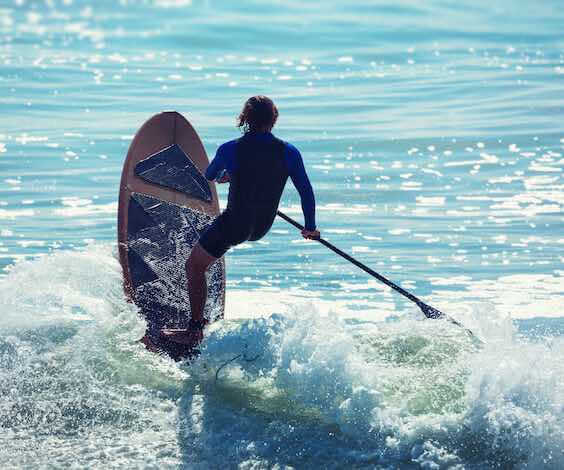 Making the most of your Stand Up Paddle Boarding in Byron Bay
Byron Bay is diverse town that welcomes an influx of surfers, travellers, hippies and everyone else few and far between! A deep rooted culture that reflects back to its history of Aboriginal inhabitants of whom fondly named it Cavvanbah…"The Meeting Place."
Here you will find yourself a small town centre densely populated with a multitude of delicious dining experiences influenced by all that have passed through. The freshest seafood you can imagine, the spiciest mexican joint, a kebab bar (that tastes epic at the end of the night), a few too many happy hours and a refreshing Acai bowl to nurse you back to health the next morning. What more could you want?
Maybe 5 star surf conditions that make for an epic sunday sesh. Or a glorious sunset accompanied by the local bongo finatics that will twirl a fire stick on their head to entertain you.
Like many before you, you'll be falling under Byron's spell in no time at all with the captivating vibe this town puts out!
If watching your buck stack it in the water isn't enough then book him in for a wild ride on one of our mechanical bulls! See who can last the longest with what quickly turns into a very competitive activity. At the very least have a giggle watching the old boy get chucked all over the place as he tries his best to uphold your respect.
If you rather sit than stand, the Kayak activity makes the ideal alternative! A super cruisy and enjoyable way to spend a few hours in Byron with less risk of falling into the water and more chance of actually taking a moment to take in the stunning surroundings.