Sumo Suits Byron Bay Bucks Party Idea
Suit up and prepare the little fat kid that still lives within you to break free! You'll be feeling your absolute fullest in our state of the range Sumo Suits, the ULTIMATE addition to any Buck's extravaganza. Smash your buck around without hurting him in the slightest as your party watches on in absolute stitches.
Time to embrace your inner heavyweight warrier and suit up. The sumo suits will turn your party from wild to ridiculous in a matter of seconds. The evening's entertainment is SORTED with this crazy fun activity. Centre the night around a heap of wrestling rounds or simply add them on top of whatever other activities you have planned.
Experience Overview
Free laughter
Bump the Buck off his feet
Fight arena included
Sumo suit and helmet included
Staff to set up and officiate
Work up a thirst
Hit your mate not your mother in law
Get a Quote
Call for Info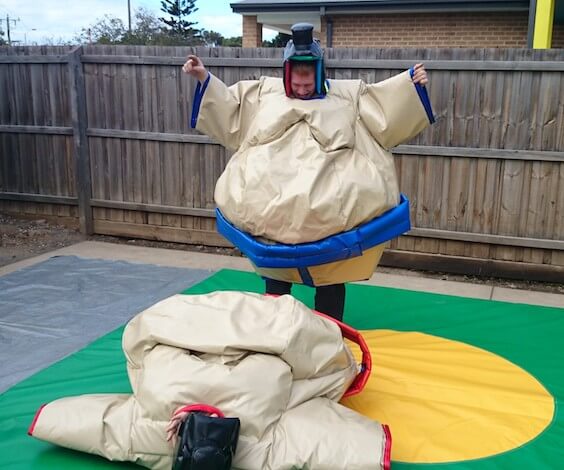 Making the most of your Sumo Suits in Byron Bay
Byron Bay… located an hour south of the QLD/NSW border and home to some of the most flawless beaches in all of Australia. The once secluded bay has become quite the hotspot for travellers around the globe and a bit of a celebrity playground with sightings of local residents Matt Damon, Chris Hemsworth and Elsa Pataky.
As you'll soon find out, Byron will more than provide for your Buck's escape. There is an abundance of hotshot restaurants and affordable bites to choose from. Enjoy a brisk walk along the panoramic viewpoint where you might even witness some paragliders taking flight! The town's nightlife is super active with a bunch of beachfront bars and clubs to check out.
Then for when you're feeling a little rusty, dive into the most refreshing blue waters that will have you forgetting your hangover in no time at all. The perfect buck's haven and getaway before your main man's big day!
So what the hell are you waiting for, Byron's calling!
Other Activities:
Want to try something a little different? Why not book in for a Virtual Golf session, incorporating all the comforts of the indoors with real clubs and balls to have you second guessing your reality. Choose your desired course from a global list and watch the amazement greet your buck's eyes as he is served an ice cold one from one of our gorgeous topless waitresses!
The Byron Bay Pub Crawl is the BEST way to ensure you see every good place in this chocker block town! Our sexy but capable hostess will keep the boys in line as you skip THROUGH the lines both at the door and the bar. Avoid the trouble of finding your way through town with this nonstop fun time.
If you feel like tasting more than a few brews but feel a little more sophisticated than a pub crawl, we have the perfect alternative. The Byron Bay Brewery Tour Activity is for our beer connoisseurs and classy guys that will enjoy learning the ins and outs of the great drink; beer. Oh and don't worry you can do more than taste these delicious brews.