Surf School Byron Bay Bucks Party Idea
Surfs up boys! Whether you're a regular grom or never managed to get it up in your life, don't fret because the Byron Surf School caters for all levels. Retreat from the heat into the crisp blue waves and observe your Buck transform into Mick Fanning in no time at all. You really can't call yourself a true blue for much longer without finally learning the ways of the locals and falling in love with surfing.
Looking for a killer activity to kick off your extravagant weekend of booze, partying and bonding with the boys? Well then book you and your bucks party in for the Surf School! See your mates get dumped (and not for the first time) on the shore as the locals cheer you on. There is no better place to break your surfing virginity than in the renowned easy waves at Byron beaches. You might even run into Margot Robbie out the back or Liam Hemsworth in between movies.  
Experience Overview
Surf's up grom
Learn how to hang 10
Catch some gnarly waves
Reward yourself with a cold beer afterward
Fit in with the sun kissed locals
Expert instructors to get you on a wave
Get your cameras out and capture those stacks
Get a Quote
Call for Info
5 Reasons to go to Surf School in Byron Bay
There is a reason surfing is so damn popular and aren't you just dying to get out of the dark and be a part of this wonderous culture.
It is silly and fun! Have a real good belly laugh as you watch your buck try and get on his feet only to roll head first into the sand.
It's a great break from whatever stresses about the wedding are running around your buck's head as he will only be focused on one upping you and catching the first wave of the day.
This might be your last opportunity to learn! You're no spring chicken and the older you get the less likely you are to eagerly jump on the back of a board and catch a shorey.
You're in Byron Bay. That should be enough of a reason to grab a board and get amongst it.
Read More: Top Things to do in Byron Bay | Byron Bay Bucks Party Ideas | Byron Bay Bucks Party Accommodation | Byron Bay Bucks Party Packages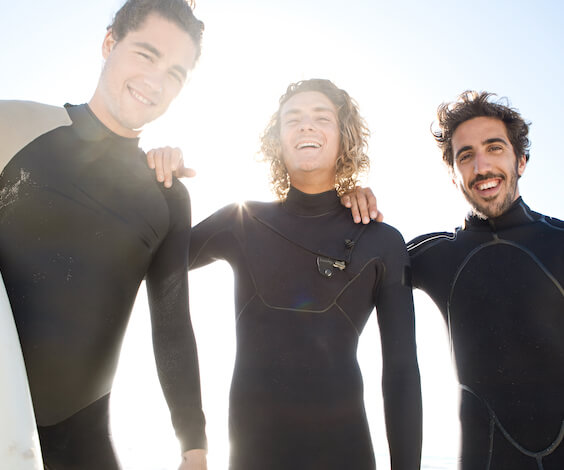 Making the most of your Surf School in Byron Bay
There is so much to see and do on your bucks weekend in Byron! Eaze into your weekend of debatoury with some relaxing coastal walks along some of the finest beaches NSW has to offer. Though we challenge you to see how long you can last before diving into the alluring aqua blue waves that kiss some of the whitest sand you've ever seen.
Enjoy some well tasting tequila at the best Mexican joint in town; Miss Margarita. Or if you prefer something light dig into a somewhat healthy passionfruit acai for a humble $12.50….
But a trip to Byron is not complete with a few cheeky ciders on the beach, because you can't really host a bucks trip without at least one round of day drinking!
The odds are that your weekend in Byron will align with some sort of gig and there is nowhere better to drink cheap beers and enjoy the music than at the Byron Brewery!
A relatively new venue that will have you rubbing shoulders with not only the locals but the many European backpackers that flock to this popular coastal town.
When you're ready for a break from the sun, pull back the curtains and enter the dark room (and world) of your Buck's Party's very own private Poker Tournament! Enjoy watching your mates try and channel their inner mathlete and fix the game only to receive a well earned warning from our very sexy dealers. The whiskey will be flowing on this boujee activity.
If you're looking for a jerk around, book in for the Mechanical Bull! The perfect addition to any buck's weekend as you watch your drunk friends egos get knocked down a few notches as they land on their asses.