Grey Hound Race Day Sydney Bucks Party Idea
Love a good race, the thrill of making a bet and the potential for a big win? You might be thinking of horse races, but this time we're talking about greyhounds. And if you haven't yet experienced a greyhound race, we think your bucks weekend is the perfect time to start. Sunshine, grass, dogs, beer and cash. What could be better? Well, women, of course – and here at Wicked Bucks we have plenty of them too!
If you're a Sydney local or even a regular visitor, you probably know all about Wentworth Park. This large park connecting the suburbs of Ultimo and Glebe is a popular spot and one of its features is the greyhound racing arena in the middle of it.
With Wicked Bucks, you can watch greyhound races during the day and cheer these magnificent beasts on with your buddies, hoping that your pick will take the lead and achieve a victory that will put cash in your pocket.
Greyhound racing is a bit like horse racing expect the animals are smaller and there are no jockeys on top of them. There's still the excitement of the race to the finish line, the announcer's quick-as-a-flash delivery, the cheers of the crowd and your mates and the exciting prospect of winning a big chunk of cash to throw around. Chuck in some beers and babes and you've got a recipe for greyhound racing the Wicked way.
Experience Overview
Experience the thrill of the track
Impressive athleticism
Don't let the Buck blow the entire wedding fund
Catering and beverage package options available
Bragging rights to whoever walks away with the fullest pockets
Impressive venue
Big screen displays to make sure you don't miss any of the action
Get a Quote
Call for Info
5 Reasons to do a Grey Hound Race Day in Sydney
If you win some cash, that's a guaranteed bonus that's sure to make any buck's party even better.  
If not, you're still gonna have a great time watching the race, cheering on the canines and feeling the excitement in the air.
If you're a dog lover – and who isn't? – here's your chance to watch speedy racing dogs at the very peak of their performance abilities.
If you've never watched a greyhound race before, you might discover it's one of your new passions and find yourself coming back again and again.
It's in the exciting city of Sydney in the middle of the very scenic Wentworth Park.
Read More: Top Things to do in Sydney | Sydney Bucks Party Ideas | Sydney Bucks Party Accommodation | Sydney Bucks Party Packages | Bucks Party Games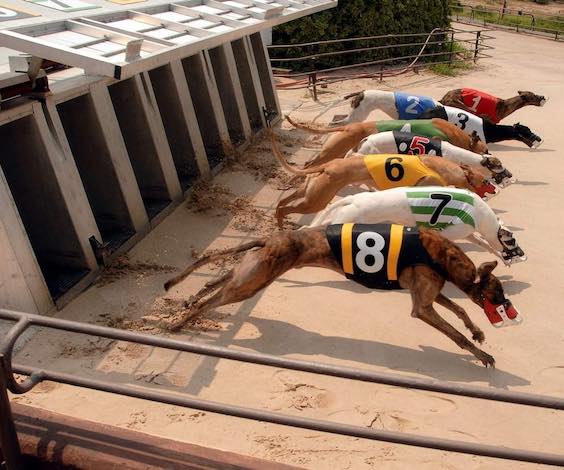 Making the most of your Grey Hound Race Day in Sydney
You'll never run out of things to do in Sydney, the biggest city in Australia. A day of greyhound racing is just one of the many unique, blokey and fun activities we have here to make your bucks weekend complete. Others include:
Bucks Race Day: Got a taste for racing? As well as greyhound racing, we also have horse racing to liven up your Wicked weekend. With horse racing popular in Sydney, this is a good opportunity to come along and cheer for your pick of the stallions. On top of the excitement of watching a race in full swing, you'll also have the possibility to score a win and make some cash. If making money on your buck's weekend sounds good to be true, it isn't! It's a very real possibility when you add our Ray Day Out activity.  
Clay Pigeon Shooting Sydney: Keen for some pigeon shooting but don't want to hurt actual innocent birds? The solution is simple: just take your frustrations out on some clay pigeons by shooting them down while they go spinning through the sky. If you've never even held a gun before, this is your chance to see what it's all about and to see how good your aim, your eye sight and your coordination all are. And as for the birds? Well, they're just lumps of clay. Go on, annihilate them! Test out how handy you are with a shotgun. Ready, aim, fire!